Regular price
Sale price
$39.95 USD
Unit price
per
Sale
Sold out
Match #1
The Animal vs Dyllon
HE'S BACK!!! The ever-popular Animal returns to PWP"," looking as brutally handsome as ever. The build on this guy is amazing"," and he throws all that muscle into each hold. He's up against up-and-coming Dyllon to start. Dyllon comes to every match looking increasingly beefier"," showing more confidence and aggressiveness with each match. The Animal takes early control with a tough side headlock that leaves Dyllon stunned. Animal follows that up with a full nelson that immediately has Dyllon's chin dug into his chest and in pain. Easy to work over now"," Animal slides out of the nelson into a double armbar with his knee against Dyllon's back. OUCH!! Then a surfboard kneeling"," then standing has Dyllon in a lot of trouble. When Animal lets go"," Dyllon quickly uppercuts the musclehunk's crotch. Tables turned"," now Dyllon takes controlhellip, putting a bearhug on the breathless Animal's head!! Next he throws a hard full nelson on the Animal with devastating force. Then Dyllon goes back to the mat with a body scissors combined with another bearhug to Animals head. The Animals repeated taps are ignored by Dyllonhellip, and Dyllon has his way with the muscle guy. A toehold with a hammerlock has the Animal gasping and groaning more. A boston crabhellip, a standing surfboardhellip, a couple body scissors/armbarshellip, a body scissors/chinlockhellip, a fig-4 headscissorshellip, Dyllon's attack on the big guy just doesn't stop. Once the Animal gets a chance he surprises Dyllon with a knee to the gut"," and pays back his attack two-fold. The Animal's muscles bulge as he brutalizes Dyllon with a barrage of holds. Dyllon finally succumbs to one of Animals sleepers"," and the Animal flexes over Dyllon's lifeless body. This was one hell of a hard fought match. Awesome!!!
| | |
| --- | --- |
| The Animal takes an early advantage ... | ...with a punishing head lock that almost knocks the poor boy out... |
| ...but The Animal wants to have some fun ... as he stretches... | ...the young wrestler like a pretzel. |
| Then he proceeds to stretch Dyllon some more. | ...but the cagey warehouse youngster gets the veteran in a full-nelson... |
| ...a leg lock and an arm bar have The Animal down on the mat... | ...and a figure-four head scissors has the big man... |
| ...wondering what he let himself in for ... but... | ...the big guy reverses and Dyllon finds himself locked in a devastating full nelson. |
| This is what The Animal does best...puts the pretty boy to sleep... | ...chalk up another beautiful victory for The Animal. |
Match #2
Serge Legros vs Newcomer Mick
Another PWP guy makes his long awaited return. (He surprised everyone in Montreal Matmen"," beating allhellip, including Kid Q"," Stephan and BIG Pat). This match he's up against the very lean and very muscular Mick. Serge is well built"," he has great talent and his holds are very mean. He starts in with a long"," vicious side headlock that soon has Mick moaning. When his arm gets tired of squeezing (as hard as he does)"," he switches arms to a long held front facelock and continues his torture. Devastating!! Secure with his domination"," Serge next applies a long head scissors"," flexing as he squeezes Mick into near unconsciousness. Pulling himself together"," Mick hits Serge with some awesome footwork... foot-to-chest ambarshellip, tight headscissors (well displaying Mick's fabulous physique)hellip, he then wraps his muscled body around poor Serge forcing a mean chinlock on himhellip, and a series of nelsons. When Serge is able to break free"," Mick is met with a punishing series of dominating holds that eventually has the musclehunk sleepered out in Serge's mighty arms. Serge works Mick over real good. A tough fought"," great match!!
| | |
| --- | --- |
| Serge takes an early advantage with a punishing head lock... | ...and then relaxes as he punishes the youngster's head some more... |
| ...but the wirey youngster dishes out some pain of his own... | ...as Serge finds out with this arm stretch. |
| ...and then wraps up Serge and has him grimacing in pain. | But Serge is no slouch and here Mick feels the wrath of Serge... |
| ...as he continues to be on the receiving end of more pain... | ...and punishment... the full nelson has Mick ready for the... |
| ...inevitable end... but... the youngster tries to struggle his way out.... | .. to no avail as this long held sleeper is a beauty to watch. |
Match #3
Serge Legros vs Dyllon
Dyllon looks like he has a thing to prove in this matchup. Very evenly matched these two exchange holds"," going back and forth. Muscles straining with each hold. Serge with a sideheadlock"," then Dyllonhellip, then a headscissorshellip, then the nelsonshellip, the action goes back and forth until Dyllon surges ahead giving Serge a taste of everything he's got. He executes a beautiful boston crab to start his assaulthellip, then his bearhug on Serge's headhellip, and keeps going hold after hold"," until Serge finally succumbs to nasty sleeper. Great fight!! This is a huge win for Dyllon"," as he vies for a HEEL title. Dyllon brings more muscle and more skill to every match one of his matches. He is soon to be a force in PWP at this rate.
| | |
| --- | --- |
| Serge takes an early advantage ... | ...but our youngster soon has Serge in a grinding head lock of his own.. .... |
| ...Dyllon enjoys his job ...but does Serge??.. | ...a solid punch to the groin brings our darling youngster down to the mat. |
| ...where he suffers from a painful headscissors... | ...Serge continues his punishment by subjecting Dyllon to painful nerve holds... |
| ...here he wants Dyllon to get up and be more personal..."read the logo on my underwear"," punk"... | ...but Serge is in for a surprise of his own... |
| when Dyllon places him in his devastasting figure-four... | ...look at poor Serge...he can barely breathe. |
| A punishing headlock and a sleeper... | ...means our new hero has chalked up an important victory. |
Match #4
The Animal vs Newcomer Mick
This is a match that you are bound to watch over and over again. These two hunk's bodies are well displayed throughout this match. Big hunk Animal takes on lean and muscled"," Mick. The Animal is such a force to go against"," but Mick has a great match with his big foe. Animal wears Mick down with side headlocks"," sleepers"," and scissors. Mick does have his way with Animal"," hurting him good with a mean nelson that has the Animal's chin dug deep in his big chest"," moaning. He follows it up with a standing surfboard using his feet well"," forcing his heel into the Animals lower back. Next he tosses on a fig-4 headscissors using the Animals big arm as leverage"," pulling hard. OUCH! Finally the Animal can't take any more of Mick's abuse"," turns it on and works him over real good. These two hunks go well toe to toe"," showing strong wrestling skill and wonderfully working over eachothers hard muscles. Hard fought"," Mick finally goes down in beautiful sleeper. Great match-up"," featuring two of PWP's hottest hunks.
| | |
| --- | --- |
| The Animal takes an early advantage... | ...but the slim newcomer has the bigger man in .... |
| ...a ftighly held figure-four head scissors... | ...he then tries his hand at arm stretches. |
| The bigger man seems at times to be playing with our newcomer as the look on Mick's face reveals. | The end comes but The Animal wants to play with Mick so he takes his... |
| ...time to put him away... no matter how hard Mick tries to escape the bigger man.... | ...keeps him wrapped up and totally in control until Mick has no life left in him! What a finish! |

Match #5
The Animal vs Serge Legros
And now a meeting of our two alumni"," the Animal and Serge Legros. All of the wrestlers on this tape have gone at it hard"," throwing everything they have into their holdshellip, muscles straining"," bodies hurting. In this match-up"," these two big guys know that they can't mess around"," they have to slow the other down right away. Serge reverses Animals big chinlock"," into a very nice front facelock and hangs on hard making Animal gasp for air. He later pounds his way out of a long sleeper"," and hits Animal with a front-face sleeper of his ownhellip, then throws a long hard full nelson on him pulling those big arms helplessly back. He squeezes Animals big shoulders together hard"," and stretches his neck out viciously. A great holdhellip, Serge lifts the Animal off the mat at times"," strutting the big guys nelsoned body around on display. Letting up on the pressure a bit"," then again hitting him hard again. The holds are tough in this matchup. They exchange mean armscissors"," fig-4 headscissors's"," chinlockshellip, until the Animal takes advantage with one of his long"," brutal sleeper holds (kneeling"," laying"," then kneeling again). Serge does push big Animal to the limit at times"," but the Animal is one tough guy. Maybe next time"," Serge. We hope that the Animal returns more often for us"," he's great to watch.
| | |
| --- | --- |
| The Animal takes an early advantage... | ...but Serge puts a front head lock on the big man... |
| ...but The Animal soon reverses ... he loves to pull Serge's hair... | ...Serge with a full nelson lifts the big man off the mat! |
| ...here he has Serge in a figure-four head scissors. | But Serge is able to reverse and has The Animal all wrapped up like a pretzel. |
| The Animal gains control as Serge reels in pain... | ...and then it is all over for Serge as The Animal slowly... |
| ...ever so slowly... and methodically... | ...puts his hapless victim to rest..here he pulls Serge's hair to wake him up before delivering the final ending...what a sweet finale to a great tape! |
Share
View full details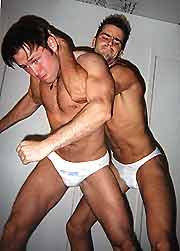 Collapsible content
DETAILS

Provide details like specifications, materials, or measurements.

Add an image in your Collapsible content settings for more visual interest.
TIPS

Share expert tips on how to use this product or pair it with other items.
SHIPPING

List the details of your shipping policy.