Regular price
Sale price
$29.95 USD
Unit price
per
Sale
Sold out
Match #1
Kid T.N.T. vs Sexy Steve
Kid TNT has great wrestling skill. His opponent"," Sexy Steve is a big powerhouse who has wrestled a lot with PWP. TNT knows he has to wear the big guy down"," and goes to work fast on Steve. Side headlocks"," then head scissors all the time twisting Steve's big arms back as Steve screams in pain. TNT is a technician and has Steve suffering. But Sexy knows how to handle himself and look good doing it. A long held head scissors has TNT quitting the match. Steve poses his sexy self over TNT's limp body.
| | |
| --- | --- |
| | |
| The Kid is confident he can easily conquer Sexy Steve. Here he eye gouges our main man. | But Sexy Steve evenually reverses and has the smaller wrestler in an arm bar. |
| | |
| Steve loves to 'showboat' his body... | ...and equally loves to dish out punishment. |
| | |
| But this young ring veteran makes Steve suffer... | ...legally and with illegal tactics as well...like biting... |
| | |
| ...and pulling Steve's lovely locks...not once or twice but again and agian and again. | But Steve has a surprise in store for the Kid..you will have to see for yourself"," but the Kid suffers his first defeat at the hands of the Sexy One. |
Match #2
Leon vs Sexy Steve
Leon comes out posing"," as he has just came off a win from one big muscle guy"," and is about to meet another. They each take turns flexing their sexy bodies as they pour on the powerholds trying to wear eachother down. Powerful guys"," with lots of big holds. Back and forth the momentum goes until Leon is slammed to the floor by Sexy for the win. Quite a battle for such an easy win.
| | |
| --- | --- |
| | |
| Confident with his victory over JohnnyMax"," Leon attacks Steve before the bell rings. | But our Steve has just defeated Kid TNT"," the young man who has vowed to destroy ALL PWP wrestlers... |
| | |
| ...so"," first with head scissors"," then a painful neckbreaker... | ...followed by a punishing headlock..Steve thinks he will have an easy victory. |
| | |
| But Leon shows Steve what he is made of... | ...and makes Steve suffer again |
| | |
| ...and again...but our Sexy One has never really... | ...lost control...here he starts to finish Leon with his patented choke hold. |
Match #3
JohnnyMax vs Sexy Steve
JohnnyMax (and he is a very muscular guy) in his debut goes up against equally muscular Sexy Steve. Sexy wears a tank top throughout the match. Johnny is a muscle powerhouse"," and enough to rival that of Steve. He soon goes to work on Steve showing off his power and skill to Steve. It's great to watch this guy and he's lots for Sexy to handle. A good chunk of this match is Johnny really manhandling the hunk Sexy Steve. Every time Steve thinks he's in command"," Johnny muscles his way out of it and gets Steve back in trouble. An amazing rookie effort. Not many could handle Sexy Steve the way this guy did. You want sexy muscle guy action this is the one.
| | |
| --- | --- |
| | |
| JohnnyMax struts his stuff.... | ...but our Steve turns the table with an arm bar. |
| | |
| But JohnnyMax reverses with a painful leg lock. | The battle goes back and forth..here Steve puts the pressure on JohnnyMax. |
| | |
| Steve uses his knee on Johnny's throat to soften him up... | ...then proceeds to punish him with a headlock. |
| | |
| But JohnnyMax reverses and plays with Steve on the mat... | ...before he attempts to put our sexy boy to sleep..Will he succeed or will Steve come back?? |
Match #4
'Sexy' Steve vs Steacute,phan
WOWhellip,great looking bodies in this video. These two guys are pretty equal in size. Their bodies"," lean and muscled"," look awesome flexing with every hold. Back and forth with headlock-scissor combinations and armbars"," they look great. But watch out when Stephan tosses those big arms of his around your neck in a sleeper. Muscle guy vs Muscle guy action.
| | |
| --- | --- |
| | |
| Wiry Steacute,phan pulls a little hair... | ...here he arm bars the 'Sexy One'. |
| | |
| Our 'Hero' puts a head lock on Steacute,phan and squeezes tight. | Then scissor's him with those massive thighs.. |
| | |
| Steacute,phan shows his strength as he lifts Steve off the floor. | Steacute,phan is relentless and eventually 'The Sexy One' succumbs to a sleeper. |
MATCH # 5
Sexy Steve vs Eric



This match begins with Sexy Steve in control. But remember"," this match is presided over byThe RebelandBad Boy.




Sexy Steve (Bad Boy's protegeacute,) is in trouble...




...as Eric (The Rebel's protegeacute,) has the Sexy One just where he wants him.




Eric pulls some of Steve's long locks to punish him some more... to the chagrin of Bad Boy.




The Rebel interferes once the Sexy One has Eric all locked up in a tight head scissors.




But The Sexy One continues to dominate as Bad Boy keeps The Rebel in check... here Steve literally has Eric all wrapped up!!




But Eric keeps coming back... here he tortures the Sexy One's legs.




Then he goes after his head in a bone-crushing figure- four head scissors.




A side headlock on the mat keeps Eric in control.




It seems that it is all over for our hero when...




...The Rebel low blows Bad Boy and they start to take it out of the warehouse.




This gives the Sexy One a chance to recuperate... Here he pulls Eric up by the hair...




...slaps on a powerful head scissors. .This spells the end for Eric...
Match #6

Sean vs Sexy Steve
These two guys guarantee a great matchup. Sean looks like he has put on a load of muscle as of late and looks like a great competitor for the hot body of Sexy Steve. It happens that Sexy has it all going his way and Sean suffers. Steve unloads on Sean with headscissors"," side headlocks"," and morehellip, displaying his body generously as he slowly destroys Sean. Sexy can just be too much sometimes"," and Sean finds out.
| | |
| --- | --- |
| A match of strength between Sean and Sexy Steve is no match... | ...as the bigger hunk puts Sean in a grinding head lock. |
| More pain and punishment is dished out on Sean as... | ...Sexy Steve squeezes and squeezes his powerful thighs... |
| ...around the neck of Sean...No matter what Sean tries to do to... | ...escape"," the Sexy One keeps control...smiling for all to see. |
| Next"," Steve stretches Sean's arm until it almost comes out of its socket...then... | ...he has Sean writhering in pain as he applies the pressure on a figure four leglock. |
| Sean makes a brief comeback but by the end of the match... | ...Sean has very little energy left as he slowly succumbs to Steve's powerful sleeper..Steve gets his revenge!! |
Share
View full details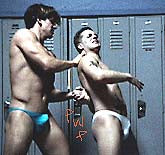 Collapsible content
DETAILS

Provide details like specifications, materials, or measurements.

Add an image in your Collapsible content settings for more visual interest.
TIPS

Share expert tips on how to use this product or pair it with other items.
SHIPPING

List the details of your shipping policy.