Regular price
Sale price
$29.95 USD
Unit price
per
Sale
Sold out
Match #1
the Rebel vs Simon
Simon is quite the hunk too. And he offers a great fight for the Rebel. He stretches out and displays the Rebels great body in backbreaking chinlocks and armbars and he enjoys seeing the big guy suffer under his power. These two hunks put eachother in some serious hard holds. Figure 4's headscissors"," full nelsons"," all the time looking great as they pour on the power. Rebel's side-headlocks and bearhugs are devastating"," with those big arms wrapped around you. He sleepers Simon out in this one for yet another powerful win. Fantastic watch. Great fight!!!
| | | |
| --- | --- | --- |
| The Rebel start off strong.... | ...but the smaller Simon has the Rebel down and in pain... | ...a tight head scissors has our new heel in some trouble... temporarily. |
| It isn't long before the Rebel shows his dominance... | ...a powerful front chancery... | ...and then a full nelson. |
| But the younger wrestler isn't without his own bag of tricks. | The Rebel decides to smother the smaller man before... | ...he clamps on a tight headlock... |
| ...then a head scissors... | ...before he gets the young punk... | ...ready for bed...chalk up another victory for the Rebel. |
Match #2
Mike vs the Rebel
Mike is a tough guy"," who has proven himself to be quite a heel as he showed us "In the Ring". But this tape happened to be the Rebel's show and he outdoes everyone in this one. The Rebel takes a quick start on Mike with his assault. The assault where the Rebel throws a series of devastating holds on poor screaming Mike"," Rebel smiles for the camera as he tightens the hold"," tosses Mikes punished body to the floor"," then flexes his fabulous body while he waits for Mike to get up. Repeatedly he does this"," showing us what a man he is. Mike's body suffers a lot of punching"," then he's tossed over Rebels big shoulder and slammed into the lockers. He is slowly destroyed with ribs-crushing bearhugs"," big backbreakers"," and all the time the Rebels muscles strain as they pour on the power. Mike Manson never stood a chance against this assault. His body crushed by the strength of the Rebel. The Rebel puts on a big hold until Mike almost goes out"," tosses Mike's tired body to the floor"," stands"," does some flexing for us"," and with a smile tell's Mike to 'get up' for some more. And does it over and over and over again. I'd say that this match is my favorite fight"," my favorite squash-job"," and if you want to see an amazing bodyhellip, the Rebel delivers. He doesn't stop there eitherhellip, you have to see how dominating he is to these guys he is up against on this tape. Each of them are big guys who the Rebel overpowers one by one. He's amazing to watch. CLASSIC TAPE.



After delivering a low blow to Mike"," The Rebel starts his barrage..first choking his...




...hapless victim. Then strips him of his jean shorts"," and proceeds to bearhug...




...his 'opponent' Mike until he can bearly breathe.




Then The Rebel picks up the lifeless body and airplane spins him.




Mike finds himself in a grinding headscissors...




...and the punishment lasts and lasts...




...and lasts....




...a front facelock...




...and the veteran wrestler is about ready to go...

...down... A surprising ending to an exciting match that pushes The Rebel closer and closer to the




ULTIMATE HEEL OF PWP WRESTLING
Match #3
the Rebel vs Pistol Pete
Take PWP's phenom"," and match him up taking on the guy who pulled off two wins in his first tape. The Rebel knows that this has little chance of being a real challenge and taunts Pistol throughout. From scissor to scissor"," the Rebel is always double-dutying"," destroying his opponent and showing himself off for the camera. God bless him. Pete manages to get one or two of his destructive scissor holds on the Rebel"," but the Rebel laughs. (This is the Rebelhellip, he is strong"," and fast"," and vicious in his assault"," and obviously puts in a lot of time at the gym and on the mats. He beams with confidence. He moves with powerful and meticulous craftiness"," always in control of his man and the fight"," and ALWAYS knowing how to look best for the camera. He's a showman and a majorly tough guy). Sohellip, Pete's scissors hurt the Rebel at times"," but mostly amuses him. This fight is just about a squash job. Pete is obviously a great opponent"," but not for the Rebel. The Rebel does another breathtaking flex routine over Pete's limp body. If you are into the scissor hold this tape is for you.
| | |
| --- | --- |
| Naturally"," The Rebel gets an early advantage... | ...and proceeds to inflict pain on his smaller opponent. |
| The pain that The Rebel inflicts on The Pistol in excruciating. | But"," the wiry young man is able to break free and clamp on his own punishing figure four... |
| ...and reverse leg scissors... | ...before he is caught by The Rebel's vice-like grip which The Pistol doesn't... |
| ...get a chance to break free from and so... | ...our Heel decides to showboat to Dan. |
| ...and the camera before... | ...the Pistol goes down to defeat. Can anyone defeat this man now??? Will Bad Boy get his chance??? |
Match #4
Bad Boy vs the Rebel'
The Rebel is an awesome wrestler"," tough guy"," with a great body and a vicious confidence when he attacks. Bad Boy is a brawny"," tough guy"," who just overpowers most any man. There is no better matchup. Right from the get go"," Bad Boy goes for Rebels back. He works it over first with a back-snapping bearhug"," then almost rips Rebels shoulder out with a huge armbar. Then he goes back to the back and attacks with a single leglock"," then a crab that even the big Rebel can't shake. Bad Boy tosses Rebel into a camel"," and then he wraps those big arms around Rebels neck and says "Sleephellip," as he pours on a sleeper. The devastated Rebel says "Nooohellip," as he slowly goes out. Bad Boy flexes over the Rebels destroyed hot-body. After his big win"," Bad Boy returns to the mat to wake up poor Rebel and sleeper him out yet again. CLASSIC MATCHUP.
| | |
| --- | --- |
| The Bad One has Sonny is a painful headlock. Yves parades 'The Rebel' around the mat in a show of defiance towards the young upstart. | But the little devil turns the tables on the bigger man and has him pinned in a leg lock. |
| But 'Bad Boy' easily escapes and clamps a powerful bear hug on the younger heel. | The Bad One dishes out more punishment as Sonny grimaces in pain. |
| This is followed by a powerful head scissors as the Bad One gleefully surveys his working over of the helpless young stud. | But the smaller heel is full of surprises..Here he does a little dirty work on Bad Boy's face. |
| But the bigger man is no match for The Rebel as he... | ...punishes the young grappler with a painful leg lock... |
| And then gets his young rival ready for... | ...la-la land...good night sweet prince. |
Match #5
Ironman vs 'The Rebel
Ironman assumed that this was going to be another novice to fight"," and goes after the good-looking Rebel very quickly. Hold by hold he works over the Rebel"," pounding his muscled body. Showing his experience"," Ironman controls the Rebel in a very lopsided way"," looking like a squash. It is great to watch all those muscles get worked over"," in a very commanding way. The Ironman looks fabulous posing over the fallen adonis. And just to see these guys in their very small bikini shorts is worth it.
| | |
| --- | --- |
| | |
| Ironman starts early to dominate the match... | ...as Sonny is on the receiving end of punishment... |
| | |
| ...and pain. Ironman's new face as Heel ... | ...makes him a formidable opponent.. |
| | |
| However"," Sonny does get in a few shots of his own and he is not above eye gouging. | But"," Ironman punishes the poor rookie... |
| | |
| ...in so many ways ...and he enjoys the punishment he dishes out. | Sonny head and neck get a beating and... |
| | |
| ...the young studpuppy's energy is soon ... | ...to be extinguished as he goes down in a long held sleeper..Does the Ironman return to inflict even more punishment?? |
Match #6
Danny D vs the Rebel
2 out of 3 falls
1st Fall
These two muscle guys really look great taking it to eachother"," trading experienced mat holds. Danny D discovers quickly that his opponent's slightly bigger size is a disadvantage so he meticulously works over his back to bring him down. He twists him up in various ways until he almost goes down. The Rebel fights back and with a solid sleeper"," then a big head scissors"," a camel"," a side headlock"," and then sleepers himself a win. This is a squash job"," and the Rebel is one hot looking heel.
2nd Fall
Once again Danny starts out tough with a series of side headlocks"," knowing that he needs to wear this muscle guy down. He really makes the Rebel suffer well. And when he decidedly tosses a sleeper on the Rebel"," all his abuse on him finally pays off with a win. Back at ya Rebelhellip, a squash care of Danny D. Danny is even gentleman enough to help his victim up after his abuse too.
3rd Fall
These two exchange powerful holds throughout most of this match. One fall a piece and either one capable of taking the match. Danny nearly puts the Rebel away a number of times. But it isn't until the Rebel throws a side headlock on D"," the match is decided. the Rebel wins this one. To see him in his amazing red briefs is amazing. This guy looks great. He has a fabulous body and killer good looks.
| | |
| --- | --- |
| | |
| 'the Rebel' has Danny in a tight head lock. | Danny tries a little hair pulling for fun. |
| | |
| 'the Rebel' is in control of the cute blond. | Here he applies pressure...Danny is in pain. |
| | |
| A punishing headscissors and Sonny thinks he is in control. | But"," Danny reverves and has the Rebel where he wants him. |
| | |
| Long held head scissors and... | ...punishing headlocks...are the favorites... |
| | |
| ...holds of these...young studpuppies. | 'the Rebel' is ","without doubt"," the most attractive and talented young wrestler PWP (Dan) has seen. |
Share
View full details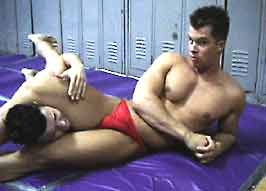 Collapsible content
DETAILS

Provide details like specifications, materials, or measurements.

Add an image in your Collapsible content settings for more visual interest.
TIPS

Share expert tips on how to use this product or pair it with other items.
SHIPPING

List the details of your shipping policy.