Regular price
Sale price
$42.00 USD
Unit price
per
Sale
Sold out
MATCH # 1
2 out of 3 Falls
Mad Maxx vs Angel
After a very short time"," Mad Maxx is now a veteran in the PWP. Hot newcomer"," Angel"," isn't too concerned about Maxx's winning streak either. Maxx offers some serious lessons for Angel"," as he dishes out all the sleeper holds he can. Angel doesn't lose his composure in the first bout. He gets a taste of what's in store for him as MM teaches him effective headlock sleepers"," fig-4 sleepers"," with a few chokeholds and scissoring sleepers. The first bout goes to Maxx.
Angel starts the second bout with a cheap shot to MM's crotch. Maxx is stunned by this giving Angel a chance to show his stuff. He wraps those big arms around Maxx's head and doesn't let go. Maxx is reeling and doesn't know what hit him"," and Angel just pours on the pressure"," sleepering Maxx out. It's beautiful to see the first of Maxx's defeats"," going to mega-hunk Angel.
The third bout has Maxx not looking too happy about his defeat. Not wasting any time"," he throws a big sleeper on Angel"," tough talks him"," and slowly watches Angels body go limp in his arms. Angel makes a huge win in the second bout"," but this one goes to the ultra-tough Mad Maxx.



Mad Maxx is in control over this rookie.




His punishing sleeper hold...




...has the little guy under his control...




...but the new man is no slouch..as Mad Maxx soon discovers.




But it goes without saying that the...




...first fall goes to our latest heel.


The 2nd fall begins with the Angel being not soangelic. A low blow puts Mad Maxx down...



...and so the 2nd fall goes to the Angel.




Mad Maxx is not pleased. Here he torures the youngsters neck...




...then clamps on his version of the Cobra before...




...finishing him off with is choke-sleeper combination.
MATCH # 2
2 out of 3 Falls
Mad Maxx vs Special K
Check out this new guy"," Special K. What a physique!! Total muscle and power"," and lots of attitude. He too isn't very concerned with Maxx's winning streak either"," because he is full of muscle. This is a tough one for Mad Maxx to win"," and it turns out to be pretty physical. K won't be intimidated at all"," and neither will Maxx. These two exchange powerful holds"," breaking eachothers sleepers and really manhandling eachother in the first bout. Maxx is constantly being shaken around while in Special K's holds"," but the first bout goes to MM. In the second it gets rougher"," with Maxx pounding on K's balls. Special K in return"," headbutts Maxx in the balls. With Maxx massaging his crotch"," Special K tosses a sleeper on him and tough talks him until he's out. Special K has a breathtaking set of arms"," and they hold confidently putting MM out. In the third"," it's Maxx getting back at K with a series of strong punches and stomps to his crotch. K is left shaken enough that Maxx just has to sleeper him out. These two guys are definitely both ultra-hot wrestlers. K look amazing in his first outing with PWP"," even sleepering Mad Maxx out. A great start for this fabulous hunk of man. Max takes this one"," but I'm sure we will see these two at it again soon. Brilliant muscle guy matchup. Pure PWP classic stuff.
MATCH # 3
2 out of 3 Falls
Special K vs the Rebel
Special K probably hadn't seen that many PWP matches before. He isn't intimidated by Mad Maxx"," and he certainly isn't by the Rebel. The Rebel looks fantastic in this tape"," but the much more powerful man is Special K and the Rebel knows that. He easily throws sleeper after sleeper onto the Rebel"," swinging him around in his arms effortlessly. The Rebel is outgunned. Everytime the Rebel gets one of his amazing sleepers on K"," it's just shrugged off by all that power. The Rebel does get a couple holds in the first bout"," but the big guy takes the Rebel easily. Watch for a beautiful cobra sleeper. In the second"," the Rebel is strung out in a sleeper/toehold"," bending his back hard. But when he cinches a sleeper on his massive opponent"," he makes it stick. Special K looks beautiful slowly going out"," muscles flexing trying to free himself. In the third it's the Rebel trying to shrug off a solid sleeper by Special K"," and K dominantly holding on. The Rebel in true form remains jovial throughout the match"," even though he is clearly outgunned. Special K is definitely a force in PWPhellip, and he's just a rookie. Great muscle action!!!



The Rebel is caught early by the Big Man -




Special K!




His punishing cobra claw has The Rebel reeling....




...but our veteran heel won't be easily defeated as he....




... puts the Big Man down on the mat with his tightly held sleeper.




But the Big One soon has the Rebel caught...




...and he goes down in the first fall to the Giant newcomer.




The second fall starts off with Special K in control but...




...our veteran heel soon has Special K down for the 2nd fall.




The 3rd fall is all Special K as The Rebel...




...is repeatedly punished until the very end.




This rookie has a glorious start.
MATCH # 4
2 out of 3 Falls
Special K vs Angel
Angel looks like one tough guy"," although Special K is awesome. That body is fabulous"," his attitude is dominating and his holds are powerful. Throughout this matchup"," it's all Special K"," except for the second. It's Angel coming out"," slamming his fist into K's crotch and tossing a smothering sleeper on him. K looks great going out in Angel's big arms. Watch for a great hammerlock/sleeper hold on Angel in the second bout. Special K really has what it takes to be a great wrestler"," and a clear force in PWP.
| | |
| --- | --- |
| This is a hard fought battle as the smaller Angel refuses to be PWP's new job boy. | The Big Man tries to humiliate the smaller man... |
| ...the little guy fights hard but..... | ...the much bigger man succeeds in ... |
| ...taking the first fall. | The 2nd fall isn't so easy for Special K...as the Angel. |
| keeps on the attack... | ...until the bigger man is put to rest. |
| But all that effort has weakened the Angel so the... | ...3rd fall goes to the Big One..Special K! |
MATCH # 5
2 out of 3 Falls
the Rebel vs Angel
The Rebel's spirit was broken by Special K"," and now he has another hunk to go up againsthellip, Angel. Angel is Rebel's size"," build"," and what seems a great deal more power than the Rebel. He confidently throws sleeper after sleeper on the Rebel"," slowly destroying his ego in the first bout. The second bout was only one hold. The Rebel with a solid sleeper on Angel for the win. But back in the third"," it's Angel again throwing his power in every one of his holds. By the end"," there is a string of sleepers on the Rebel"," kneeling"," standing"," and lying that the Rebel just can't shake off. Angel has deep confidence and a powerful bodyhellip, and drop dead good looks. Beating the Rebel on his first time out is HUGELY impressive"," don't you think?! Cool matchhellip,Rookie win over our veteran hunk.
| | |
| --- | --- |
| The Rebel begins the match in control... | ...but the feisty newcomer soon has The Rebel... |
| ...trapped in his sleeper holds... | ...and surprise of surprises...the Angel takes the 1st fall. |
| The 2nd fall is all The Rebel's as he... | ...keeps his man wrapped up in his sleeper holds... |
| ...until there is nothing but stars for our Angel to see!! | The 3rd fall returns with the Angel in control... |
| ...as The Rebel is continually weakened by The Angel's... | ...sleeper holds and then the end for the Rebel. The Angel takes his first 2 out of 3 fall match! What a beginning for this young man. |
MATCH # 6
2 out of 3 Falls
Mad Maxx vs the Rebel
Mad Maxx did not want to wrestle The Rebel. He seemed to have something else in mind. So did The Rebel.
Dan(PWP) did not want to include this match since it is a playful romp rather than wrestling. Mad Maxx"," especially"," wanted to kiss The Rebel's ear"," pull his trunks and generally misbehave. Judge for yourselves.
Mad Maxx didn't want to fight the Rebel?? So in this one"," Dan describes it at best as a play fighthellip, and not as many sleepers. I guess the Rebel wants a chance to redeem himself since losing to MM in 'the Rebel's Return'. Once again it's Maxx disregarding the Rebels status"," and dominating him throughout. Except for the second bout"," which was one of the Rebel's famous sleepers that MM couldn't shakehellip, it was all Maxx. A very jovial outing for both of these hunks"," but the Rebel just couldn't do it. Maxx roughs the Rebel up with multiple backbreaking/chokeholds"," and long hard sleepers. He breaks the Rebel early"," and keeps hitting him with holds. The Rebel once again is manhandled. And a first for himhellip, not winning any of his matches. What's with him? Maxx constantly throughout the match makes threats to who he thinks is his toughest opponenthellip, Special K"," while making the Rebel hurt. The Rebel is destroyed once again by this PWP tough hunk. Great matchup"," and a brilliant tape. LOTS OF ACTION ON THIS ONE!!! And loaded with super hot musclehunks.
| | |
| --- | --- |
| Mad Maxx starts with pulling The Rebel's trunks. | His then kisses The Rebel on the ear (several times)! |
| They play with one another in sleeper holds... | ...and then Mad Maxx forces The Rebel to smell his arm pit... |
| ...more trunk pulling and then... | ...the Mad One decides to put The Rebel... |
| ...to sleep and the first fall goes to Mad Maxx. | The 2nd fall has the Rebel take out Mad Maxx. |
| The final fall has Mad Maxx a little more aggressive... | ...as he decides to put The Rebel out once more..but there is something more than wrestling that attracts these 2 men!! |
Share
View full details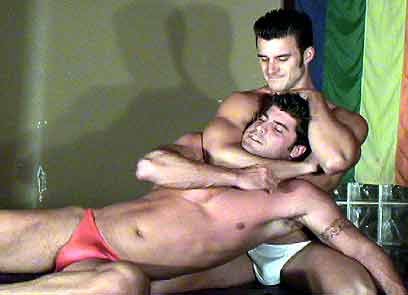 Collapsible content
DETAILS

Provide details like specifications, materials, or measurements.

Add an image in your Collapsible content settings for more visual interest.
TIPS

Share expert tips on how to use this product or pair it with other items.
SHIPPING

List the details of your shipping policy.