Regular price
Sale price
$29.95 USD
Unit price
per
Sale
Sold out
Match #1
Brandon vs The Scottish Cowboy
This is the Scottish Cowboys first match. He comes to PWP with a solid"," nicely muscled body (big arms and shoulders) and enough wrestling skill to take on big vets like the great Brandon. Brandon"," again"," looks amazing. Body building competition physique. In the early going"," the action is great"," as the SC pits his strength in hard holds and does well. Brandon sees that he has underjudged the new guy and kicks it up a notch. Both hunks let out screams of pain in painfully held Boston crabs"," nelsons"," armbars"," sleepers"," scissors"," big side headlocks"," tests of strength"," and bearhugs. The Scottish Cowboy shows no concern for his opponent's track record"," skill or big physique"," and gives Brandon a solid match-up. You have to see Brandon's ab claw on the SChellip, Brandon's whole body straining and flexing to hold it onhellip, and the SC's muscles straining to break the hold. The hold is devastating. It slows the big rookie down enough to take control. The Scottish Cowboy is shaken enough by the ab claw"," that he's now easy prey for Brandon. The SC has no strength left in him and can't shake Brandon's powerful 'chin to chest' nelson. A long sleeper finally topples this new tough guy who gives big Brandon a solid match-up. BUT"," not satisfied with his victory"," Brandon returns to the SC"," as he lay facedown on the mat"," and delivers some kicks"," followed by some more of his painful clawing"," this time to the back. And once again Brandon returns to carry his beaten muscled foe (who was crawling back to the lockerroom) back to the mat to deliver another nelson that is harder than the first and strong enough to knock the SC out.
| | |
| --- | --- |
| The Cowboy is a well-muscled athlete but Brandon gets an early advantage ... | ...and The Cowboy soon finds out what its like to ber at the mercy of The Asian Assassin .... |
| ...and a full nelson.... | ...but it isn't long before The Cowboy gets the upper hand... |
| ...and gives the Brandon a powerful full nelson. | ...and then proceeds to clamp on a sleeper. |
| But it isn't long before"," the Cowboy suffers at the hands and arms of Brandon. | ...here he must endure Brandon's full nelson. |
| The Cowboy's head is neatly tucked between those powerful thighs. | Brandon's legs bend the Cowboy's head. How can he endure the pain? |
| The Scottish Cowboy reels under the pain of Brandon's Asian claw hold. ... | ...and eventually puts the hapless victim to rest. |
MATCH # 2
Brandon vs Seacute,bastian
| | |
| --- | --- |
| Brandon begins his assault on Seacute,bastian with a punishing headlock. | But Seacute,bastian returns the favor with a leg lock..Tbis is an evenly fought match..with each wrestler... |
| ...taking advantage ...such as here with Seacute,bastien in a bone crushing legscissors. | ...or Seacute,bastian's armlock and some hair pulling on Brandon... |
| Brandon has Seacute,bastian down on the mat with his claw hold. | Seacute,batian has Brandon on the mat and asks him to have a taste of his foot. |
| Brandon claws at Seacute,bastian's pecs... | ...while Seacute,bastian tortures Brandon with a figure-four leglock. |
| Brandon gets the advantage at the end of the bout ..first with a full nelson. | Then"," with a little bit of choking... |
| ...another full nelson...this time on the mat and... | ...finally a long held sleeper and Seacute,bastian is Branded! But Seacute,bastian wants a re-match and maybe Dan will oblige in the near future. You let me know whether you think Seacute,bastian deserves another match with Brandon! |
Match #3
Brandon vs The Rebel
This is a matchup long awaited for by PWP fans. It stages the Rebel (model good looks"," a fantastic physique that he likes to flex"," an aggressive and cocky nature"," commanding holds"," dominating skills against any comers"," and rarely looses a match)hellip, against Brandon (handsome"," body building competition physique"," amazing wrestling skill"," dominating against his opponents"," aggressive nature and hasn't lost a match yet). This match is ego vs ego and WILL be a CLASSIC match. The Rebel wants to prove he's PWP's top wrestler and Brandon wants to prove him wrong. Lot's of beef"," lots of skill"," lots of egohellip, who's going to prevail?
The Rebel starts this one out with a sideheadlock"," but not for long. Brandon retorts with a bearhug and full nelson that leaves the Rebel with some concern early on in this fight. Brandon follows it up with a sleeper and bodyscissors/armbar. Later he wraps his big arms around the Rebel and squeezes on one of the biggest bearhugs the Rebel has probably ever felt. Brandon"," keeping the same long bearhug"," has the Rebel bent over backwards squeezing him very hard and actually holding him suspended in the air completely controlling him and surprising him with his great show of strength. Then it's ab claw time"," Brandon starting out with one of his signature holds"," until the Rebel reverses it with his own. Even the Rebel's sleeper"," that is devastating to most"," doesn't do much to Brandon. He easily pounds his way out of it and tosses another nelson on the Rebel and begins his domination of our muscled hero. No one manhandles the Rebel"," but Brandon has him dominated with scissors/crab hold combinations"," fig-4 headscissors"," bodyscissors"," claws to his back muscles"," ab claws"," sideheadlocks"," and stomping. It's one of Brandon's vice-like nelsons that finally does the Rebel in. "I quit!! I quit!!hellip," the Rebel repeatedly begs. After his loss"," when the Rebel warily gets up"," Brandon assaults him again with another sleeper"," and more brutal clawing and stomping. The Rebel is trashed. Brandon came to this fight focused and with a big desire to beat the Rebel. Brandon dominates the Rebel for a lot of the match"," beating him and proving to the others in PWP that he may be top dog. Great fight!!
| | |
| --- | --- |
| The Rebel gets an early advantage ... | ...But Brandon soon slaps on a full nelson .... |
| ...The Rebel revels as he squeezes Brandon's head.. | ...and then decides to do some facial massage. |
| ...but Brandon comes back with a bear hug. | ...and you will be amazed at the pain The Rebel endures from Branon's Asian Claw hold. |
| Another full nelson weakens The Rebel further.. | ...and with The Rebel on the mat Brandon continues his punishment. |
| a figure-four head scissors has the one time master heel in pain | ...then more pain with another full nelson |
| As Brandon gets his prey ready.. | ...for the finisher..watching The Rebel go down is a treat to watch... |
Match #4
Tag Team Match
'The Sex Machine' Big Boy and Brandon vs the Rebel and the Scottish Cowboy
This tagteam match-up has the 'SexMachine'"," Brandon and Bad Boy"," taking on the Rebel and the Scottish Cowboy. Brandon (sculpted bodybuilder physique). Bad Boy (big"," muscular"," and mean). The Rebel (beautifully built mega-hunk). And the Scottish Cowboy (newcomer"," who's build rivals any of the other guys). This has got to be a great match. Throughout"," these hunks double team eachother with combination holds"," really working eachother over"," with the Rebel and the Cowboy keeping up their momentum on their bigger opponents. It isn't until Big Boy and Brandon get their 'SexMachine' on the Rebel that the balance changes and the Rebel admits defeat. Although it doesn't stop therehellip, the Scottish Cowboy is yanked into it"," and with Brandon on the Rebel and Big Boy mauling the Cowboy"," they suffer in seemingly endless bearhugging"," nelsons"," and sleepers. What a Rebellion for our poor Rebel"," as he is out-muscled and beaten over and over again by Bad Boy and Brandon throughout this tape. Can this be the end to an era?? We'll see. Great tape with 4 PWP mega-hunks and loads of action.
| | |
| --- | --- |
| The Sex Machine have The Rebel exactly where they want him.. | ...then they proceed to dish out some claw punishment to The Cowboy .... |
| ...but The Cowboy delivers a low blow | ..This gives The Rebel an opportunity to do a little pay back to the Bad One. |
| ...The The Cowboy seems to enjoy giving the Bad One a wedgie.. | ...then both wrestlers proceed to humiliate the Bad One.. |
| But Brandon won't stand idly by..here he puts the Cowboy in a full nelson..look at the Cowboy suffer. | ...but The Rebel comes to the rescue... |
| but the Rebel is no match for Brandon as the grimace on his face reveals.. | ...then it is all over for both wrestlers as the double sleeper will knock you out! |
Match #5
Tag Team Contest
Sean Dyllon (both in Calvin Kleins) vs Brandon Bad Boy
Let me seehellip, how can I describe this one. This matchup is Dyllon and Sean on the receiving end of a whole lot of bearhugging. It's mostly 2 on 2 action. The big muscular team of Bad Boy and Brandon ('the Sex Machine') conquer in this one"," with Sean and Dyllon crying out in pain a lot. They are seriously manhandled in this one. It's bearhug-ilicious!!!
| | |
| --- | --- |
| Brandon is all over Dyllon as he... | ...plays with his hapless victim. |
| Bad Boy has his chance with Sean... | ...while both Brandon and Bad Boy put the double squeeze on Sean. |
| Now each heel gets his turn to put the pressure on... | ...and all four get together for some... |
| ...puppy squashing over and over again... | ...until these two studpuppies can no longer take it anymore. |
| Before the grand finale"," Sean and Dyllon get squeezed some more... | ...and then it all over but the climax. |
Share
View full details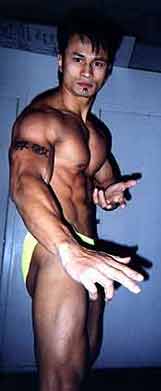 Collapsible content
DETAILS

Provide details like specifications, materials, or measurements.

Add an image in your Collapsible content settings for more visual interest.
TIPS

Share expert tips on how to use this product or pair it with other items.
SHIPPING

List the details of your shipping policy.