Regular price
Sale price
$39.95 USD
Unit price
per
Sale
Sold out
Match #1
The Rebel vs Danny D'
If you like your scissors"," then this is definitely the tape for you. What you have here is a tape where the wrestlers main hold they use is the scissors of any sort. And for this matchup"," anyone going up against the Rebel in a scissors battle is up for a match. Danny D looks great and pound for pound should probably put up a good fight. But for every scissors that Danny gets in"," and he has pretty big legshellip, the Rebel gets in double"," and the Rebels scissors damage. Their scissors are awesome in this one and Danny takes a lesson from one of the best. One of the Rebel's scissors almost smothered Danny"," holding him deep in his upper thighs. Danny surprises the Rebel occasionallyhellip, but this is the Rebel! He looks brilliant"," flexing his glorious body for us"," whether he's the aggressor or getting hurt. He always looks great. Displaying himself well as he squeezes the wind out of Danny. And beautiful posing as the winner over Danny's beaten body"," gives us a great look at the great Rebel. A great showman and a favorite for a reason. Thanks Rebel.
| | |
| --- | --- |
| The Rebel gets an early advantage... | ...with a close-up and personal head scissors. |
| The Rebel tries to choke Danny D' between his well-muscled thighs. | It isn't long before Danny D' gets the upper hand... |
| ...and gives The Rebel a taste of his figure-four... | ...and front head scissors. |
| But The Rebel in all his cockiness"," punishes Danny D with a long figure-four held head scissors... | ...and eventually puts the hapless victim to rest. |
Match #2
Eric Legros vs Pistol Pete
Both of these guys are in their first time out with PWP. Pete is smaller"," with a very nice physique. And Eric"," a taller guy"," and pretty big. Another who can out-scissor the other guy fight againhellip, Eric is great to watch because"," like the Rebel"," he too is great for flexing a lot when he's the aggressor"," showing off his abs and biceps. Pete has a lot to handle"," but does well. These guys move pretty fast"," trying to get the upper hand"," going from scissor hold to hold. They stretch eachothers arms and legs as they go for lots more painful leverage. Pete can take a lot of punishment"," which is bad for Eric. Finally Pete gets a front face scissors on Eric with Eric's face buried deep in Pete thighs. There was no escape. Pete takes this one on the big guy.
| | |
| --- | --- |
| The wiry Pistol gets an early advantage... | ...with a tight front head scissors. |
| But Eric is able to use his strength to gain... | ...the advantage and begins to punish the smaller wrestler. |
| Posing as he gives the Pistol a taste of his figure-four... | ...head scissors. Little did he know that the tough little guy would not only turn the tables on the bigger man... |
| ...but would punish him with a long held headlock...Pistol may be small but he is tough... | ...and the more he squeezes"," the weaker the bigger man becomes until it is all over for Eric and he submits..What an auspicious start for this young and up and coming star! |
Match #3
Pistol Pete vs Danny D'
Back to back"," Pete takes on another big guy"," to go scissors to scissors. He and Danny put up a really good fight. At times Danny hoists his smaller opponent up to show him. But Pete"," as he has demonstrated"," has a pretty awesome scissor hold. They trade back and forth until Pete gets one that Danny can't shake. He pulls Danny's arm to stretch him out good"," and squeezes the life out of him. Pete can really scrap"," take a load of punishment and surprise a win out of Danny D. A new dynamite at PWP with Pete and he scores another win.
| | |
| --- | --- |
| Danny D' gets an early advantage ..and tries to squeeze the life out of the Pistol. | But Danny is soon to learn that this lean and mean machine can put the squeeze on him... |
| The veteran Danny regains the advantage with a punishing figure-four head scissors... | ...and then proceed to get a little cocky... |
| ...so our little champion gives Danny a taste of his figure-four head scissors... | ...and proceeds to show him some back-side in another head scissorshead scissors. |
| The Pistol proceeds to punish Danny with long held... | ...head scissors until Danny can't take any more...This little guy is dynamite!! |
Match #4
the Rebel vs Pistol Pete
Take PWP's phenom"," and match him up taking on the guy who pulled off two wins in his first tape. The Rebel knows that this has little chance of being a real challenge and taunts Pistol throughout. From scissor to scissor"," the Rebel is always double-dutying"," destroying his opponent and showing himself off for the camera. God bless him. Pete manages to get one or two of his destructive scissor holds on the Rebel"," but the Rebel laughs. (This is the Rebelhellip, he is strong"," and fast"," and vicious in his assault"," and obviously puts in a lot of time at the gym and on the mats. He beams with confidence. He moves with powerful and meticulous craftiness"," always in control of his man and the fight"," and ALWAYS knowing how to look best for the camera. He's a showman and a majorly tough guy). Sohellip, Pete's scissors hurt the Rebel at times"," but mostly amuses him. This fight is just about a squash job. Pete is obviously a great opponent"," but not for the Rebel. The Rebel does another breathtaking flex routine over Pete's limp body. If you are into the scissor hold this tape is for you.
| | |
| --- | --- |
| Naturally"," The Rebel gets an early advantage... | ...and proceeds to inflict pain on his smaller opponent. |
| The pain that The Rebel inflicts on The Pistol in excruciating. | But"," the wiry young man is able to break free and clamp on his own punishing figure four... |
| ...and reverse leg scissors... | ...before he is caught by The Rebel's vice-like grip which The Pistol doesn't... |
| ...get a chance to break free from and so... | ...our Heel decides to showboat to Dan. |
| ...and the camera before... | ...the Pistol goes down to defeat. Can anyone defeat this man now??? Will Bad Boy get his chance??? |
Match #5
Round Robin
The Rebel Triumphs Once More!
This is quite the scissor fest. Eric seems to be in this one a lot"," and not by choice. The Rebel applies a solid fig4 headscissors and it takes it's toll. So for most of the rest of this one is Eric getting passed from guy to guy in various headscissors. Whenever he begins to get an edge"," the Rebel comes in to slow him down some more. These guys humiliate Eric. The whole thing comes to a glorious ending when there is a double headscissors going on between Danny D and Eric"," when the Rebel comes in and tosses a scissors on Danny. Then Pete gets in on the action and before you know it all three are strung together squeezing the wind out of eachotherhellip, all four at once. What an ending to a great scissor extravaganza.



The boys decide to gang up on Eric... first Danny D' gets his turn...




...then The Rebel...




...and finally The Pistol proceeds to choke Eric...




...but it isn't long before Eric has The Pistol looking up his crotch.




But The Rebel jumps in and gives Eric a taste of his figure-four head scissors...




...and then a close-up of his derriere.




After punishing Eric"," Danny looks to The Rebel for a tag only...




...to be caught in The Rebel's head scissors. But the...




...Rebelhas forgotten about The Pistol and so all four men find themselves locked in their own head scissors.
Share
View full details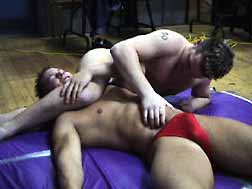 Collapsible content
DETAILS

Provide details like specifications, materials, or measurements.

Add an image in your Collapsible content settings for more visual interest.
TIPS

Share expert tips on how to use this product or pair it with other items.
SHIPPING

List the details of your shipping policy.