Regular price
Sale price
$42.00 USD
Unit price
per
Sale
Sold out
Match #1
Kid T.N.T. vs JohnnyMax
Johnny comes to this match very cut-up and lean. Very muscular guy. Johnny gives Kid TNT his best competition to date in this matchup. Back and forth"," TNT with his very experienced use of pro-style holds and leveragehellip, and Johnny with his powerful musclular force that goes into each of his holds. TNT has no choice but to resort to dirty tactics to retaliate to the strength of his mighty foe. TNT eventually brings the hunk down and makes him suffer 'to the MAX' in a series of toehold camels. Bye-bye big guy. Kid TNT is a true heel.
| | |
| --- | --- |
| Not a good move to start the match if you're Kid T.N.T.... | ...as JohnnyMax firmly grips the Kid's head inside those... |
| ...massive arms as the Kid writhers in pain on the mat... | But the wily T.N.T shows his stuff as he has the biger man wrapped inside his legs. |
| Well...JohnnyMax has taken a lesson from the Kid and low blows the unsuspecting heel... | ...and grinds his powerful legs around the Kid's head... |
| ...the Kid comes back but soon finds himslef in some pain... | ...as JohnnyMax has him in a figure-four leg lock. |
| The heel seems to have him wrapped up once more"," yet... | ...the bigger man puts the Kid once more inside those legs..Will Kid T.N.T. continue his recent undefeated streak? Or"," will JohnnyMax come out the victor?? |
Match #2
Seacute,bstien vs Denis Richard
These two are both very muscular guys and are sure to make a great for a great matchup. About the same size and talent. Sebastian's muscles flex and he grins to the camera as he pours on the heat. Denis looks awesome as he squeezes the life out of Sebastian with lots of scissors. This matchup goes back and forth. At one point it looks like Sebastian is going to snap Denis' neck with a vicious full nelson. These two push eachother to the limit. Great muscle guy matchup.
| | |
| --- | --- |
| At the begining of the match"," Seacute,bastien appears to be in control... | ...taking pleasure in punishing his opponent. |
| Denis shows the young upstart a few punishing holds of his own. | Here"," he delights in putting the pressure on Seacute,bastien's neck. |
| But this wiry young wrestler soon has Denis where he wants him... | ...punishing his opponent with a vice-like headlock... |
| ...and then parades him around the mat for all to see who is in control. | Digging deep Denis comes around. Here"," he tries to squeeze some sense into the young dynamo... |
| ...but Seacute,bastien will have nothing to do with it and makes poor Denis suffer with this camel clutch ... | ...and this punishing front bear hug..Is the end near for Denis? Or will he make a miraculous comeback?? Not very likely. |
Match #3
Sean vs Sexy Steve
These two guys guarantee a great matchup. Sean looks like he has put on a load of muscle as of late and looks like a great competitor for the hot body of Sexy Steve. It happens that Sexy has it all going his way and Sean suffers. Steve unloads on Sean with headscissors"," side headlocks"," and morehellip, displaying his body generously as he slowly destroys Sean. Sexy can just be too much sometimes"," and Sean finds out.
| | |
| --- | --- |
| A match of strength between Sean and Sexy Steve is no match... | ...as the bigger hunk puts Sean in a grinding head lock. |
| More pain and punishment is dished out on Sean as... | ...Sexy Steve squeezes and squeezes his powerful thighs... |
| ...around the neck of Sean...No matter what Sean tries to do to... | ...escape"," the Sexy One keeps control...smiling for all to see. |
| Next"," Steve stretches Sean's arm until it almost comes out of its socket...then... | ...he has Sean writhering in pain as he applies the pressure on a figure four leglock. |
| Sean makes a brief comeback but by the end of the match... | ...Sean has very little energy left as he slowly succumbs to Steve's powerful sleeper..Steve gets his revenge!! |
Match #4
Danny D' vs Ziggy
| | |
| --- | --- |
| Danny starts of the match with an interesting bearhug. | But the little devil turns the tables on Danny and sits on Danny's head. |
| But Danny is quick to turn the tables. Here he has Ziggy in a compromising position. | Danny continues his assault with a leg hold. |
| Once more"," Danny shows 'The Street Punk' a little something about pain and punishment. | But the Street Punk reverses on Danny and slaps on a sleeper hold. |
| Before Danny goes out...Ziggy... | ...finds himself staring up Danny's crotch. |
| Ziggy turns the tables once more on Danny... | ...and this time he seems to be in control..but will he be able to take the young blond down??? |
Match #5
Bad Boy vs the Rebel'
The Rebel is an awesome wrestler"," tough guy"," with a great body and a vicious confidence when he attacks. Bad Boy is a brawny"," tough guy"," who just overpowers most any man. There is no better matchup. Right from the get go"," Bad Boy goes for Rebels back. He works it over first with a back-snapping bearhug"," then almost rips Rebels shoulder out with a huge armbar. Then he goes back to the back and attacks with a single leglock"," then a crab that even the big Rebel can't shake. Bad Boy tosses Rebel into a camel"," and then he wraps those big arms around Rebels neck and says "Sleephellip," as he pours on a sleeper. The devastated Rebel says "Nooohellip," as he slowly goes out. Bad Boy flexes over the Rebels destroyed hot-body. After his big win"," Bad Boy returns to the mat to wake up poor Rebel and sleeper him out yet again. CLASSIC MATCHUP.
| | |
| --- | --- |
| The Bad One has Sonny is a painful headlock. Yves parades 'The Rebel' around the mat in a show of defiance towards the young upstart. | But the little devil turns the tables on the bigger man and has him pinned in a leg lock. |
| But 'Bad Boy' easily escapes and clamps a powerful bear hug on the younger heel. | The Bad One dishes out more punishment as Sonny grimaces in pain. |
| This is followed by a powerful head scissors as the Bad One gleefully surveys his working over of the helpless young stud. | But the smaller heel is full of surprises..Here he does a little dirty work on Bad Boy's face. |
| But the bigger man is no match for The Rebel as he... | ...punishes the young grappler with a painful leg lock... |
| And then gets his young rival ready for... | ...la-la land...good night sweet prince. |
Share
View full details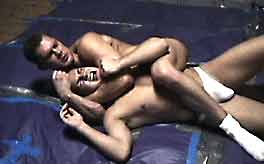 Collapsible content
DETAILS

Provide details like specifications, materials, or measurements.

Add an image in your Collapsible content settings for more visual interest.
TIPS

Share expert tips on how to use this product or pair it with other items.
SHIPPING

List the details of your shipping policy.