Regular price
Sale price
$35.00 USD
Unit price
per
Sale
Sold out
MATCH #1
KID BRANDON vs JAY
| | |
| --- | --- |
| Kid Brandon takes on his older brother Jay. | This is non-stop punishment by the Kid. |
| Brain-busters"," choking... whatever... | ...it takes to dominate his brother... |
| The frustration of Jay's face as the Kid has him locked up in a full nelson. | Then hammerlocks his brother. |
| Then viciously puts him... | ...to sleep... |
| ...and just before he is out"," the Kid rakes his brother's eyes. | The Kid pulls his trunks in defiance as he stands over his older brother. |
MATCH #2
GABRIEL vs THE REBEL
| | |
| --- | --- |
| The Rebel has put on some obvious muscle"," coming to this match bigger than ever and looking HOT. Too bad for him"," his first opponent is just a little bigger and a little tougher... and Gabriel isHOT!The big Gabe is all over the Rebel","(totally disregarding the vet's great history)"," and he goes for the Rebel's neck... | ...and he punishes The Rebels's head.Is Gabe smiling?? |
| Why not do some trunk pulling on the wellmuscled veteran. | A BIG FOOTin the back...That must hurt... |
| Gabe is still working over that neck"," and a full nelson has The Rebel on the mat. | Whose your daddy now?? |
| Front face lock... still on that neck. Gabe istotally dominatinghis opponent... | ... and he laughs as heletsThe Rebel put a full nelson on him. |
| Gabe easily break it and attacks The Rebel's head and neck with a powerful head scissors. | Next comes repeated punishing bear hugs"," both from the front and back... |
| The Rebel is out. | Gabriel adds insult to injury... At the end of the match"," Gabe'warns'Dan that he wants some real competition...These'pickles'"," as he labels his opponents"," are about to be devoured. OTHERWISE"," he will come after Dan......! |
MATCH #3
THE REBEL VS JAY



The smaller but tough Jay is all over The Rebel...




Jay lowers The Rebel with a figure-four...




...head scissors.




But the veteran reverses and shows Jay what a...




...TIGHT head scissors REALLY looks like!




Taking his cue from Gabriel he decides to go for the muscle hunks neck"," so Jay clamps on a full nelson...




...and soon has The Rebel writhering on the mat in pain.




Then"," really trying to punish the hunks neck"," he puts The Rebel in a camel clutch.




Then picks him up by the throat and proceeds...




...to choke the life out of the veteran.




JAYputs his hapless victim...




...to sleep...




...and easily triumphs over his BIGGER opponent.
MATCH #4
KID BRANDON vs THE REBEL
| | |
| --- | --- |
| The Rebel starts swith a bone crushing head lock. | The wiry younster quickly reverses and proceeds to... |
| ...use every dirty trick to dominate his opponent... | ...with eye gouging"," face claws and choking the musclehunk"," The Rebel. |
| The youngster tries to get a quick win win a sleeper hold... | ...but the veteran will have nothing of it... as he clamps on a full nelson on the Kid. |
| Then his patented bone-crushing... | ...head scissors... |
| ...but the Kid reverses and clamps on his own head scissors... | ...then proceeds to show his wrestling skills on the down and out veteran. And where Gabriel worked over hard and Jay also concentrated on...the Kid goes after that hurting neck of the Rebel...owwww... with a sitting camel clutch neckscissors. |
| The Kid forces The Rebel to submit with his patented finishing hold....the Montreal surf board. | "Take that punk". The cocky Kid scores another victory. |
MATCH #5
HANDICAP MATCH
GABRIEL VS JAY KID BRANDON



When GABRIEL enters the mat area"," the two smaller wrestlers cower in the corner...




...and no wonder as Gabe tosses these 'pickles' across the mat.




The Kid suffers in Gabe's full nelson...




...then endures his bone crunching head lock.




Gabe is so strong"," he shows off his muscles while keeping the struggling Jay's head locked in a vice-like grip.




The he clamps on a head scissors first on Jay...




...then on The Kid.




By this time the two youngsters are getting frustrated so they both try to take the bigger man down...




...only to have themselves trapped in Gabe's double head lock.


Jay has hidden some chloroform (rememberSleeper #5) which he intends to use on Gabe to get the advantage.



But Gabe knows what they are up to and easily takes the two and wraps his massive arms around them and starts to squeeze.





Gabe easily wins and stands over his two hapless victims.




Gabe tells Dan there had better be someREALcompetition soon or ELSE!!


Dan obliges with the 3 BIG opponents in theFIRST FULL NELSONtape.
HERE IS WHAT ONE FAN HAD TO SAY ABOUT SQUASH #2
"Dan"," I just got SQUASH #2"," and LOVE IT!! What a great tape"," that you will watch over and over. First you take the Rebel in hot white bikini briefs"," who recently put on a whole lot of muscle and size"," and looks solid. Then you put him in a match with the ultra-muscular Gabriel"," and have Gabriel totally work over the Rebel by focusing on his neck. This is one of the best muscle (squash) matches ever for PWP. Then"," still hurting"," the Rebel faces his next two matches against two brothers... FIRST Jay who has one of those very lean"," but nicely muscled physiques. His blue bikini briefs are filled to capacity"," and looks very hot. And Jay flexes those muscle as he continues the beating on PWP's hunk"," the Rebel. The Rebels neck is stretched and pulled hard by the hardbody Jay"," until he just can't take anymore. This too is a squash job match that you will watch over and over. Hold by hold Jay outmuscles the hunky Rebel. NEXT the Rebel faces Jay's kid brother"," Brandon. Kid Brandon is tall with a slightly smaller frame than his brother"," and like his brother fills out his red bikini briefs wonderfully. Brandon takes great pleasure in continuing where Gabriel and Jay left off"," working over the Rebels aching neck. All that hot muscle on the Rebel helps little in any of his matches"," where he is demolished. He looks delicious loosing bad to all three hot guys. This great tape also has a match between Jay and Brandon... a battle of the buldge match. It's very hot. And there is also a match where these two hunky brothers"," together take on Gabriel in a handicap match. This tape is FAN-freekin-TASTIC!!!"
Share
View full details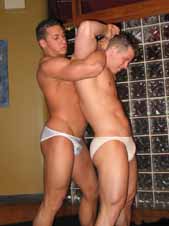 Collapsible content
DETAILS

Provide details like specifications, materials, or measurements.

Add an image in your Collapsible content settings for more visual interest.
TIPS

Share expert tips on how to use this product or pair it with other items.
SHIPPING

List the details of your shipping policy.