Regular price
Sale price
$39.95 USD
Unit price
per
Sale
Sold out
Match #1
KID TNT vs LENNY
| | |
| --- | --- |
| Kid TNT begins the match in control of Lenny with a mean headlock. | But Lenny grabs the Kid's balls to take control... |
| ...and delivers even more ball punishment with his feet... | ...then he rakes the Kid's eyes. |
| ...but the veteran Heel has Lenny in pain... | ...no it's not what you think... the Kid has gone a little mad... he is biting Lenny's groin!! |
| Lenny reverses in the only way he knows... | ...but the Kid stays on top and punishes Lenny from behind. |
| ...both men show their wrestling prowess... here the Kid has Lenny in a painful chinlock... | ...and Lenny has the Kid in a full nelson. |
| Lenny can't resist ..... | ...and neither can the Kid... twisting and pulling and each other's baskets!! |
| The end is in sight for poor Lenny as the Kid takes him to task with even more groin punishment. | After he gets a submission"," he parades Lenny on his shoulders AND PUNISHES HIM SOME MORE!! |
Match #2
GEMINI vs LENNY
| | |
| --- | --- |
| Gemini is the first to lower the boom on Lenny. | He makes Lenny suffer and then clamps on a leg lock and knees him in the stomach for good measure... |
| ...but our wiry veteran soon has Gemini down and crying out for help. | When he clamps on his sleeper"," it's is harder and harder for poor Gemini's eyes to stay open... |
| ...but tGemini know how to turn the tables in his favor... a good grab of Lenny's basket will do teh trick. | ...and then clamps on his own sleeper! |
| He then proceeds to stomp on poor Lenny's balls and cock... | ...but Lenny recovers and attacks Gemini's privates from behind... |
| ...then lifts him over his head in an impressive torture rack. | What's Lenny doing... biting Gemini's basket?? |
| A figure-four torture and its all over for Gemini. | The end and Lenny decides to massage Gemini some more. |
Match #3
KID TNT vs COLIN



Kid TNT loves to punish Colin..There is soemthing about Colin that just energies the Kid.




Every chance he gets he LOVES to punch Colin...




...and he delivers more punches that FTD delivers flowers.




Oh my"," how the Kid loves to torture Colin... and Colin is helpless to retaliate...




...or so I thought. A grab from behind just makes the Kid want to hurt Colin even more!




A punishing squeeze...




...is followed by foot in the groin... ouch...




...a figure-four leg lock has Colin reeling in pain... how much more can he endure?




The Kid loves to hit the youngster. Here he delivers a knock-out head-butt.




Once down on the mat"," Lenny gets his fill of Colin's big basket.




The puts him in the air and parades the punk for all to see...




... before he is through with the boy"," he proceeds to grab him in several headlocks and knocks Colin to the ground with punches he head!




The end in finally here for Colin. The Kid enjoyed his romp over this young punk. This was one of the best squashes I've seen in a long"," long time!
Match #4
GEMINI vs COLIN
| | |
| --- | --- |
| After his humiliation at the hands of Kid TNT Colin begins the match in control with a low and tightly squeezed grab. | Colin thinks he can dominate the Black wrestler... |
| ...but soon discovers that Gemini is a veteran wrestler. Here he stretches the young upstart... | ...and then dances on Colin's big basket! |
| Gemini likes beating up on Colin also... hair pulling makes Gemini happy... | ...and a little grab from behind the scenes... well what have I found... does it hurt Colin?? |
| What a pose... Gemini traps Colin's left leg between his"," lifts Colin's right leg and low and behold there is a clear path to Colin's groin. | Gemini shows some of his wrestling prowess as he traps Colin with a double leg and foot twist. |
| But Gemini waits until he has Colin's head wrapped around his legs... | ...squeezing hard"," then releasing"," squeezing hard again"," hair pulling and just plain humiliation... Colin is dead meat!!Another glorious match. |
Match #5
GEMINI vs KID TNT



Kid TNT begins the match taking a mean handful of Gemini's crotch!!




The Kid goes crazy yanking and pulling on...




...the hapless Gemini. The Kid just keeps at it...




...even from behind the black wrestler"," the Kid has only one thing on his mind...




...persistent brutality...




...trapped between the Kid's legs... Gemini struggles to get free...




...and before you can say... 'in your face'... Gemini has the Kid's face and neck twisted and choked.




Once he gets the Kid in his body scissors"," its Gemini's turn to do some groin pulling.




...and some neck choking...




...and once Gemini gets the Kid's head between those legs... well...




...Its curtains for the Kid..as Gemini dominates the veteran until he submits.
Match #6
LENNY vs COLIN
| | |
| --- | --- |
| Lenny relishes getting on with Colin..He saw what the Kid did and wnats some for himself. | 'What's this?' says Lenny as he grabs that big basket. |
| Lenny stretches Colin... here he has him in a full nelson. | Colin makes a brief comeback with a foot in Lenny's groin... only to... |
| ...get the same treatment... and more!! | ...What a look of pain on Colin's face and what delight on Lenny's. |
| ...a knee to the groin gets things done.. | ...and after Colin submits"," Lenny does more work on his victim's basket. |
Match #7
TAGTEAM MATCH
Lenny Kid TNT vs Colin Gemini
| | |
| --- | --- |
| This tag team match has Lenny Kid TNT take on Colin Gemini. early on the two heels have some fun with toy boy Colin... | Another punch for Colin"," courtesy of the Kid... |
| ...groin work is all part of the business of staying on top... | ...but when Colin tries it with a little help from Gemini... |
| ...well the veteran heels double team the punk and have some fun with him... | ...how far can you stretch him Lenny?? |
| Lenny almost has Colin out for the count but when the Kid interferes"," Gemini jumps in and... | ... this mix-up results with Lenny"," Colin"," the Kid and Gemini on the mat. |
| ... the Kid is after Colin's basket again... | ...here he is helping Lenny with a figure-four on Colin. |
| The two heels put both victims to sleep and after winning the match... | ..they take pleasure parading their prey around the mat..What a pair? Will they return in the nextRough and Raunchymatch-up? Will there be anotherRough and Raunchytape? Let me know. Do you want to see more? |
Share
View full details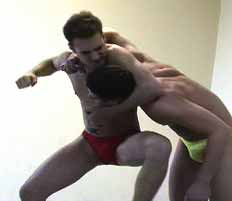 Collapsible content
DETAILS

Provide details like specifications, materials, or measurements.

Add an image in your Collapsible content settings for more visual interest.
TIPS

Share expert tips on how to use this product or pair it with other items.
SHIPPING

List the details of your shipping policy.