Regular price
Sale price
$42.00 USD
Unit price
per
Sale
Sold out
Match #1

Bad Boy vs Sexy Steve
Enter Sexy Steve and Bad Boy"," both looking ultra-lean and both as muscular as ever. Steve takes Bad Boy down first with a head scissors. And back and forth it goes for a while. BB with an anklelock"," then Steve with a camel"," then BB"," then Steve"," until BB startshellip, he unloads on Steve with a barrage of holds that stuns the Sexy One. And he keeps going from recliner toehold chinlock"," to a series of armbars"," to a big camel"," to headscissors"," to nelson"," to another headscissorshellip, going from hold to hold lifting devastated hunk Steve up and giving him more. It isn't until he wraps his muscled bod around Steve's with a sleeper"," that Steve is done. Bad Boy comes to this full of ammunitionhellip, he destroys Sexy Steve first off and his target is the Rebel. Later he returns to the mat"," revives Steve and tosses a cobra on him. With Steve out cold"," Bad Boy kneels over him and does a posing routine to show off his physique. Very cool. "Complete destruction""," Bad Boy says as he leaves the match"," and it was.
| | |
| --- | --- |
| Sexy Steve gets an early advantage ... | ...with a close-up and .... |
| ...personal head scissors... | ...but it isn't long before 'Bad Boy gets the upper hand... |
| ...and gives the Sexy One a taste of... | ...the punishment he wants to give to The Rebel. |
| The Sexy One reels under the pain of Bad Boy's punishing arm bar... | ...and eventually puts the hapless victim to rest. |
Match #2
the Rebel vs Eric Legros
Eric comes to these matchups looking real good. He's a bigger guy and is pretty built. The Rebel"," as always"," is a great showman when he wrestles. He's got a fantastic build"," and he likes to flex his big arms and legs whenever he has a moment. For your entertainment value"," there probably isn't any guy better at working the camerahellip, for you. He confidently gives Eric time between holds to get up and get ready for the next hold. This match is jovial"," but the Rebel came out here to win and to show Bad Boy (who is sitting at matside watching"," cheering on Eric) that he is the better. He taunts Bad Boy throughout the match and tosses boxes at him. A couple of times Eric capitalizes on it and ambush Rebel while he is busy with Bad Boy. Once he quickly lifts up the Rebel and gives him a backbreaker over his knee. But it's the Rebel who wears Eric down with everything"," until he tosses a big side headlock on him and Eric submits. The Rebel poses over Eric's body"," leaves and comes back to let Eric know that he can't submit. Eric then suffers a sleeper and goes down the Rebel way. Both these hot bodies put on a great"," fun match. The Rebel scores another win on the way to battle Bad Boy.
| | |
| --- | --- |
| Eric gets an early advantage... | ...and thinks he has his man where he wants him... |
| ...but The Rebel reverses and puts a punishing bear hug on one of PWP's newest up and coming stars. | The Rebel is so sure of himself..Here he poses for the camera... |
| ...and Eric shows he's no slouch and tries to put our resident heel to sleep... | ...but the wily Rebel soon has control ...and begins to punish... |
| ...Eric's head. First with a scissors and then with a grinding headlock. | Eric continues to amaze Dan (and The Rebel) with his resilience and prowess only to be brought down with an illegal low blow. |
| The Rebel now smells victory and begins to taunt his helpless victim... | ...and eventually puts poor Eric to sleep..You will notice that Bad Boy is looking on.All the wrestlers wanted to watch their opponents during this"," the last time"," at The Warehouse. |
Match #3
Bad Boy vs Eric Legros
Even though it's his first outing with PWP"," Eric really proves his stuff. He's a big guy"," so he can put up a fight with the Rebel or Bad Boy or Steve. But let's make this clear"," Bad Boy is out to win and hurt his opponents however big they are. Whenever Eric gets the upper hand at all"," which he can with his size"," Bad Boy pounds his way out of it. Throughout the match Bad Boy demonstrates what he can do by almost putting his man out"," then lifts him up"," wakes him and continues his barrage. Eric tries hard"," but Bad Boy is too much to handle. A sleeper finish. Two down and one to gohellip, for Bad Boy.
| | |
| --- | --- |
| Bad Boy gets an early advantage... | ...but Eric shows his talent as he arm bars the Bad One... |
| ...and applies an up front and personal head scissors... | ...but it isn't long before 'Bad Boy gets the upper hand... |
| ...and levels Eric with a low blow... | ...and the proceeds to destroy his victim. |
| Here he tells Dan (PWP) that he is going to knock Eric out with his devastating head punch... | ...then starts the slow punishment of first Erics arm. |
| Then Eric's legs as he reels under the pain of Bad Boy's punishment... | ...until he eventually concedes defeat. |
Match #4
the Rebel vs Sexy Steve
Here's a reminderhellip, Sexy Steve beat the Rebel in 'the 2nd Bearhug Tape'. So"," can he do it again? Steve pulls out everything he has to get another one out of the Rebel. The Rebel is a pro at getting the win"," and he does this with grand fashion flexing his way throughout another match. Sexy brings awesome looks and a great wrestling ability to this"," but he is no match for the Rebel. Even when he does get an edge"," the Rebel slows him down with a hit to the crouch. Camels"," nelsons"," side headlocks bring down Sexy"," but it's with a long fig4 headscissors that the Rebel gets Steve to submit. The Rebel doesn't just win"," he shows Bad Boy that he is the One. Sexy might have his way next time.
| | |
| --- | --- |
| Sexy Steve gets an early advantage... | ...but our Heel soon finds himself on top and... |
| ...pulling the Sexy One's golden locks... | ...but The Sexy One reverses and has The Rebel in a painful head scissors. |
| Our Hero decides to use his foot to good advantage... | ...only to be found on the receiving end of The Rebel's low blow. |
| Then it is all The Rebel as he dishes out the punishment... | ...and laughs at his fallen prey... |
Match # 5
Bad Boy vs The Rebel
The match begins with Bad Boy's entrance. He is on crutches with an injured ankle which he suffered at the hands of the Rebel. This happened in a previous match between Eric and Sexy Steve (which will be seen in the 2nd Annual Wrestling Bash). Both Bad Boy and The Rebel were at mat side. Bad Boy sided with Sexy Steve while The Rebel championed Eric. The Rebel kept up his taunts against Bad Boy saying he would easily win against Bad Boy in Rebellion #2. This lasted until Bad Boy could take it no longer and these two wrestlers took their battle out into the backyard of The Warehouse. This is the first time since that encounter that Dan (PWP) had seen Bad Boy.
Bad Boy shows up for his match with an injured ankle that he acquired at the hands of Sexy Steve in a match not on this tape. The Rebel thinks that he will have an easy time with this turn of events"," and begins to work over the valiant Bad Boy. The holds are too plenty to even mention. The Rebel nearly demolishes the injured Bad Boy"," BUT get thishellip, as the Rebel has him in a vicious sideheadlock"," Bad Boy reaches down and undoes his ankle bandage"," wraps it around the Rebel's neck"," and begins his return. He isn't really injured at all and uses it as a ploy to surprise attack the Rebel. This one goes into hardcore fighting involving boxes"," stomps to the groin"," repeated choking"," etchellip, ANDhellip, the Rebel has his surprise for Bad Boy too. He brought backup. Eric is eager to jump into the match when the Rebel needs him"," to double team Bad Boy. Lucky for Bad Boy"," Sexy Steve is there to help him out. This match is mainly the two big personalities going at it. Who is bigger? Or tougher? Or a better wrestler? Or better looking? Or who is Number 1 in PWP? That's what this match is about. FULL of cocky"," skilled wrestling by two very hot looking"," talented wrestlers. AWESOME!!! It doesn't get much better than this.
| | |
| --- | --- |
| The Rebel takes an early advantage of Bad Boy's 'helpless' state. | With both Sexy Steve and Eric loooking on"," the Rebel continues his onslaught... |
| ...with low blows and taking delight in... | ...the mauling he is dishing out to Bad Boy. |
| The Rebel loves to showboat and Bad Boy knows it...He is waiting for the opportunity to 'shed' his injury. | Bad Boy had all of us fooled..Here he is choking the Rebel with his ankle bandages. |
| But he tries to put the Evil one out before his time... | ...which was a fatal error. The Rebel applies Bad Boy's favorite hold on him... |
| ...and proceeds to choke him with a head scissors. | Bad Boy reverses and starts choking the life out of the Rebel. |
| But The Rebel is a seasoned veteran of PWP. Here he insults Bad Boy by almsot wripping off his trunks. | Bad Boy has had enough of The Rebel and pounds a low blow of his own. |
| But the Rebel's 'secret weapon' has been Eric who jumps to The Rebel's rescue. Here Bad Boy is double teamed as The Rebel pounds Bad Boy's gut with repeated punches... | ...and Eric gets in a few of his own on the hapless Bad One. |
| The double teaming continues...Sexy Steve can't hold himself back and tries to help Bad Boy... | ...but he too falls victim to the onslaught of these two merciless heels....What will Bad Boy do now??? |
Share
View full details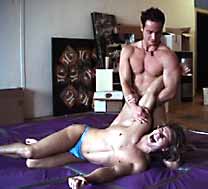 Collapsible content
DETAILS

Provide details like specifications, materials, or measurements.

Add an image in your Collapsible content settings for more visual interest.
TIPS

Share expert tips on how to use this product or pair it with other items.
SHIPPING

List the details of your shipping policy.