Regular price
Sale price
$37.00 USD
Unit price
per
Sale
Sold out
Match #1
Mike vs the Rebel
Mike is a tough guy"," who has proven himself to be quite a heel as he showed us "In the Ring". But this tape happened to be the Rebel's show and he outdoes everyone in this one. The Rebel takes a quick start on Mike with his assault. The assault where the Rebel throws a series of devastating holds on poor screaming Mike"," Rebel smiles for the camera as he tightens the hold"," tosses Mikes punished body to the floor"," then flexes his fabulous body while he waits for Mike to get up. Repeatedly he does this"," showing us what a man he is. Mike's body suffers a lot of punching"," then he's tossed over Rebels big shoulder and slammed into the lockers. He is slowly destroyed with ribs-crushing bearhugs"," big backbreakers"," and all the time the Rebels muscles strain as they pour on the power. Mike Manson never stood a chance against this assault. His body crushed by the strength of the Rebel. The Rebel puts on a big hold until Mike almost goes out"," tosses Mike's tired body to the floor"," stands"," does some flexing for us"," and with a smile tell's Mike to 'get up' for some more. And does it over and over and over again. I'd say that this match is my favorite fight"," my favorite squash-job"," and if you want to see an amazing bodyhellip, the Rebel delivers. He doesn't stop there eitherhellip, you have to see how dominating he is to these guys he is up against on this tape. Each of them are big guys who the Rebel overpowers one by one. He's amazing to watch. CLASSIC TAPE.



After delivering a low blow to Mike"," The Rebel starts his barrage..first choking his...




...hapless victim. Then strips him of his jean shorts"," and proceeds to bearhug...




...his 'opponent' Mike until he can bearly breathe.




Then The Rebel picks up the lifeless body and airplane spins him.




Mike finds himself in a grinding headscissors...




...and the punishment lasts and lasts...




...and lasts....




...a front facelock...




...and the veteran wrestler is about ready to go...

...down... A surprising ending to an exciting match that pushes The Rebel closer and closer to the




ULTIMATE HEEL OF PWP WRESTLING
Match #2
the Rebel vs Seacute,bastien
Sebastian serves as a worthier opponent for the Rebel. So this is a great big guy matchup. Right off the bat"," the Rebel gets his rib-crushing bearhug in. Those big arms of his are very devastating in that hold and he knows it. In fact he knows that most of his holds are devastatinghellip, and to watch him confidently smile as he overpowers his foe is pretty cool. Though"," Sebastian has put on some size and enjoys flexing his body over the Rebel at every chance he gets too... and he does. The Rebel is on a roll and he is just too much right now. Sebastian does put up a good fight"," but the Rebel is just too much manhellip, Very good muscle guy fight.
| | | |
| --- | --- | --- |
| The Rebel begins with a front bearhug... | ...and applies the pressure on Seacute,bastien. | A headlock starts to wear the young wrestler down... |
| ...and some face massage does seems to do the trick... | ...but the wily Seacute,bastien reverses and starts... | ...his barrage on our heel. |
| Here he grimaces in pain... | ...but Seacute,bastien enjoys his romp with... | ...his new found 'playmate'. |
| Seacute,bastien adds insult to injury by pulling the Rebel's trunks not once... | ...bit twice...has the Rebel met his match?? I don't think so...but this turned out to be a tougher match than our newest heel had planned for. | Seacute,bastien in total control??? |
Match #3
Mike Manson vs Simon
This match has hunky Simon against the pro wrestling style of Mike Manson. Simon suffers a great deal"," when Mike shows his experience with a lot of punches mixed with some very impressive pro-moves. Backbreakers"," chinlocks"," toeholds"," lots of lifts and tons more punching has Simon screaming and rolling on the mat in pain. Simon is no solid in his pursuit. It's fun to see the hunky Simon fight back. He flexes his great body over the wailing Mike at one point. Mike has to resort to a blow to the crotch and some eye gouging to slow him down. Not being able to repeat the comeback"," Simon is demolished with a series of blows and slamming into the locker. Mike is vicious in his attack. The hunk goes down in defeat. Cool matchup.
| | | |
| --- | --- | --- |
| This is pretty much a ... | ...squash job for Mike Manson.. | ...who shows off his pro wrestling prowess... |
| ...on the hapless young and inexperienced wrestler. | However"," Simon gets a few digs... | ...of his own on the larger man. |
| Here he tries to relax with Mike's head between his legs... | ...but Mike will have nothing of this and resorts to below the belt kicks. | He then proceeds to humiliate the young man with numerous submission holds... |
| ...including a sleeper only to let go in order to inflict even more pain... | ...and cruel punishment... | ...until the multiple submision end which begins with a figure four leg lock...a devastating squash job!! |
Match #4
the Rebel vs Simon
Simon is quite the hunk too. And he offers a great fight for the Rebel. He stretches out and displays the Rebels great body in backbreaking chinlocks and armbars and he enjoys seeing the big guy suffer under his power. These two hunks put eachother in some serious hard holds. Figure 4's headscissors"," full nelsons"," all the time looking great as they pour on the power. Rebel's side-headlocks and bearhugs are devastating"," with those big arms wrapped around you. He sleepers Simon out in this one for yet another powerful win. Fantastic watch. Great fight!!!
| | | |
| --- | --- | --- |
| The Rebel start off strong.... | ...but the smaller Simon has the Rebel down and in pain... | ...a tight head scissors has our new heel in some trouble... temporarily. |
| It isn't long before the Rebel shows his dominance... | ...a powerful front chancery... | ...and then a full nelson. |
| But the younger wrestler isn't without his own bag of tricks. | The Rebel decides to smother the smaller man before... | ...he clamps on a tight headlock... |
| ...then a head scissors... | ...before he gets the young punk... | ...ready for bed...chalk up another victory for the Rebel. |
Match #5
Mike Manson vs Seacute,bastien
Sebastian punches Mike in the gut to start this one. Then with a long side-headlock"," then a big full-nelson bodyscissors"," then an armbar"," then an upside-down bearhug"," and then he takes a little break and flexes. Mike soon takes advantage with a punch to the crotch that sends Sebastian down. Mike then holds his own against big Sebastian with some more punching. Sebastian is reeling"," but fights back in his own way with punching"," slamming Mike into the lockers"," hair pulling"," wedgies"," and then a camel clutch backbreaker. Sebastian showing his confidence as he easily tosses Mike around. Sebastian has a lot fun when he is dominating. 1hellip,2hellip,3hellip,backbreakers later on Mike"," and probably that many HUGE bearhugs"," has Mike screaming "I give". Mike has a very hard time getting up after this beating at the hands of Sebastian. ANOTHER AWESOME MATCHUP!!!
| | | |
| --- | --- | --- |
| Seacute,bastien enjoys his working over the veteran... | ...with punishing headlocks... | ...and punishing his opponent on the mat. |
| Here he lifts Mike and sends him crashing to the mat... | ...but the veteran grappler has Seacute,bastien in a... | ...punishing hold and it looks like Seacute,bastien will soon retire...but our villain... |
| ...wants to punish him some more...here he uses this thumb to poke Seacute,bastien in the eye. | But Seacute,bastien gets on top and pulls the man's trunks...this seems to be a favorite move of our young buck. | But happily punishing his opponents seems to be... |
| ...another pleasure Seacute,bastien enjoys... | ...here he nods to the camera his approval... | ...before he begins to finish Mike with a backbreaker....poor Mike!! He came to teach but has much to learn from the PWP wrestlers. |
Round Robin Match
To see all these wonderful looking guys together in one match is worth the tape. Two by two they hit the mat"," and tag eachother in when they have a chance. Lots of fun antics and lots of tagging as they take turns beating on eachother. Lots of big holds and lots of suffering by each of these big guys. The Rebel has taken a match each from them"," so they decide to ambush him and punish him a little. But then Bad Boy Yves jumps in for the rescue"," and takes it to them and they suffer for what they did. But to Bad Boy's astonishment"," the Rebel isn't that thankful or impressed by the gesture. And in his heel fashion he ungratefully punishes Yves for being a hero. This is a great tapehellip,a true classic. The Rebel is a great wrestler"," and he proves it on this tape. He has an amazing physique and killer good looks. The punishment that everyone takes at his hands is truly great to watch. 'Rebellion' is a classic tape and well worth the watch. (A+++)
| | | |
| --- | --- | --- |
| This match begins with all four.. | ...wrestlers each double teaming one... | ...man as the other wrestlers look on.. |
| Simon tries to tag Seacute,bastien only to have him pull back his hand and laugh. | Mike is the first wrestler to be eliminated...who knew??? | Then it is poor Simon's turn...as the new kid on the block he decides to form an alliance with... |
| ...Seacute,bastien against the Rebel...both had been beaten up by him so now... | ...they think they can exact their revenge on him... | ...but to everyone's surprise in jumps Bad Boy"," The Rebel's mentor to... |
| ...save the day..first Seacute,bastien and then the Big Man decides to really punish.... | ...Simon and teach him a lesson not to mess with his protegeacute,..but... | ...the protegeacute, takes exception and begins his barrage on the bewildered Bad Boy...Is this the end of a tag team or the beginning of revenge for Bad Boy??? |
Share
View full details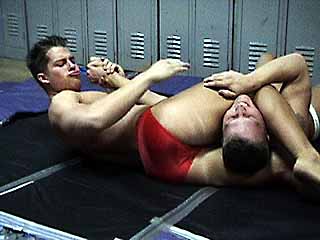 Collapsible content
DETAILS

Provide details like specifications, materials, or measurements.

Add an image in your Collapsible content settings for more visual interest.
TIPS

Share expert tips on how to use this product or pair it with other items.
SHIPPING

List the details of your shipping policy.