Regular price
Sale price
$29.95 USD
Unit price
per
Sale
Sold out
MATCH #1
Danny Boy vs The Rebel



Danny Boy does some brain dusting on The Rebel...




...before he clamps on a sleeper...




...he drags him over to the couch ...




...and then down to the mat.




The 2nd fall is all The Rebel...




...as he is quick to put Danny Boy on the mat where he stays before going out!




The 3rd fall is Danny Boy's...




...even though The Rebel does get a lick or two in.




But Danny Boy is too cagey for the Rebel...




...and once he has him over to the couch...




...its all over for the Red Rebel..
Match #2
the Rebel vs Seacute,bastien
Sebastian serves as a worthier opponent for the Rebel. So this is a great big guy matchup. Right off the bat"," the Rebel gets his rib-crushing bearhug in. Those big arms of his are very devastating in that hold and he knows it. In fact he knows that most of his holds are devastatinghellip, and to watch him confidently smile as he overpowers his foe is pretty cool. Though"," Sebastian has put on some size and enjoys flexing his body over the Rebel at every chance he gets too... and he does. The Rebel is on a roll and he is just too much right now. Sebastian does put up a good fight"," but the Rebel is just too much manhellip, Very good muscle guy fight.
| | | |
| --- | --- | --- |
| The Rebel begins with a front bearhug... | ...and applies the pressure on Seacute,bastien. | A headlock starts to wear the young wrestler down... |
| ...and some face massage does seems to do the trick... | ...but the wily Seacute,bastien reverses and starts... | ...his barrage on our heel. |
| Here he grimaces in pain... | ...but Seacute,bastien enjoys his romp with... | ...his new found 'playmate'. |
| Seacute,bastien adds insult to injury by pulling the Rebel's trunks not once... | ...bit twice...has the Rebel met his match?? I don't think so...but this turned out to be a tougher match than our newest heel had planned for. | Seacute,bastien in total control??? |
MATCH #3
Bradley vs The Rebel
'PWP's ultra-hot musclehunk is beaten by the rookie'



This is a classic match-up

...

and what a surprise as...



...Bradley has The Rebel under his spell!!




As hard as The Rebel tries"," he can't break free from Bradley's grip.




What a smirk on Bradley's face as he control's our sexy musclehunk veteran.




The youngster knows he has him...




...he just wants to toy with him some more.You better watch out Bradley!!




But The Rebel succumbs to Bradley's every whim.




The 2nd fall has The Rebel prepared...




...and as soon as he has the young man on the mat... its...




...curtains for Bradley!




But the 3rd fall has Bradley once more in control.




The Rebel looses consciousness...




...and Bradley has his SECOND VICTORY!
MATCH #4
THE REBEL vs GABRIEL from Squash #2
[ no pictures for this match]
Match #5
Brandon vs The Rebel
This is a matchup long awaited for by PWP fans. It stages the Rebel (model good looks"," a fantastic physique that he likes to flex"," an aggressive and cocky nature"," commanding holds"," dominating skills against any comers"," and rarely looses a match)hellip, against Brandon (handsome"," body building competition physique"," amazing wrestling skill"," dominating against his opponents"," aggressive nature and hasn't lost a match yet). This match is ego vs ego and WILL be a CLASSIC match. The Rebel wants to prove he's PWP's top wrestler and Brandon wants to prove him wrong. Lot's of beef"," lots of skill"," lots of egohellip, who's going to prevail?
The Rebel starts this one out with a sideheadlock"," but not for long. Brandon retorts with a bearhug and full nelson that leaves the Rebel with some concern early on in this fight. Brandon follows it up with a sleeper and bodyscissors/armbar. Later he wraps his big arms around the Rebel and squeezes on one of the biggest bearhugs the Rebel has probably ever felt. Brandon"," keeping the same long bearhug"," has the Rebel bent over backwards squeezing him very hard and actually holding him suspended in the air completely controlling him and surprising him with his great show of strength. Then it's ab claw time"," Brandon starting out with one of his signature holds"," until the Rebel reverses it with his own. Even the Rebel's sleeper"," that is devastating to most"," doesn't do much to Brandon. He easily pounds his way out of it and tosses another nelson on the Rebel and begins his domination of our muscled hero. No one manhandles the Rebel"," but Brandon has him dominated with scissors/crab hold combinations"," fig-4 headscissors"," bodyscissors"," claws to his back muscles"," ab claws"," sideheadlocks"," and stomping. It's one of Brandon's vice-like nelsons that finally does the Rebel in. "I quit!! I quit!!hellip," the Rebel repeatedly begs. After his loss"," when the Rebel warily gets up"," Brandon assaults him again with another sleeper"," and more brutal clawing and stomping. The Rebel is trashed. Brandon came to this fight focused and with a big desire to beat the Rebel. Brandon dominates the Rebel for a lot of the match"," beating him and proving to the others in PWP that he may be top dog. Great fight!!
| | |
| --- | --- |
| The Rebel gets an early advantage ... | ...But Brandon soon slaps on a full nelson .... |
| ...The Rebel revels as he squeezes Brandon's head.. | ...and then decides to do some facial massage. |
| ...but Brandon comes back with a bear hug. | ...and you will be amazed at the pain The Rebel endures from Branon's Asian Claw hold. |
| Another full nelson weakens The Rebel further.. | ...and with The Rebel on the mat Brandon continues his punishment. |
| a figure-four head scissors has the one time master heel in pain | ...then more pain with another full nelson |
| As Brandon gets his prey ready.. | ...for the finisher..watching The Rebel go down is a treat to watch... |
MATCH #6
the Rebel vs Mad Maxx
This is pure Classic. The Rebel's return to PWP has so far been a good one. A little difficulty with the Scottish Cowboy at points"," but has prevailed in each of his matchups. Until nowhellip, This new PWP find"," Mad Maxx"," is one helluva hunk. Matching the Rebel in body"," looks and skill. HOT HOT HOT!!! His tireless"," focused"," tough"," talented wrestling skill makes a match pretty hard for any guy"," including our hot"," built"," hero"," the Rebel. He's put on some good size over his time off from PWP"," and it looks fantastic. He's grown all over is size (shoulders"," chest"," arms"," legs). I don't know why"," but he has one hard bout with the new guy. His patented scissors"," his ultra hard sleeper has little effect on his determined opponent. Mad Maxx stops the Rebel dead in his comeback tracks"," and mauls our hero"," working over his back"," neck arms"," and everything. LOTS OF MUSCLE IN THIS ONE!!!! The Rebel is deliciously destroyed in what is probably one of the best fights he has yet been in. Maxx hits the Rebel's back"," surprising the Rebel with various arm-stretching backbreakers"," over the knee backbreaker/chokeholds"," rolling him up in spadels"," and lots of camels and crabs. Max dominates the Rebel and completely works over his back until he puts him out in a sleeper. For sure"," you will want to watch this one over and over. It's a classic muscle man match-uphellip, with the victor a hot new upstarthellip, and the loser"," one of PWP's hottest looking guys. AWESOME!!!!! Probably PWP's best match-up ever.
| | |
| --- | --- |
| This is oneHELLof a match as The Rebel faces a formidable foe in Mad Maxx who early on gains control... | ...over The Rebel. Here he screams in agony as Mad Maxx sneers at his victim beneath him. |
| The Rebel continues to be on the receiving end of the Handosme Hell's leg holds... | ...and some nasty toe pulling. |
| But the Rebel is no slouch as he puts the pressure... | ...on Mad Maxx. |
| But more ear biting has The Rebel down... | ...on the mat with the Mad One clearly in control. |
| But those massive thighs on The Rebel find their mark. | Some trunk pulling gets Mad Maxx out of the headscissors... |
| ...and into The Rebel's arms. | But the tireless Mad One has The Rebel all stretched out... |
| ...and then wrapped up as The Rebel's energy begins to drain. | Tasting victory"," Mad Maxx smiles down on his opponent. |
| This body stretch has The Rebel prepped for the sleeper ending. | Wow! A new PWP Heel (or Star) is born! |
Share
View full details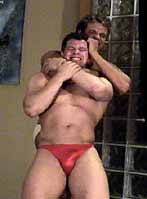 Collapsible content
DETAILS

Provide details like specifications, materials, or measurements.

Add an image in your Collapsible content settings for more visual interest.
TIPS

Share expert tips on how to use this product or pair it with other items.
SHIPPING

List the details of your shipping policy.