Regular price
Sale price
$32.00 USD
Unit price
per
Sale
Sold out
MATCH #1
Punishing Pat vs Steacute,phan Houle
Pat is a huge muscular guy and Stephan looks like he's glad to be the guy to go up against him. Pat forces some big mean holds on Stephan's ripped body"," and Stephan seems to enjoy it all. Pat is tough. Stephan occasionally manages a painful hold"," like a bodyscissors armbar headlock on the big guy"," and hangs on strong and hard. Pat poses for the camera as he tortures Stephan. Stephan tries to show his stuff"," but he just gets overpowered at every turn. Pat displays Stephan's ripped body wonderfully as he works it over and even takes time to show off his muscles to the camera. Stephan is devastated and loves it. Pat is devastating. All of Pat's flexing is wonderful to watch
| | | |
| --- | --- | --- |
| Pat starts off punishing Steacute,phan with a bone crushing headlock. | Steacute,phen reverses the tables and has Pat on his back! | Steacute,phan has Pat all tangled up and ready for bed... but... |
| ...Pat puts the head squeeze on Steacute,phan. | Pat clamps on his 'Pain and Punish' hold and sets Steacute,phan up for the finish. | In the end"," Steacute,phan succumbs to Pat's Sleeper. |
MATCH #2
Kid Q vs Serge Legros
A very early match with Kid Q. He looks a little smaller than he is today"," but he has all those tight"," long lasting holds that he is known for. Serge comes to PWP in the only video of this career and makes his mark. Serge is awesome to watch. A great wrestler. Serge starts out slower"," but soon shows his stuff. He over powers Kid Q at every turn"," just muscling his way into holds and out of them. Serge is a tough opponent for the Kid"," and he loves to look good for the camera. Kid Q suffers a lot being tossed around and toyed with by this cocky hunk that is determined to out-gun him. But when his cockiness for the camera gets out of hand the Kid attacks with a sleeper"," and doesn't let go. Serge goes down. Awesome match to watch Serge in"," he has a great body to watch. And you can see a way younger and smaller Kid Q in this one. Great viewing.
| | | |
| --- | --- | --- |
| Kid Q has Serge all wrapped up at the start of the match. | But"," it doesn't take Serge long to make Kid Q suffer. | Kid Q is no push over as he once gain takes control of the match. |
| Here"," Serge decides to massage Kid Q's face with his knee! | Serge dominates his smaller opponent. Here he has Kid Q in a tight body scissors as he thinks he is on his way to a victory. | Kid Q has other plans as he attacks from behind and begins one of the longest and sweatiest sleeper holds PWP has ever seen! |
MATCH #3
Kid Q vs Steacute,phan Houle
These two PWP vets in there younger days. The Kid is tenacious. He will hit you with a hold and hang on hard. He causes a lot of pain. Stephan knows how to slap on the hard holds too. A long full nelson"," then sleeper on the Kid"," as Stephan has him in a leg scissors. "You give up?" says Stephan"," but he gets no answer. The Kid is out cold.
| | | |
| --- | --- | --- |
| The match begins with Steacute,phan dominating Kid Q. | Here Steacute,phan has Kid Q suffering. | Don't put Kid Q out just yet as he turns the tables and has Steacute,phan in a bone crushing head scissors. |
| But"," Steacute,phen is just as mat savvy as Kid Q as he puts the kid to sleep. | To add insult to injury"," Steacute,phan puts the knee to Kid Q... | ...and walks away in disgust as his 'opponent' lays prostrate on the mat. |
MATCH #4
ROUND ROBIN
ALL FOUR WRESTLERS
This Round Robin Matchup starts out with Pat and Serge"," the two big guys. Serge tries to out muscle Pat"," but ends up being dominated a bit. Pat really enjoys taking it to Serge. Serge does get in some nasty holds too. Lots of big holds by these hunks like scissors"," sleepers"," and bearhugs that almost break backs. Pat tosses Serge's waisted body aside and flags in Kid Q whom he immediately goes after. He really manhandles the Kid. Stephan jumps in for the Kids rescue"," and puts a bodyscissors"," sleeper on the tired Pat. Pat can't shake him and suffers. Stephan wants more action"," and flags in Serge for some. Stephan has trouble with Serge. Serge is a tough guy and Stephan submits. Again"," Serge and Pat. Pat has got his energy back and Serge has been in for a long time. But"," Serge holds his own. You will love to see these two wrestle as hard as they do. Lots of sweat. Lots of muscle. And an unbelievable finish. Serge Rocks.



In the beginning"," Pat has his way with his new found stable of wrestlers as he stretches Serge's arm.




Next"," Pat makes Steacute,phan suffer!





Pat tags Serge into the fray who immediately starts to beat up on Kid Q.




The match continues with all four contestants. But in the end"," it is Serge against Punishing Pat. Here Pat Bear Hugs Poor Serge.




The two combatants go at each other with one hard-held hold after another. But"," Serge turns the tables on a surprised Pat...




...We won't tell you the end but Serge's legs are wrapped so tight around Pat and he squeezes for so long that...well...





...surprise of all surprises awaits those who order this tape!
Share
View full details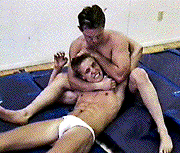 Collapsible content
DETAILS

Provide details like specifications, materials, or measurements.

Add an image in your Collapsible content settings for more visual interest.
TIPS

Share expert tips on how to use this product or pair it with other items.
SHIPPING

List the details of your shipping policy.