Regular price
Sale price
$32.00 USD
Unit price
per
Sale
Sold out
MATCH #1
Kid TNT vs Sébastien
Ultra lean and muscular"," Sébastien looks awesome in this tape. He gets some big side headlocks"," bear hugs and head scissors on TNT, but they don't compare to TNT's style of wrestling. Kid TNT is a GREAT wrestler. He subjects Sébastian to some fantastic holds. TNT has great use of leverage"," and weight"," and his holds are tight"," he hits hard. Once he throws a cobra on Sébastien, games over. After he wins the match"," he comes back and takes his fists to Sébastian in a massive beating. Lean"," muscular Sébastien is destroyed.
| | |
| --- | --- |
| Kid TNT begins this match in control... | ...but Sébastien turns the tables on the heel... |
| ...only to find himself in a punishing head scissors. | But our young studmuffin returns the favour with a headlock on the Kid. |
| The Kid thinks he has our boy where he wants him... | ...only to find himself locked in a bear hug. |
| The Kid has had enough of our young rookie and puts our  studmuffin to sleep. | Not content to beat his man, Kid TNT makes him suffer in a painful hold he calls his 'Love Machine'..A truly hot match and an even hotter finish. |
MATCH #2
Kid Q vs Denis Richard
Wow"," has Kid Q put on some serious muscle. WOW!!! Looks great. Denis is looking good as he comes on strong at the start. He tries to work the big guy throughout"," but to no avail. Kid Q is a huge opponent and he just uses that size and strength to his advantage and just reverses and overpowers Denis at every move. You should see Kid Q's pipes as he flexes over Denis fallen hot-bod. Kid Q has always been a favourite.
Kid Q is having some fun with our new studmuffin Denis Richard.

A painful camel clutch...

...but our new boy tries to keep Kid Q in a full nelson...

...only to be rocked and played with by our new and improved Kid Q.

More punishment is dished out...

...until our poor rookie gives up.

Kid Q towers over his defeated opponent.
MATCH #3
Kid Q vs Sébastien
This is a classic 'big muscle guy' vs 'lean muscle guy' action. Sébastien a is slightly faster wrestler"," and Kid Q is just dominating in nature. Sébastien gets in a huge full-nelson"," and a figure-4 head scissors that nearly takes Kid Q. Kid Q squeezes a lot of the life out of Sébastien with those big arms. A monstrous bear hug nearly crushes Sébastien. Sébastien then decides that the only way to bring the big guy down is by weakening those arms, so he starts with an instep toehold leaning back into an arm bar, and then he bends Kid Q's big shoulder back in another arm bar. The Kid says enough is enough and wraps those big arms around poor Sébastien's head and sleepers him out. First standing,then sitting, all Sébastien could do was just feel those arms and take it. Both these guys are great to watch.
Our new boy, Sébastien, shows remarkable talent...

...Kid Q soon gains control with a mean bear hug.

 

A bear hug crucifixion?

Why do our rookies keep trying a full nelson on Kid Q?? When will they learn??

Sébastien has the Kid in a power leg scissors...

...but our hero punishes the rookie with another bear hug.

A crushing headlock...before...

  laying him to rest on the mat.
MATCH #4
Kid TNT vs Kid Q
One of the sexiest beatings I've seen. Kid TNT claiming to be a good guy"," low-blows Kid Q to start this one. A taste of things to come for Kid Q. Kid TNT gets the upper hand by dirty tactics throughout this match. A low blows to Kid Q's crotch"," biting"," gouging to the eyes"," lots of punching to the forehead"," leg drops to the crotch"," anything. Any time Kid Q got on one of his power holds"," TNT would pound his way out"," and then throw Kid Q into one of his big pro-holds. Kid Q really gets worked over. TNT locks on his 'Love Machine' and a serious cobra hold to big Kid Q"," to knock him out. Then after TNT lets Kid Q lay there defeated for a while"," he returns to the mat to lay a pounding to the vulnerable Kid Q. With his hard fists he pounds Kid Q every which way"," then he rams his head into the lockers a few times. All that followed by another cobra. Kid Q rarely gets manhandled to this degree and has a very hard time recovering from the beating he takes. TNT is HOT.
| | |
| --- | --- |
| Kid TNT takes on Kid Q. | The pro heel knows how to          lock on a bear hug. |
| Kid Q is no slouch as our newest heel... | ...soon discovers. |
| But true to form"," Kid TNT low blows our hero... | ...and proceeds to pound him on the mat. |
| Kid Q is able to overcome his adversary... | ...only to be dealt another low blow. |
| Yet, Kid Q is tough and scissors Kid TNT. | Kid TNT is back doing his             dirty tricks. |
| But Kid Q is able to put him in a powerful bear hug. | Is our heel able to lock on his 'Love Machine' hold on our hero or will Kid Q be able to fight back? You will have to see for yourself. |
MATCH #5
Kid TNT vs Denis Richard
TNT is about pro-holds"," dirty tactics"," awesome use of leverage and pressure"," and being a heel. He knows many ways to hurt a guy and he really enjoys dispensing the pain. For a well built"," but not muscular guy"," he exudes confidence with every hold, and he looks in the camera and shakes his head in total-disbelief of his total control over his opponent. Denis resorts to some tactics himself"," but he just isn't enough for the hot-shot TNT. Denis takes a huge beating at the hands of Kid TNT. Three worthy opponents, three fallen opponents. TNT Rocks.
Kid TNT starts with some dirty tricks...

 

...including a little biting.

A long held scissors hold by the Kid...

...is reversed by our rookie...




...who proceeds to control the match.





A powerful bear hug on our hapless...

...heel leads him to do what he knows best.

You got it...or unfortunately Denis is on the receiving end of some vicious punishment...chalk up another victory for our heel...Kid TNT.
Share
View full details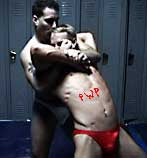 Collapsible content
DETAILS

Provide details like specifications, materials, or measurements.

Add an image in your Collapsible content settings for more visual interest.
TIPS

Share expert tips on how to use this product or pair it with other items.
SHIPPING

List the details of your shipping policy.