Regular price
Sale price
$39.95 USD
Unit price
per
Sale
Sold out
MATCH #1
the Rebel vs Christopher
ONCE AGAINhellip, the Rebelhellip, muscular build"," handsome"," cocky"," overpowering"," talented"," fun wrestler and cool to watch (watch him flex for the camera). He's up against a new guy"," Christopherhellip, great build"," handsome"," determined"," and looks like he's out for some wrestling fun. Not knowing what he's up against the Rebel goes for some of his most effective holds"," to send out a message to Christopher. Sideheadlockhellip, then a headscissors/armbarhellip,then a bearhughellip, each one strong and hard. Christopher valiantly gets up after each"," looking the Rebel square in the face. Christopher does manage to get some holds in on the Rebel (and looks great in action)"," but come onhellip, this is the Rebel! The fight is jovial"," but the Rebel shows clear dominance throughout. With a strong sleeper"," the Rebel overtakes the big hunk for the win. A very good match between two VERY good looking hunks!!
| | |
| --- | --- |
| The Rebel begins with his usual cockiness... | ...playing around with his new found 'toy'... |
| ...smiling for the camera as he beats up on his latest victim. | But Christopher soon has our heel on the mat... |
| ...putting a vice-like head scissors and tries... | ...to put out our heel with a sleeper... |
| ...only to find himself wrapped up and... | ...once that head is wrapped around those massive thighs... |
| ...its all over for PWP's newest stud muffin... | ... |
MATCH #2
Kid Q vs Michel
Check out the size of Kid Q. Muscular"," dominant"," and a huge threat to all opponents. He's up against a rookie"," Michel. Right from the start"," this one is all Kid Q. His destructive sideheadlocks"," headscissors"," bearhugs"," sleepershellip, all of his holds are long held and hard"," demonstrating his well muscled force. Michel hasn't got a chance with this brute. From hold to hold"," Kid Q squashes the rookie in Kid Q fashion. Slow and meticulous. His body is great to watch as he pours on the muscle with each hold.
Good old rookie squashhellip, Fantastic!!!
| | |
| --- | --- |
| This is a total SQUASH! | Dan (PWP) has never seen Kid Q more aggressive or mean. |
| The lean Michel is ready for the kill as Kid Q... | ...finds new ways to make his victim suffer. |
| The punishing headlock.. | ...with Michel's head between those massive arms and pecs. |
| Bodyscissors and... | ...bearhugs bring this squash... |
| ...to its final conclusion with Michel... | ...out like a light. |
MATCH #3
Kid Q vs Christopher
Kid Q is a brute. Big"," muscular and very dominant in his matches. Christopher doesn't have quite the good time as he had in his match with the Rebel. Right from his first hold"," Kid Q clues Christopher into what he's up against. Christopher"," early on in this match"," loses his composure and is just mauled by the big guy. And Kid Q toys with him"," totally controlling him"," as he goes from hold to hold. Q's well-muscled body beautifully displayed for your viewing. You gotta see his masterful single-arm sideheadlock (squeezing Christopher's head hard between his huge bicep and thick torso)"," and his face-to-crotch headscissors (that has Christopher quivering between his thighs)hellip, AMAZING!! This is another squash care of Kid Q"," as he brutalizes Christopher with muscle and technique"," always remaining in control.
Kid Q just gets bigger and better with every match.
| | |
| --- | --- |
| Kid Q's aggressiveness carries over in this match... | ...where he just overwhelms his victim...another squash in the making. |
| Christopher doesn't have a chance... | ...as the Kid 's relentless barrage brings... |
| ...Christopher to his knees... | ....headlocks and .... |
| ...punishing headscissros has Christopher begging to... | ...be released from this world. |
MATCH #4
the Rebel vs Michel
First the HUGE Kid Q and now the AMAZING Rebelhellip, this can't get any worse for our rookie"," Michel. Again"," right from the start"," the Rebel takes control with his side headlock"," then his tough headscissors. With a challenger this size"," the Rebel easily demonstrates textbook skill and flexes his gorgeous body for the camera at every chance. The rookie is helpless as he is toyed with endlessly by the Rebel. This squash could have been a much shorter match"," but the Rebel is one of the finest showmen in PWP and knows a good squash job when he's in one.
Yet another great beating to watch!!!
| | |
| --- | --- |
| This is pretty well another squash... | ...as the Rebel easily manipulates his victim... |
| ...into a series of holds...each more... | ...painful than the last one. |
| Michel is stretched... | ...and pulled apart by his arms... |
| ...bearhugged and then once... | ...the Rebel clamps thsoe massive thighs around your head"," the end is very near... |
| ...as Michel is put to sleep... and The Rebel... | ...chalks up another victory under his belt. |
MATCH #5
Kid Q vs The Rebel
Here is a real treathellip, the fabulous Rebel up against the very muscular Kid Q. This is a CLASSIC PWP muscle match. Both came out victorious in their first two matches on this tape and both are looking to take all with this bout. Kid Q has really packed on the muscle as of late"," and has demonstrated a new aggressiveness with his opponents. The Rebel too"," is VERY well built"," and with every hold flexes his great body for you. He handles the big Kid Q well. This fight goes back and forth as each hunk tries to overpower the other. Muscle and more powerful muscle to watch!!! It isn't until the Rebel attacks Kid Q with a long"," solid side headlock"," that he begins his control of the big guy. He follows it up with a face-to-crotch headscissors that steals all the wind from big Kid Q"," and leaves him almost finished on the mat. The Rebel lifts his muscled opponent off the mat"," and throws a solid sleeper on him"," displaying Kid Q's body in all its beauty. The Rebel is just too much for Kid Q.
These two muscled foes put on a great match. Hot finish to this great tape. Thanks guys!
| | |
| --- | --- |
| Kid Q's aggressiveness shows at the start of the match... | ...when he easily dominates the smaller man. |
| But The Rebel knows his strength and starts to weaken... | ...the Kid who comes back and shows our heel a... |
| ...thing or two about pain. | But the Rebel turns the tables with a full nelson... |
| ...and then his crushing headscissors has The Kid eating mush as... | ...those powerful legs keep squeezing and squeezing... |
| ...until the Kid is out and The Rebel's winning streak continues. | But will it for too much longer??? PWP(Dan) has drawn up a contract between The Rebel and Brandon The Asian Assassin.. If I was a betting man"," I wouldn't be putting any money on The Rebel to win this one!! |
Share
View full details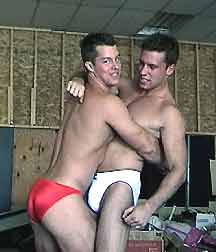 Collapsible content
DETAILS

Provide details like specifications, materials, or measurements.

Add an image in your Collapsible content settings for more visual interest.
TIPS

Share expert tips on how to use this product or pair it with other items.
SHIPPING

List the details of your shipping policy.