Regular price
Sale price
$32.00 USD
Unit price
per
Sale
Sold out
Match #1
Bad Boy vs Ironman
2 out of 3 Falls
1st Fall
This new guy"," Bad Boy is something else to watch. What a hunk"," and up against the Ironman"," we are sure to have an awesome matchup. He is big and tough and is quite a handful for the well-experienced wrestler"," Ironman. But Ironman dishes out the powerholds on his opponents"," and doesn't take well to being manhandled. Bad Boy is one confident guy and applies a series of powerholds on poor Ironman"," and shows him whose the man. First matchup"," first fall"," and taking it to the Ironmanhellip, I think PWP has quite a heel here. WOW!!!
2nd Fall
Pissed off from the first fall Ironman starts out this one letting Bad Boy know that was a fluke. A long held front facelock"," then a side headlock while pounding on his opponent has him wondering the same. Then a huge head scissors on Yves has him withering in pain screaming and his well-muscled body almost passing out. Ironman is relentless in his assault. Yves comeback is short-lived"," and he goes down swiftly and spectacularly in one of Ironman's tenacious sleepers. Great muscle guy matchup.
3rd fall
These two big guys are going to rip eachother with a series of tough holds. Yves is all over Ironman with a huge bearhug"," then an armbar"," a camel"," a sleeper"," a full nelson sitting then standing and then back to the bearhug"," and a headscissors. Each hold being applied with confidence and his every muscle proving to the Ironman that a new hell is born. Bad Boy is certainly one of the most well built"," and now dangerous men in PWP. Watch out.



Ironman has 'Bad Boy' in his control.

A confident Ironman with a front chancery.






'Bad Boy' starts to toy with Ironman...

...putting pressure on his legs...






...and then his arm.

Ironman suffers at the hands of 'Bad Boy's' powerful bearhug.






Ironman is able to put a figure four head scissors on Yves.

But the 'Bad Boy' puts the squeeze on Ironman.




Who eventually goes down to Yves' continually pounding. Here he suffers in a vice-like head scissors. In this 2 out of 3 fall match"," Yves tries to bring Ironman over to his way of wrestling. Will the 'Bad Boy' convert Ironman to the 'Dark Side'?
Match #2
Danny D vs the Rebel
2 out of 3 falls
1st Fall
These two muscle guys really look great taking it to eachother"," trading experienced mat holds. Danny D discovers quickly that his opponent's slightly bigger size is a disadvantage so he meticulously works over his back to bring him down. He twists him up in various ways until he almost goes down. The Rebel fights back and with a solid sleeper"," then a big head scissors"," a camel"," a side headlock"," and then sleepers himself a win. This is a squash job"," and the Rebel is one hot looking heel.
2nd Fall
Once again Danny starts out tough with a series of side headlocks"," knowing that he needs to wear this muscle guy down. He really makes the Rebel suffer well. And when he decidedly tosses a sleeper on the Rebel"," all his abuse on him finally pays off with a win. Back at ya Rebelhellip, a squash care of Danny D. Danny is even gentleman enough to help his victim up after his abuse too.
3rd Fall
These two exchange powerful holds throughout most of this match. One fall a piece and either one capable of taking the match. Danny nearly puts the Rebel away a number of times. But it isn't until the Rebel throws a side headlock on D"," the match is decided. the Rebel wins this one. To see him in his amazing red briefs is amazing. This guy looks great. He has a fabulous body and killer good looks.
| | |
| --- | --- |
| | |
| 'the Rebel' has Danny in a tight head lock. | Danny tries a little hair pulling for fun. |
| | |
| 'the Rebel' is in control of the cute blond. | Here he applies pressure...Danny is in pain. |
| | |
| A punishing headscissors and Sonny thinks he is in control. | But"," Danny reverves and has the Rebel where he wants him. |
| | |
| Long held head scissors and... | ...punishing headlocks...are the favorites... |
| | |
| ...holds of these...young studpuppies. | 'the Rebel' is ","without doubt"," the most attractive and talented young wrestler PWP (Dan) has seen. |
Match #3
Danny D vs Ironman
This is a great squash-job. Ironman is 'the man' around PWP because of his many years with us"," his killer good looks"," his tactical wins over most any opponent"," his muscles"," and his attitude. He is always one of the best. Danny D looks like no threat to him so he starts in on him right away with a barrage of headlocks"," scissors and bearhugs"," flexing and smiling confidently as he tosses on a new hold. Danny D is punished. D does get in a couple of holds on Ironman"," but this matchup is all Ironman. His experience is too much for Danny D. After the match he returns to the mat and teaches the near unconscious Danny a few more holds as he pounds on him and berates him. Ironman is a very cool guy to watch.
| | |
| --- | --- |
| | |
| Ironman punishes his smaller opponent... | ...with grinding headlocks... |
| | |
| ...that have poor Danny suffering in agony. | Ironman continues to punish Danny's head and neck with headscissors. |
| | |
| Not content with merely hurting his opponent... Ironman continues his barrage with bearhugs... | ...and side headlocks... |
| | |
| ...that have the hapless blond reeling. | After winning the match"," Ironman is no longer content with a victory but continues to punish his victim after the match is over!! |
Match #4
Ironman vs 'The Rebel
Ironman assumed that this was going to be another novice to fight"," and goes after the good-looking Rebel very quickly. Hold by hold he works over the Rebel"," pounding his muscled body. Showing his experience"," Ironman controls the Rebel in a very lopsided way"," looking like a squash. It is great to watch all those muscles get worked over"," in a very commanding way. The Ironman looks fabulous posing over the fallen adonis. And just to see these guys in their very small bikini shorts is worth it.
| | |
| --- | --- |
| | |
| Ironman starts early to dominate the match... | ...as Sonny is on the receiving end of punishment... |
| | |
| ...and pain. Ironman's new face as Heel ... | ...makes him a formidable opponent.. |
| | |
| However"," Sonny does get in a few shots of his own and he is not above eye gouging. | But"," Ironman punishes the poor rookie... |
| | |
| ...in so many ways ...and he enjoys the punishment he dishes out. | Sonny head and neck get a beating and... |
| | |
| ...the young studpuppy's energy is soon ... | ...to be extinguished as he goes down in a long held sleeper..Does the Ironman return to inflict even more punishment?? |
Match #5
Danny D vs 'Bad Boy' Yves
Big guy"," smaller guy matchup. WOWhellip,Bad Boy is a fabulous muscle guy to watch. He shows his body off very well for the camera at all times. Hold by hold he looks awesome. Danny is just no threat to Bad Boy. After Bad Boy sleepers Danny for a win"," he returns to the defeated cutie"," lifts him up and sleepers him out again. 'YVES RULES' for sure. A guy you would certainly like to see more of.
| | |
| --- | --- |
| | |
| Danny starts with a on the floor headlock. | But"," the 'Bad Boy' shows Danny how its done... |
| | |
| ...as he contiues to put pressure on the... | ...young blond's head and neck. |
| | |
| Then he shows the young studpuppy a classic boston crab... | ...and an excruciating Bear Hug. |
| | |
| But our young studpuppy may look like an angel but he is resilient. | Unfortuanately"," he is no match for the bigger Heel who makes a formidable first appearance with PWP. |
Share
View full details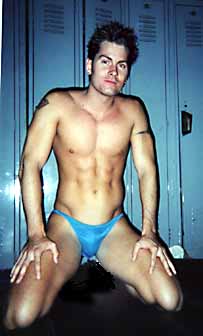 Collapsible content
DETAILS

Provide details like specifications, materials, or measurements.

Add an image in your Collapsible content settings for more visual interest.
TIPS

Share expert tips on how to use this product or pair it with other items.
SHIPPING

List the details of your shipping policy.