Regular price
Sale price
$32.00 USD
Unit price
per
Sale
Sold out
Match #1
Sean vs Seacute,bastien
Sean has been hitting the weights lately and it tells. He looks great. But in this matchup he is up against quite the body. Sebastian handles Sean with confidence throughout the start of this one. But come onhellip, Sean is the vet and his experience soon shows. He's worked over some very muscled guys in the past"," so this is yet another. This is a great match for Sean. He applies some serious holds on his big opponent"," controlling the muscled one with confidence and wins. A new and improved Sean. "Next" he says.
Seacute,bastien takes an early advanatge...

...and he LOVES what he is doing to Sean.

But the 'Wild-Man' soon recovers...

...and begins his punishment...

...of the 'Pretty Boy'...with...

...unrelenting head scissor pain.

True to form"," Sean doesn't just beat his man"," but humiliates him.
Match #2
'Sexy' Steve vs Steacute,phan
WOWhellip,great looking bodies in this video. These two guys are pretty equal in size. Their bodies"," lean and muscled"," look awesome flexing with every hold. Back and forth with headlock-scissor combinations and armbars"," they look great. But watch out when Stephan tosses those big arms of his around your neck in a sleeper. Muscle guy vs Muscle guy action.
| | |
| --- | --- |
| | |
| Wiry Steacute,phan pulls a little hair... | ...here he arm bars the 'Sexy One'. |
| | |
| Our 'Hero' puts a head lock on Steacute,phan and squeezes tight. | Then scissor's him with those massive thighs.. |
| | |
| Steacute,phan shows his strength as he lifts Steve off the floor. | Steacute,phan is relentless and eventually 'The Sexy One' succumbs to a sleeper. |
Match #3

Steacute,phan vs Seacute,bastien
Once againhellip,PWP always comes through with the fabulous bodies. Sebastian is a cool guy to watch when he is punishing his opponent"," as he flexes and smiles for the camera. He controls Stephan's muscles with confidence. He comes through with a series of holds on Stephan"," a big full nelson"," a couple huge bearhugs"," a sleeper and then chokes Stephan with is own big arm. But Stephan is the more experienced and I repeathellip, when he gets a sleeper on you"," it's done. Sebastian is a big guy and did well"," but not well enough.
Steacute,phan has 'Pretty Boy' in a headlock but our face tries a little hair pulling.

Seacute,bastien shows his talent in this match..however"," Steacute,phan will try anything to get the advantage.




However"," Seacute,bastien is not all that law abiding.

Soon"," the wiry Steacute,phan has his opponent all wrapped up.

But"," the 'Pretty Boy' is not just another face...

...as he demonstrates to Steacute,phan...

...who feels the pain of our newest face's...

...back breaking Bear Hugs.

But to no avail"," as our Heel begins his final assault with a crushing head scissors.
Match #4
Tag Team Match
Seacute,bastien Sexy Steve vs Sean Steacute,phan
The vets versus the newer guys. Steve takes it to Sean to start with a long-lasting side headlock"," then sleeper. Sebastian eagerly comes in to help work Sean over. Sexy's tagged in and he just takes Sean's defeated body and tosses it to the side and invites Stephan to the mat for some. But Stephan can handle himself well and enjoys dishing it out for a while. He punishes Steve a lot. Now taking Sexy's defeated body and tossing it off the mat"," he invites Sebastian in for some Stephan-punishment. Sean and Stephan take turns punishing Sebastian until Sexy rescues him. Back and forth the action goes"," and all these guys look like they are having a great time. No one guy in control"," all participating"," and all of them suffer at some point. There is a lot of muscle in this matchup and all these guys look great. Stephan puts long-lasting simultaneous side headlocks on Sexy and Sebastian... then they both get a fig4 headscissors at the same time... then they both get matching sleepers. Sexy and Sebastian really get worked over in this one. Cut-up"," muscle-guy Sexy Steve gets the most though. This is one of PWP's best tagteam matchups ever. Classic. Muscle match extreme. Very"," very good watching.
Seacute,bastien Sean

Sean Steacute,phan

The 'Sexy One' has Sean in a tight headlock.

Now"," it is the 'Pretty Boy's' turn to inflict some pain on Sean.

Steacute,phan dominates both Sexy Steve...

...and Seacute,bastien who he has in a bone-crushing head scissors and...

...applies a little hair pulling for good measure.

Our heels double team the 'Pretty One'.

The 'Sexy One' attacks Steacute,phan for his rule breaking ways and starts to put him out with a mind-numbing head scissors.

But"," Sean jumps in and inflicts pain on Sexy Steve and taunts his victim while hurting him some more...

...and pretty soon"," Sexy Steve begins to loose the wind in his sails...

...but the 'Wild Man' never stops once he sees an opening..here he stretchs as Steve grimaces in pain.

The end is double torture for our faces...who are eventually put to sleep and humilated by our heels.
Share
View full details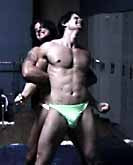 Collapsible content
DETAILS

Provide details like specifications, materials, or measurements.

Add an image in your Collapsible content settings for more visual interest.
TIPS

Share expert tips on how to use this product or pair it with other items.
SHIPPING

List the details of your shipping policy.