Regular price
Sale price
$32.00 USD
Unit price
per
Sale
Sold out
Match #1
Ironman vs Sexy Steve
Ironman saw this new guy and wanted a piece of him. The bigger guy"," and more experienced wrestler knew that the only way he was sure to beat this rookie muscle guy was to squeeze him downhellip,and right from the start"," hold by hold"," that is what he does. With those big arms and legs of his"," the Ironman wraps them around the drop-dead body of Sexy in a series of very long holds"," and slowly destroys him. Sexy does get in a few holds on Ironman"," like at one point he is so tired of the punishment on his neck he throws his huge arms around him in a side headlock and squeezes 'til Ironmans head almost pops off"," but this is all Ironman. Side headlock"," body scissors/sleepers"," full nelsons"," headscissors"," sleepers"," standing headscissors"," the destruction was well planned. And watching the Ironman totally dominate the muscle man is amazing. This one is a definite musclefest CLASSIC!!!
| | |
| --- | --- |
| Ironman takes control... | ...Ironman LOVES to squeeze ... |
| ...and squeeze the 'Sexy' one. | But 'Sexy Steve' turns the tables on Ironman.. |
| ...only to be put to rest... | ...bye bye 'Sexy' boy. |
Match #2
Ziggy vs Danny D'
This is a great rookie match-up. Each of these guys know their holds and really make eachother hurt at times. They hang on hard"," and they hang on tight and they really take it to eachother as they prove themselves in some great action. Attacks are made on the entire body"," with a barrage of very unique holds"," never one guy dominating until the very end. We think these two breathe new young blood into PWP and believe they will go far. This awesome match-up is just a start for them. Congratulations.



Danny has the initial advantage with a head scissors.




Ziggy reverses and puts an arm bar on Danny.




Danny is back in control with one punishing...





...holdafter another.




Danny enjoys torturing 'the street punk'...




...but Ziggy is no quitter as...




...Danny soon finds out.
Match #3
Ironman vs Sexy Steve
Yes"," they go at each other again. Steve wanted to prove himself"," but Ironman knew he could take this hunk"," and with great confidence he slowly takes the muscle guy down. Sexy Steve is cocky though and knew his tough headlocks work on the Ironman. He throws a bearhug and then a full nelson on the Ironman"," ones that he won't soon forget. But the Ironman puts a series of the longest"," hard held"," and amazing sleepers and leg sleepers on Steve (flexing"," dragging Steve around"," and showing off their bodies along the way) and once again dominates the guy. Their bodies are displayed beautifully"," and the camera work is awesome. These hunks in their little Speedo's"," with all their muscle is worth the price alone of this video. Ironman and Sexy Steve put on a series of classic bouts for us all. Thanks guys.
| | |
| --- | --- |
| 'Sexy Steve 'show boats'... | ...only to find himself humiliated once again. |
| Ironman's powerful grip... | ...squeezes the life out of 'Sexy Steve'. |
| Does your head hurt?? | Sexy Steve puts the squeeze on Ironman. |
| Ironman's got 'sexy' all wrapped up. | Ironman is triumphant once again! |
Match #4
Ironman vs Sexy Steve
'Sexy Steve' Thinks He Can Win Against Ironman. Payback is a bitch. Ironman still cockily flexing as he continues his domination of Steve. He wraps his big legs around Steve's muscle bod and squeezes on another gorgeous leg sleeper. And then beautiful sleepers"," standing headlocks"," bearhugs and full nelsons are exchanged. But Steve eventually says enough is enough"," he unloads on Ironman and with all his muscle and topples the big guy. Bodies are yet again displayed well on film for the third bout in this musclefest CLASSIC!!! And Sexy Steve delivers in SEXY when he confidently wraps his bicep around Ironmans neck"," and in one of the longest sleepers around"," he refuses to budge"," and out-muscles the Ironman for the win. Sweet viewing. Great abs on Sexy Steve.



Ironman loves his head scissors.




Poor Steve gets manhandled again.




'Sexy Steve' suffers a full nelson...




...and another crushing bear hug.




While it looked like another Ironman victory"," 'Sexy Steve' finally triumphed. I'll let you see how 'Sexy Steve' did it!
Match #5
Sexy Steve vs Danny D
'Sexy Steve' Tries to Humiliate Danny D'. Danny D is a worthy competitor for the muscle guy Sexy Steve. Both rookies at PWP"," Danny continually throughout the match counters each of Steve's power moves and really makes Steve wonder 'who is the best?'. He displays cocky Steve well for us. It's when Steve suplexs Danny"," then confidently wraps his bicep around Danny's neck in a sleeper and tightens his grip"," I'm sure Danny realized then he may not be the best. Great rookie bout. Sexy Steve Rocks.
| | |
| --- | --- |
| Steve has our studpuppy in control... | ...but Danny D' shows he is no pushover. |
| Steve LOVES to show boat... | ...and he is known to break the rules..as he chokes poor Danny D' almost to unconsciousness. |
| Danny finds himself in a tight squeeze. | And sqeeze and squeeze until he's done. |
Match #6
Ironman vs Ziggy
Ironman Dominates Ziggy.If you are into squash jobs"," Ironman really does a job on poor Ziggy. Ziggy does manage to get in a couple of holds"," but this one is all the big guy. Flipping between bearhugs"," then full nelsons"," then back to bearhugs"," Ironman just toys with the smaller guy. A big sleeper is the capper of this match-up.
| | |
| --- | --- |
| This is one of themost delicious squash jobsI (Dan) have seen..A bone crushing head lock... | ...followed by more humilation... |
| ...and complete domination by Ironman... | ...whose bearhugs are now legendary in PWP... |
| ...'suffer little boy'...before... | ...'I (Ironman) put you to bed. |
Match #7

Tag Teams
Ironman and Sexy Steve vs Danny D and Ziggy
Ironman teams up with the rookie muscle hunk Sexy Steve and they take on the rookie studpuppies. These two guys are pretty cocky and the studpuppies aren't too intimidated by them. Let's just say that this match-up has lots of tags"," lots of action with all four guys involved and no particular guy in control. Highlights includehellip, with all four guyshellip,Steve figure-4s Danny D while Ironman headscissors him"," and then Ziggy throws a headscissors on Steve. Ironman and Steve feel the shame of defeat as they both go down in simultaneous sleepers. This is a good entertaining finish to a fabulous tape.
| | |
| --- | --- |
| Ironman and Sexy Steve dominate... | ...the first minutes of the match... |
| ...Danny tries to extricate himself from Ironman's head scissors... | ...while Ziggy is taken for an aerial spin. |
| But the cocky team of 'Sexy Steve' and Ironman are surprised by the resilence and determination of... | ...the new studpuppies in town..as will you as you see the surprise end to this tag team match. |
Share
View full details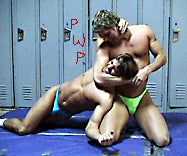 Collapsible content
DETAILS

Provide details like specifications, materials, or measurements.

Add an image in your Collapsible content settings for more visual interest.
TIPS

Share expert tips on how to use this product or pair it with other items.
SHIPPING

List the details of your shipping policy.