Regular price
Sale price
$39.95 USD
Unit price
per
Sale
Sold out
Match #1
2 out of 3 Falls
Special ' vs His Protegeacute, Danny Boy
| | |
| --- | --- |
| Danny Boy thought his Master would be showing him the ropes...Little did he know that the youngster would be feeling 'Special K' power. The youngster is crying in pain. | Special K wants to teach Danny Boy the art of dominance. |
| The youngster has the big man on the mat... | ...but some dirty tactics leaves Danny Boy doubting the sincerity of his teacher's intentions... maybe he just wanted to rough him up and kick him out of PWP! |
| Theteacherhas Danny Boy all wrapped up... and once he puts those powerful thighs around his waist and those massive arms around the young man's neck... well I'm sweating. | Fall #1 goes to the Big Man...Special K'... |
| Special K is singing the blues to poor Danny Boy... | ...but the youngster clamps on a powerful headlock... |
| ...which has the Big Man gasping for air. | And as hard as the Big Man tries to escape"," the tighter those big arms become! |
| Until the end when Special K' concedes the Fall and Danny Boy has a big smile on his face. | The last Fall begins with the youngster trapped in 'Special K's vice-like grip... As we all know"," Special K' does not like to concede a Fall to his opponent... It just makes him angry! |
| Danny Boy has experienced 'The Wrath of K' .The end is a punishing neck breaker... | ...and more neck and back punishment leaves no doubt as to who the winner is. But Danny Boy is not happy and swears to take revenge!! |
Match #2
2 out of 3 Falls
Slash vs Danny Boy
| | |
| --- | --- |
| Danny Boy is upset at the treatment he received by his so-called Master - Special K and decides to take it out on newcomer 'Slash'... here he has the rookie trapped in a tight headlock. | But the dark-haired rookie reverses on Danny Boy and keeps him covered... |
| ...but Danny Boy tries a variety of ways to get Slash's head inside those big arms of his. | And once he's there"," he ain't letting go... look at the pain in the face of Slash. Fall #1 goes to Danny Boy. |
| For a newcomer"," Slash has his own way of controlling the match... pullling hair is one... | ...and showing Danny Boy he too can master the side headlock and dish out... |
| ...punishment of his own... while he's massaging Danny's neck"," he's telling him to 'kiss my ---'. | The pain and punishment continues as Slash takes his job seriously... |
| ...until Danny Boy can take it no longer...'Slash' takes the second fall with a choke headlock! | Danny Boy is incensed. He clamps on a side headlock and refuses to let go! |
| The close-ups of the punishment are exquisite! | As more and more pressure is applied and Slash' slowly succumbs to the Big Boy! What close-ups"," what a delicious match-up. |
Match #3
2 out of 3 Falls
Special K' vs Slash
| | |
| --- | --- |
| Special K' is all over the newcomer. First he stretches him out... | ...then he puts the youngster in a tight headlock of his own... |
| ...some neck twisting has the rookie seeing stars... | ...while leg locks have the rookie wishing he hadn't agreed to a match-up with the Special One! |
| A tight and long held full nelson... | ...a painful neck breaker... |
| ...how much punishment can the rookie take? | Special K puts the youngster out... to take Fall #1. |
| But the firey youngster has Special K down... | ...on the mat in a punishing camel clutch... |
| ...but a reverse figure-four leg lock... | ...and a long held toture rack spell the end for Slash. Special K takes this match in only 2 Falls. That's the way he likes them! |
Match #4
2 out of 3 Falls
Joey vs Danny Boy
| | |
| --- | --- |
| Danny Boy sees Joey as an easy mark. Poor Joey will suffer needlessly from... | ...the dominating force of Danny Boy's thick and powerful arms... |
| ...plenty of close-ups here! | ...he smiles as he tightens his grip on the smaller Joey. |
| But Joey is able to reverse and clamps a full nelson on Danny Boy. | Once on the mat"," Danny Boy is all wrapped up by Joey... |
| ...But Danny Boy easily escapes... | ...sits on him and then clamps on a camel clutch/chin lock until Joey gives up! |
| Joey begins Fall #2 with a side headlock. | Danny Boy is not amused and makes Joey suffer in a body scissors...'Look at me punk'... |
| ...'you can't do anything now... you're mine... punk!' | Joey is laid out on the mat and succumbs to the Bigger Wrestler's sleeper... Danny Boy is a force to be reckoned with! |
Match #5
2 out of 3 Falls
Special K' vs Joey



Special K enjoys dominating smaller wrestlers.




The bikini-clad 'Mr Hot Stock'...




...suffers in the Big Man's full nelson!




More pain and punishment..this time on those pretty legs of Joey.




Here he screams in agony as Special K has Joey in a figure-four leg lock.




'You're all mine"," little man'




Joey tries a choke hold on Special K...




...only to find himslef trapped in a vice-like sleeper. Fall #1 goes to Special K!




The second fall begins with Joey...




...but quickly sees Special K in control"," twisting poor Joey's head almost clean off.




Body scissor torture...




...and a back breaker...




...and Special K has Joey down for the sleeper count.




But he doesn't want to finish the Fall with a sleeper so he shows his strength to the camera by lifting Joey high... almost crashing him into the ceiling.




but interference from Danny Boy leads to a two-against-one finale.




The Special One is stretched and tortured until he gives up.




Danny Boy leaves the mat saying 'Special What?'... How will Special K take revenge? Or"," does Danny Boy have a few more tricks up his sleeve?
Share
View full details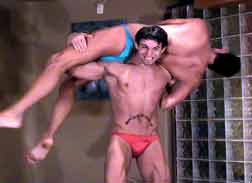 Collapsible content
DETAILS

Provide details like specifications, materials, or measurements.

Add an image in your Collapsible content settings for more visual interest.
TIPS

Share expert tips on how to use this product or pair it with other items.
SHIPPING

List the details of your shipping policy.