Regular price
Sale price
$37.00 USD
Unit price
per
Sale
Sold out
Match #1
Bad Boy vs Nick
Bad Boy is out to prove something to the Rebel (who isn't in this video). Bad Boy is mad and wants to take it out on all the guys in this video to show the Rebel how pissed he is. He starts with Nick"," a rookie. Poor Nick. He is a tall guy"," and he does have some skills. But Bad Boy looks like he has beefed up even more and is out to put it to work. He hits Nick with everything he has and puts all that power behind each hold. Hold after hold"," this one is a squash... almost putting Nick out in a headscissors"," the Evil One Bad Boy lifts Nick up and continues working him over and it doesn't stop until the Bad Boy stops. Watch out Rebel.
| | |
| --- | --- |
| Bad Boy tortures poor Nick .. | ...in as many ways as he can. |
| And Nick knows how to suffer... | ...and suffer and suffer. |
| When Bad Boy feels like it he... | ...decides to punish Nick using 'illegal' moves...All the while taunting The Rebel that this and more will happen to him inRebellion 2 --PayBack Time!! |
| And when it is time to sleep..Bad Boy... | ...puts the hapless victim to rest. |
Match #2
Seacute,bastien vs Mario
Mario is a musclehunk"," and in his rookie match with PWP. He is up against a bigger musclehunk"," Sebastian. Since with PWP"," Sebastian has developed quite an amazing physique. Sebastian gets Mario in trouble right away with a sideheadlock"," then a full nelson standing then lying"," an armbar"," then a camel"," then a fig-4 headscissors. Mario pulls his game together and retorts with a side headlock"," an armbar"," a camel and surfboard. Mario can't hold Sebastian down"," as he returns with a series of bearhugs and armbars on Nick"," and continues his assault with a sideheadlock. Sebastian then flexes his muscles as he stands over the near destroyed muscle hunk. Even after Mario lays on the floor destroyed"," Sebastian continues. Mario is squashed.
| | |
| --- | --- |
| Seacute,bastien is all over Mario... | ...at the beginning of the match. |
| Seacute,bastien is out to prove he qualifiesas a heel. | Mario is able to make a short comeback... |
| ...before Seacute,bastien regains control and decides... | ...to add insult to injury by stretching Mario's trunks. |
| Seacute,bastien is able to put Mario away... | ...but returns after the end of the match to punish Mario some more. |
Match #3

Seacute,bastien vs Nick
Nick starts in on big Seacute,bastien right away with a barrage of holds. Seacute,bastien is stunned from it all. Nick asks Seacute,bastien "Do you like that?" as he laughs and holds a tight fig4 headscissors on Seacute,bastien. Seacute,bastien doesn't know what hit him as he struggles with the much smaller guy. Nick laughs as he strikes with hold after hold. Nick lifts the near devastated Seacute,bastien up for more"," but is met with Sebastien's shoulder in the gut a few times"," and then it's all Seacute,bastien dishing it out. Nick really proves that he knows his stuff"," but Seacute,bastien is one tough guy and is just too much when he assaults. Seacute,bastien controls Nick right to the end. Nick gives out a delicious beating to the big guy at the start of this match"," but Seacute,bastien hands it all back two-fold. This one is definitely classic Seacute,bastien action.
| | |
| --- | --- |
| Nick gets an early advantage... | ...with a figure four head scissors. |
| Here Nick proceeds to choke Seacute,bastien... | ...but it isn't long before Seacute,bastien gets the upper hand... |
| ...and gives Nick a taste of his figure-four... | ...head scissors. |
| After punishing Nick with a long held headlock... | ...he puts the hapless victim to rest. |
Match #4
Bad Boy vs Sebastien
This one is a deliciously great matchup"," for those who like their beef. Bad Boy has nothing short of a spectacular physique and Seacute,bastien just keeps getting more muscular and cut-up with every outing. Bad Boy delivers the startup with a barrage of holds including multiple armbars in every direction. Sebastien's shoulder"," arm and bicep are worked on in every way. This was entering the squash zone"," right when BB slips up and Seacute,bastien got a chance with one of his signature holdshellip, the side headlock. And it doesn't get any better for BB. Hold after devastating hold Seacute,bastien unloads on BB's muscleshellip, stretching"," squeezing and choking BB until he almost goes out. BB finally finds a way to slip a headscissors on Seacute,bastien. Between that big hold and then sliding his big bicep under Sebastien's chin with a sleeperhellip, that's it. With all that muscle battling it out"," you will enjoy. CLASSIC!!!
| | |
| --- | --- |
| Bad Boy shows Seacute,bastien early on why HE is... | ...Kingof PWP wrestling. Feel the wrath of those legs! |
| And if that isn't enough"," an arm bar... | ...and some re-arranging of Seacute,bastien's face. |
| Seacute,bastien is no slouch as Bad Boy soon discovers. | Seacute,bastien applies the pressure with his figure-four head scissors... |
| But Seacute,bastien MUST succumb to the bigger Heel... | ...and Bad Boy can rest assured thatDan (PWP) must arrange a re-match withThe Rebel. |
Match #5
Bad Boy vs Mario
This matchup is great old 'big musclehunk battling younger musclehunk' action. Mario starts it up unloading it on Bad Boy. BB is stunned by it. But when he strikes back it is endless what Mario endures. His great muscled bod is strung out every which way by this fabulous big wrestler. Mario does get in another string of holds on BB to make the action last and to show his worth. BB hits him with everything though"," until a headscissors followed by his classic sleeper puts the young guy out. The great thing about PWP is that it doesn't skimp in the good looking guy department and this just makes for eye-popping action. Great viewing!!
| | |
| --- | --- |
| Bad Boy has Mario trapped and punishes his head... | ...in oh so many ways. |
| Bad Boy gets a little cocky and before you... | ...know it"," Mario has him in his punishing headlock. |
| Now its Mario's turn to deliver some pain... | ...but Bad Boy quickly reverses and makes Mario suffer. |
| Poor Mario is almost choked out and those massive thighs come down on Mario's neck. | After Mario has been softened up"," Bad Boy puts him to rest. |
Match #6
Round Robin
All four guys going at it in one match"," winner takes all. Seacute,bastien begins with his patented side headlock on Nick"," and then a big nelson. Mario makes Nick really stretch for the tag. Mario slows Seacute,bastien down a bit with a string of holds on the big guy"," and then tosses him to the side. Enter Bad Boy and Mario takes it to BB's arms trying to keep him from tagging and maybe hurt him a little. When BB regains control"," Mario suffers in a cloverleaf"," and then Bad Boys patented toehold chinlock. Seacute,bastien comes in bumping big chests with Bad Boy. BB doesn't take lightly to it and works the musclehunk over a while putting him down in a Boston Crab. BB drags Nick and Mario back onto the mat together"," throws them down and delivers a double toehold chinlock on both of them until they go down. Bad Boy is one of the biggest"," toughest"," most muscular mat wrestlers around. He proves he is a challenge to any guy and shines in this tape. Awesome tape.
| | |
| --- | --- |
| Mario and Nick think they can double team Bad Boy after Bad Boy has put out Seacute,bastien..so while Bad Boy is putting the punishment on Nick"," Mario... | ...jumps in and both try to take on PWP's master heel..what fools!! |
| Bad Boy destroys both men with his latest punishing hold... | ...and displays their lifeless bodies for all..but especially"," The Rebel to see. |
Share
View full details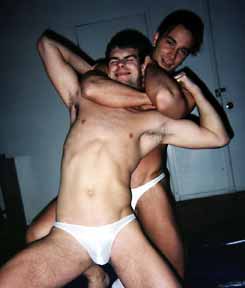 Collapsible content
DETAILS

Provide details like specifications, materials, or measurements.

Add an image in your Collapsible content settings for more visual interest.
TIPS

Share expert tips on how to use this product or pair it with other items.
SHIPPING

List the details of your shipping policy.