Regular price
Sale price
$19.95 USD
Unit price
per
Sale
Sold out
MATCH #1
WESLEY vs ERIC
| | |
| --- | --- |
| Wesley easily overpowers the smaller Eric in a test of strength. | Wesley clamps on a tight side headlock. |
| Then he decides to rake Eric's eyes and other dirty tricks. | Eric is unceremoniously dropped to the mat where Wesley continues his assault. |

Once on the mat"," its easy for Wesley to secure Eric's head...


...inside a figure-four head scissors where he continues his punishment of Eric's face..


Wesley challenges Eric to put him in a headlock ...


...and as much as Eric tries to pressure Wesley"," he seems incapable of hurting Wesley... who easily picks him up and throws him hard to the mat.


Its time for Wesley to grind that headlock and to...


...massage"," punch and well do whatever he likes to Eric's face and head.

And if that weren't enough...

...some well place elbows to Eric's back..and listen to Eric's pain.


Front head and face locks...


...and more hair pulling has Eric seeing stars!


Wesley decides to finish Eric with - first a figure-four..


...head scissors and then securing Eric's face tight against his crotch...




...squeezing ever so tightly... until Eric has to submit... Woof !!
MATCH #2
RIKKI vs MICKAEL







Rikki is salivating as he has the Frenchman in a side headlock.


He so much enjoys taking it to the 'punk kid'...


...squeezing and punching that shaved head .... oooh what fun!




Parading the 'punk' around the mat... watching Michael suffer...




......squeezing more... Woof! Can there be anything more enjoyable!?!



Rikki enjoys squeezing that head so much... Mickael's head...




...gets twisted from ear to ear until he is virtually comatose.




Rikki now has Mickael in a bone crushing head scissors...




The more Mickael tries to escape"," the tighter Rikki squeezes...




...and squeeze and squeeze...





...making Mickael bridge to try to ease the pain.






Desparation sets in as Mickael tries to claw his way out only to beseverly punished for his feeble efforts.




Rikki now has Mickael's bony head...





...exactly where he wants it... right next to his butt!!


Rikki lifts his leg high in the air to give Mickael...


...a chance to break free only to have it come crashing down... trapping that head one more time.




Rikki continues to taunt Mickael...




...with the same maneuver until the 'punk kid' submits...




What a hot"," hot squash!
MATCH #3
RIKKI vs ERIC
| | |
| --- | --- |
| Now its Eric's turn to feel the wrath of Rikki's arms... | ...wrapped around that pretty face. |
| He's on the mat and can't escape... | ...so a few punches to the head"," some knuckle dusting. |


More squeezing and hair pulling.


Rikki is enjoying beating up on Eric almost...


...almost as much as he did with Mickael....




Rikki lifts up Eric and secures a front face lock...




...then does some choking and face work on Eric.




This time Rikki decides to look at that pretty face inside those big thighs...




...squeezing at just the right times"," watching Eric squirm...


No matter what Eric tries to escape...


...Rikki makes him pay for it"," until he can't take it any more.


Eric was putty in Rikki's hands...


...so he decides to carry him out and work on him some more in the privacyof the bar's back room.
MATCH #4
WESLEY vs MICKAEL
| | |
| --- | --- |
| That poor Frenchman thinks he has a chance with Wesley in a test of strength. | No contest as Wesley easily takes that shaved head and plants those big arms around it! |
| Then he secures Mickael in a figure-four head scissors massaging that head with his fist... Woof! | 'Now turn that head this way and watch me squeeze you' |

Mickael's head is placed so tightly against Wesley's...


...crotch"," the poor Frenchman can barely breathe.


Mickael tries escaping"," flaying those legs...


...in the air... 'no where to go punk... now eat this!!


Mickael is now on the mat"," his head tightly controlled...



...and so Wesley decides to punish his 'opponent's' back with well-placed elbow drops!



Not just once but again"," and again"," and again...




...until Mickael is just a sack of meat...




More punishment to that bony head.


Wesley is having so much fun now...



...at every turn of Mickael's head...


...you can hear the end coming...



...and not to be outdown by Rikki"," Wesley decides to carry his victim away from the camera's eyes and work over the Frenchman some more in the private back room of the bar.
MATCH #5
TAG TEAM MATCH
BEST 2 out of 3 FALLS
Wesley and Rikki vs Mickael and Eric

The first fall begins with Rikki and Eric...


...who once again finds himself trapped inside Rikki's arm and chest.


Eric tags to Mickael who still thinks he can win a test a strength against the big man.


What was he thinking!! Once more"," Mickael is quickly brought to his knees.





A front face lock by Wesley and then a punishing neck breaker by Rikki...Woof!





But its Rikki's tightly secured front face head scissors that has Mickael 'tapping out'..

Mickael quickly tags to Eric while Rikki...



...tags to Wesley to start the second fall.




Eric quickly finds himslef trapped in Rikki and Wesley's corner.


Now its Mickael's turn...



...who now finds himself trapped inside Wesley's massive thighs!






Mickael tries but its hopeless... that figure-four head scissors is there to stay!

Rikki and Wesley decide to give the 2 smaller...



...guys a chance to win one fall. How about the 2 of them against Rikki?


The two jump at the chance and...



...so the handicap match begins with the two smaller guys all over Rikki. But Rikki refuses to 'tap out'. He seems to be able to withstand everything the 2 guys throw at him!!


Now Wesley waits until the right moment...



...enters the fray and proceeds to crack Rikki's leg!!
Wesley then grabs both 'punks' and makes them submit to him!!




As he leaves the mat area"," Wesley tells Rikki that Gabriel 'Gab' had paid him to take Rikki out ... Grimacing in pain from what seems to be a fracture"," Rikki vows revenge against both Wesley and 'Gab'.





But before he will get a contract"," he must fulfil his contract obligations to wrestle the next evening.
Share
View full details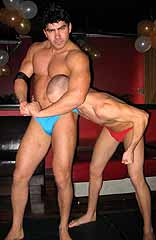 Collapsible content
DETAILS

Provide details like specifications, materials, or measurements.

Add an image in your Collapsible content settings for more visual interest.
TIPS

Share expert tips on how to use this product or pair it with other items.
SHIPPING

List the details of your shipping policy.