Regular price
Sale price
$42.00 USD
Unit price
per
Sale
Sold out
Match #1
Dyllon vs Andreacute,
Check out the new and improved physiques on Andre and Dyllon. And Dyllon has also found a new attitudehellip, Mr. Big Guy. Andre exchanges holds with Dyllon for a good while"," until Andre is flattened by a shot to the balls. Dyllon then goes after Andre's neck. He throws some very hard held sleepers"," camels"," and fig-4 headscissors on muscleboy Andre. Watch Andre's abs"," chest and bi's flex as he tries to shake off the muscular Dyllon. Endless neck punishment makes this a tough match for Andre. Dyllon comes out flexing his lean physique over his defeated opponent.
| | |
| --- | --- |
| Dyllon takes an early advantage with a bone crushing headlock. | Dyllon keeps control over Andreacute,. |
| Dyllon's half nelson and arm bar has Andreacute, reeling in pain... | ...but Andreacute, is able to reverse. Here Dyllon feels the pressure of his full nelson. |
| But our wily veteran re-gains control with a devastating figure-four head scissors. Is Andreacute, crying from the pain? | But the new guy once again has Dyllon on the mat. |
| And for good measure"," Andreacute, knuckle dusts Dyllon's head not just once but... | ...several times. Here he has a go on Dyllon's head while our boy in red is caught in a figure-four headscissors. |
| What Dylon can't do legally"," he gets by dishing out a low blow... | ...and then does some trunk pulling....poor Andreacute,... he is dazed and confused. |
| Our star now puts on the pressure... poor Andreacute,'s face is crushed by Dyllon's head scissors. | And it is soon curtains for the new guy as he is all wrapped up and slowly put to bed. |
Match #2
Laurent vs Marc
You can certainly tell that Dyllon and Laurent are related. Very close in size"," strength"," talent and fortitude. Laurent just may have the edge in muscularity though. Here he meets up with Marc on each of their first outings with PWP. Marc is of course"," one well-built wrestler. He and Laurent exchange some big holds earlier on in the match. Laurent has a slow and overpowering side to his wrestling style. Very overpowering. Marc suffers a painful camel that nearly bends him backwards. Headscissor/armbars. But what really takes a toll on him is Laurent's multiple"," muscular chinlocks and sideheadlocks. Laurent squeezes Marcs head and neck in every direction"," and hard. It is a huge sleeper/bodyscissors on Marc that makes him submit to the big guy. Laurent is one big and powerful guy. PWP watch out!!!
Marc has Laurent in trouble early in the match.

But the Big new comer quickly reverses. He massages Marc's head while having him in his control in a tight head scissors.

Here is a close-up of the pain on Marc's face!

Laurent shows his prowess as he has Marc in a painful camel clutch.

But"," the young new comer has Laurent down and massages the bigger man's face...

... only to be faced with the wrath of Laurent... Marc grimaces in pain as Laurent applies the pressure.




The new comer tries a low blow but this only angers the bigger man... who decides to...




...squeeze the smaller man's head into mush! First with a head scissors...




Next with a front head lock...Then he must face a...




...bone crushing side headlock. Soon the new man is crying for help and...




...repeatedly submits to Laurent.
Match #3
Dyllon vs Marc
WOWhellip, Is this match great!!! These two are 'about' the same size. The battling is very good in the first half of the match"," each guy using mainly fig-4's mixed with torture holds. And variations in camels and crabs"," each being inventive and effective. But when Dyllon starts to pour it on he manhandles Marc"," like he outweighs him by 20 lbs. Marc is hit with sleeper/camels"," fig-4/spadels"," and any other multiple hold Dyllon can throw on to make him hurt. Marc is devastated. And Dyllon has never handled a match with such dominance. Dyllon watches himself as his muscles flex around Marc powerfully. Laughing at times as he fully dominates Marc. Dyllon poses wonderfully over his fallen opponent. A fantastic match!!!



Dyllon begins the match in complete control..An arm bar has Marc in pain.




A tightly held head scissors squashes poor...




...Marc's head. Here he is seeing stars!




Dyllon in complete control... what a view...




...and what suffering!




Dyllon does a little exploring into Marc's crotch...




But the new man isn't completely out as he shows Dyllon here...




...and once more here. Marc loves to rake his opponents face and eyes.




He does it again... but Dyllon has taken enough abuse.




Once he regains control"," Dyllon is all over his opponent... Here he has Marc in a boston crab...

...and here is the poor guy ready for la-la land!
Match #4
Laurent vs Andreacute,
Laurent is just a dominant kind of guy. And a little slow and sexy too. Little muscle guy"," Andre"," makes good practice for the big guy. His spirit is broken early on"," as Laurent's powerful arms and legs maul him. Laurent is very sexy as he messes with Andrehellip, going easily from hold to powerful holdhellip, flexinghellip, and being just plain dominant. Sexy match-up!! Andre is a cute jobber.
| | |
| --- | --- |
| Andreacute, takes an early advantage with a to the mat side headlock... | ...but Laurent is quick to slap on a painful arm bar. |
| The Big Man towers over his opponent. Here he decides to massage Andreacute,'s head. | Poor Andreacute,'s head is about ready to burst from the pressure of those massive thighs. |
| While in a Laurent headlock"," Andreacute, tries soem trunk pulling... | ...only to find his head an unlucky receipient of A KNUCKLE MASSAGE. |
| Andreacute, show his stuff as he rebounds with an arm bar of his own on Laurent. | But the tight body scissors has Andreacute, crying out for mercy. |
| The Big Man just likes to look over his prey..What's next on Laurent's list of tortures? | A full nelson has Andreacute, gasping... |
| ...on the mat and ready for the delectable ending. | TRAPPEDAndreacute, soon succumbs to Laurent's power. |
Match #5
Dyllon vs Laurent
This one was a tagteam event that was Dyllon and Laurent against Andre and Marc. In what was a fast defeat for Andre and Marc in long held headscissor/armbar/spadelhellip, Dyllon squares-off with his BIG brother Laurent"," the in battle of the brothers. Laurent looks beautiful slowly defeating his muscular brother"," hold by powerful hold. Dyllon suffers in a big boston crab"," then a camel clutch"," then a sleeper"," fig-4 headscissors"," another sleeper"," a long surfboard"," and is brought down with a another sleeper/bodyscissors. Dyllon looks great being outwrestled by built brother. A huge win for Laurenthellip, who will he defeat next?



This contest begins at the end of a tag match between Andreacute, and Marc vs Dyllon and Laurent. The double headscissors spells the end for Andreacute, and Marc but begins the Match between the brothers.


In the audience areThe Rebel","BrandanandBad Boy...They want to see this new behemoth...Laurent...wrestle.



Dyllon gets control over his brother early in the match...




He stretches the bigger man and all the while Laurent can't believe his younger brother's aggressiveness.


But hisBIGGERbrother decides enough is enough and starts his rampage on his brother... Here Dyllon tries to scratch his way out...



...but he can't do it! Dyllon looks almost out as his brother squeezes his younger brother's head!




Next he clamps on a camel clutch and watches his brother suffer.




Once more Dyllon is on the receiving end of some arm bar tricks by Laurent..His screems go unheard so...




...he tries to rip his bigger brother's trunks.




Laurent will have nothinh of this so he puts Dyllon on the mat and stretches him out before...


...he closes the curtains on Dyllon's reign. Now"," Laurent saysHE IS THE STAR of PWP wrestling. He shouts out a challenge and from the audience you can hear someone take him up on it...Is it The Rebel"," Brandan or Bad Boy?
Share
View full details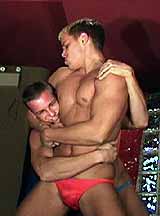 Collapsible content
DETAILS

Provide details like specifications, materials, or measurements.

Add an image in your Collapsible content settings for more visual interest.
TIPS

Share expert tips on how to use this product or pair it with other items.
SHIPPING

List the details of your shipping policy.