Regular price
Sale price
$32.00 USD
Unit price
per
Sale
Sold out
Handicap Match
Tarzan vs. Joey and Steacute,phan
Tarzan is up against two hunks in this first match. This is Joey Todd's only tape he did for PWP. He is a big tough wrestler"," but he up against some tougher opponents. He throws Tarzan into an armbar followed by a back wrenching surfboard"," a head scissors armbar"," and then Tarzan gets mad. Lean"," muscular Stephan is tagged in. Tarzan doesn't fair any better with Stephan either"," as Stephan throws a big full nelson on him standing then lying. Tarzan gets madder"," headlocks Stephan and pounds him. He follows it up with a sleeper and Stephan tags in Joey"," right as he is getting put out. A big backbreaker gets Tarzan to the mat"," and then Joey works him over"," and applies a full nelson. But when Tarzan wraps those big legs around your head"," you go down. Tarzan shows these guys who is boss. Great match. Tarzan is awesome.
| | |
| --- | --- |
| | |
| Tarzan begins the attack with an arm bar. | But Joey reverses and has Tarzan in his crushing head scissors! |
| | |
| The battle continues...Joey spreads some pain of his own... | Tarzan does some crushing of his own.. Here Steacute,phan feels Tarzan's muscles... |
| | |
| Steacute,phan puts a full nelson on Tarzan... | ...But when Tarzan wraps his powerful legs around Joey's head and squeezes and slowly punishes the little guy... |
| | . |
| ...time and again Joey tries to escape.. But Tarzan's mighty CRUSH is too much for Joey... | ...who can't escape Tarzan's mighty thighs and must submit the first fall to Tarzan. |
Match #2
Kid Q vs. Steacute,phan
Kid Q has an astounding presence on this tape. We love the Kid because he is total beefcake"," he's a really hot looking guy"," he uses him muscles in his power holds that he holds onto forever"," and he loves to pose for the camera as he inflicts his torture. He starts right in on Stephan with an armbar"," then a camel clutch sleeper"," and Stephan is weakened. A bearhug"," full nelson"," figure 4"," leaves Stephan wary of the big guy. The Kid is a powerful brute. A laying sleeper displaying their great bodies is the capper"," but the Kid doesn't stop there in this squash-job. A long tight bearhug"," a long kneeling legbar"," a long big-armed sleeper"," and a long head legscissors each time lifting his already defeated opponent to his feet and putting him in another hard held hold. Between holds Kid slowly walks around Stephan's waisted musclebody and kicks at it cockily. The Kid Rocks.
| | |
| --- | --- |
| | |
| This match is all Kid Q... | ...from bear hugs... |
| | |
| ...to full nelsons... | ...to head locks... |
| | |
| ...to chin locks....until he has his opponent... | ...softened up for a long held head scissors... |
| | |
| ...that takes the life out of poor Steacute,phan... | ...until Kid Q poses and walks away in disgust. |
Match #3
Kid Q vs. Joey
This is for those who like long lasting power holds and another squash-job. Joey is a well-versed wrestler"," but does have his hands full with the Kid. Joey does get in a solid headlock"," cobra clutch"," bearhug"," and a lot of punching before the hunk lets loose. The Kid wraps his muscular arms around Joey with a very sexy full nelson. An extended chinlock is what really weakens Joey. Joey is a big tough guy"," but the Kid sometimes dominates his opponents. A long necktwist that the Kid throws all his muscle into is torturous on poor Joey. Watching the Kids muscles flex as he applies his holds is a great reason to see this tape. At any point he can put Joey out"," but between devastating holds Kid slowly walks around Joey's waisted musclebody and stalks him. A long bearhug"," a neck snapping head scissors"," another big full nelson"," his nerve hold"," and another big chinlock. The Kid is overpowering and Joey is worked over well. An awesome matchup. Slow and cool.
| | |
| --- | --- |
| | |
| Kid Q starts strong with a bear hug but... | ...unlike Steacute,phan"," Joey puts up a good fight...first with a bear hug... |
| | |
| ...then an arm lock... | ...followed by a nasty knee drop...oooh that hurts. |
| | |
| Joey stretches Kid Q and just when you think Joey has the match in his hand... | ...the Kid puts Joey down with his nerve squeeze... |
| | |
| ...and has Joey in pain and suffering.... not content with the victory. | Kid Q decides to dish out some more punishment on the hapless Joey. |
Tagteam Match
Kid Q and Tarzan vs Joey and Stephan
Kid Q and Tarzan really want to prove they are the toughest ones in this matchup. Stephan suffers first"," then Joey at the hands of both of these musclehunks. Joey suffers a big full nelson at the hands of the Kid. Stephan seems to now hold his own against the Kid. There are lots of tags in this one with no one guy dominating. Joey is a fine wrestler and knows a lot of holds. Tarzan puts Stephan out with a huge headlock. Kid Q almost snaps Joey's back with a bearhug that nearly puts him out. Tarzan puts the lifeless Joey in a figure 4 then puts him out with a headscissors (he holds Joey until he's almost out"," and then smashes on his abs to wake him up"," then tightens the hold until he's out"," then does it again and again). He's tosses the lifeless Joey to the side and drags in Stephan for he and Kid Q to work over. Kid Q dominates Joey with a nerve hold"," and Tarzan destroys Stephan with a head scissors"," chinlock and sleeper. Our hunks show their stuff in this awesome video. Lots of submission holds. Great view.
| | |
| --- | --- |
| | |
| Kid Q and Tarzan | Joey and Steacute,phan |
| | |
| The two smaller wrestlers are in control at the start of the match. Joey with a... | ...head lock...while Steacute,phan gives Kid Q some trouble of his own. |
| | |
| Tarzan turns the tables by applying a long held and devastating head lock on poor Steacute,phan...The two take turns beating up their opponents... | ...watch The Kid Bear Hug poor Joey for a long"," long time. |
| | |
| Then the Kid takes on Steacute,phan and starts to teach him another lesson in how to punish your opponent! | Tarzan tries out his new leg buster on hapless Joey. |
Share
View full details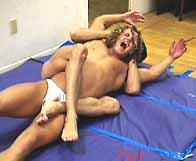 Collapsible content
DETAILS

Provide details like specifications, materials, or measurements.

Add an image in your Collapsible content settings for more visual interest.
TIPS

Share expert tips on how to use this product or pair it with other items.
SHIPPING

List the details of your shipping policy.