Regular price
Sale price
$22.00 USD
Unit price
per
Sale
Sold out
Match #1
The Magog Mauler vs Kid Q
Kid Q is a little hardbody. He has been with PWP for a while and his body just keeps getting bigger and better looking all the time. The Magog Mauler is a tall strong guy and he takes it to the Kid as much as possible assaulting him with everything. Sleepers"," headlocks"," scissors"," cobras"," leglocks"," nelsons"," pounding and basically mauling him. The Kid occasionally gets the upper hand"," but the Mauler forces his way out of all of Q has to dish out. Kid Q's muscles look awesome"," but they are of little help in this mauling he takes. The Magog Mauler leaves Kid Q's beaten body on the floor as he proudly poses over it. Kid Q is squashed.
| | |
| --- | --- |
| This is a squah job for ... | ...the Mauler... |
| ...as he is all over the Kid... | ...with full nelsons... |
| ...and then not only puts him to sleep... | ...but treats him to his painful Mauler Crab. |
Match #2
Leo Grand vs Ironman
These two are pretty evenly matched in size and physique. Ironman looks pretty sure of himself. He starts out with a big side headlock"," and then a huge bearhug"," but little hardbody Leo Grand pounds his way out of each of them. Grand then proceeds to work his bigger opponent over with a barrage of sleepers and choke holds slowing down Ironman. You almost think that he is having his way"," but Ironman is only playing the victim and Grand soon suffers. First"," a beautiful fullnelson"," then a huge head-scissors. But Grand is determined to make his mark. Grand with a front facelock"," then they trade scissors and sleepers. Ironman's sleeper is mean and Grand goes down.
| | |
| --- | --- |
| This is a more evenly fought... | ...match with each opponent... |
| ...securing punishing holds... | ...and waiting for the first man... |
| ...to weaken... poor Leo... | ...succumbs to PWP's newest bad boy. |
Match #3
Leo Grand vs the Magog Mauler
The Mauler goes up against hardbody Leo Grand. The Magog Mauler handles himself well and shows his power throughout the match. Leo muscles various holds onto the big guy to slow him down. A test of strength shows Leo that the Mauler isn't going down easy. Anything Grand throws at the Mauler"," he just powers out of. Leo Grand finally submits to the Maulers barrage of holds.
| | |
| --- | --- |
| This is a more evenly fought... | ...match and Leo shows he can wrestle... |
| ...but the Mauler is too much for Leo... | ...and puts him out with his 'Mauler Crab'. |
Match #4
Kid Q vs The Ironman
These two went at it prior in the Bearhug Tape. Big"," tall"," handsome"," built Ironman"," and hot musclehunk Kid Q. They both have great bodies"," and have lots of experience with PWP. The Ironman has a lot of holds he can hurt you with"," he is tenacious and overpowering. Even for a muscle guy like Kid Q. With Ironman it's the headscissors you have to watch out for. Kid Q is subjected to a barrage of holdshellip, a sleeper"," followed by a nelson"," followed by a sleeper"," followed by a chokehold"," followed by a sleeper"," and he doesn't stop until Kid Q is out cold. The Ironman is a tough opponent to all.



The 'Ironman' is out for revenge...




...at his defeat in the bear hug tape..




...and does his best to get the better of the Kid who has learned...




...a nerve hold that delivers excruciating pain...




...but the Kid doesn't have it in him...




...as he succumbs first to a headscissor...




...and then to a sleeper...poor Kid Q.
Match #5
2 Tag Team Matches
Tag Team #1
the Magog Mauler and Ironman vs Leo Grand and Kid Q
These four guys go the distance. The bigger of them"," Ironman and the Magog Mauler"," against the musclehunks Kid Q and Leo Grand. Most of the time it's the big guys overpowering Q and Grand. And a lot of this matchup is spent with more than two guys fighting. Boston Crabs"," bodyscissors"," headscissors"," nelsons and sleepers have these guys going a while. Two bouts and the first one has the big guys winning sleepering out their opponents simultaneously. The second bout is more aggressive than the first with plenty of powerful holds. Kid Q on Ironman"," and Grand on the Mauler"," together they hit the big guys with all they have and eventually win. Lots of action in this tagteam matchup.



Ironmanandthe Mauler




Leo GrandandKid Q




The Mauler is all over the kid as he...




...continues his onslaught of the smaller man.




Now its the "Ironman' who taunts his victim.




Double teaming the Kid is fun for these guys.




The Bad Boys of PWP win the first match by double teaming and by...




...making sure our 'good guys use their heads...




...before its finally time to put them to bed!
| | |
| --- | --- |
| The Kid suffers from a full nelson while... | ...Leo is bridging from Ironman's squeeze. |
| The good guys decide to do some 'dirty' work. | A little mat mayhem. |
| The good guys double team their opponents. | Final victory!! |
Share
View full details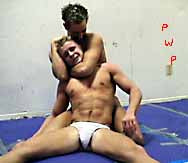 Collapsible content
DETAILS

Provide details like specifications, materials, or measurements.

Add an image in your Collapsible content settings for more visual interest.
TIPS

Share expert tips on how to use this product or pair it with other items.
SHIPPING

List the details of your shipping policy.