Regular price
Sale price
$32.00 USD
Unit price
per
Sale
Sold out
Match #1
2 out of 3 Falls
'Tarzan' Jeff Jaxx vs 'Queacute,bec Cowboy'
Lots of tests of strength between these two hunks as each tries to dominate the other. Tarzan"," with his long sexy hair"," seems to get the hunky Cowboy slowed down first. But don't count him out. He gets Tarzan in equally as much trouble. A solid sleeper is the deciding hold in the first fall.
Tarzan finds out that his opponent isn't such a slouch. The Quebec Cowboy"," looks awesome. His body is hairy and quite well muscled. And he gets Tarzan to yell in pain more than once. A big headlock"," lots of hard hits"," a solid full nelson"," body slam"," figure 4 and other awesome holds await the much annoyed Tarzan"," as he is slowly worked over by the hot Cowboy. It's fun to watch this fall"," and the domination of the hunky Tarzan.
In the third"," the Cowboy continues his assault on Tarzan"," but Tarzan soon shows him that he too is tough. These two are very equally matched in talent and strength. Tarzan gets mean"," and Cowboy quickly suffers. He gets a solid bearhug as his tailbone is slammed against Tarzan's knee. Then a headlock has him staggering. Tarzan toys with and beats on his muscled opponent"," showing him who is boss. The Cowboy is assaulted hard"," and looks wonderful going down. This is a very hot matchup.



The Cowboy has Tarzan under control...

...but Tarzan is soon able to turn the tables on the unsuspecting Cowboy.

The Cowboy is not one to fool around with...

...but neither is the Tarzan.

In the end of fall #1"," Tarzan shows the Cowboy who's Boss!

In Falls 2 and 3 Tarzan appears to have the edge...

...you will have to see for youself who comes up on top.
Match #2
2 out of 3 Falls
Ironman vs Studmuffin
This is a very quick paced match up with lots of strong holds and hard hits"," as these two musclestuds work each other over. And they look like they are both having fun slamming the other. The first fall goes to Studmuffin"," who comes to this match"," a very big guy.
The second fall has Ironman a little pissed (at what Studmuffin thought was a win in the first) and takes it to him. The Ironman looks awesome as usual. Back and forth they try to outmuscle eachother with power moves proving to the other their worth. Big bearhugs"," lots of hitting and stomping"," and the decider in this fall is a hard sleeper.
If you like to see big hunks go at it"," inflicting lots of pain on each other"," in lots of big power holds then this one is for you. Good fun to watch.
The Ironman has Michel under control...

...but our 'Studmuffin' is soon able to turn the tables on the unsuspecting Ironman.

The Ironman is not one to fool around with...

...but neither is the 'Studmuffin'.

To everyone's surprise"," our 'Studmuffin' shows the Ironman who's Boss and takes fall #1!

In Fall #2 Ironman begins his assault...

...it looks like its all over for Studmuffin...

...But the 'Studmuffin' reverses and puts a powerful bearhug on the Ironman...

...next"," the 'Studmuffin' displays his aggressiveness with a hard knee to the Ironman's jaw.

Once on the mat"," Ironman suffers more torture from the 'Studmuffin.

Next"," the 'Studmuffin' laughs as he squeezes Ironman's head in those powerful thighs...

...who do you think takes fall #2 and fall #3??
MATCH #3
TARZAN vs STUDMUFFIN
These two fresh off of wins"," Tarzan finds out quick that to win over this much bigger opponent"," he will have to keep him to the mat and pound him down. And so he does just that. The Studmuffin on the other hand"," wrestleshellip, he gets in a couple backbreakers"," solid headlocks"," and big nasty chokeholds. But Tarzan just keeps pounding him"," until he works him down enough to be able to successfully put on the submission holds. Studmuffin gets his muscles beat on and then he's put out. Smaller guy beats up bigger guy thing. Wow.
(Sorry"," No Pics)
MATCH #4
IRONMAN vs the QUEBEC COWBOY
Yum. These two have very lean"," sculpted physiques"," model good looks"," thus being very cool to watch. They are very sexy and quite fun. Stretching eachother out"," displaying eachothers body"," lots of body tossing"," tests of strength"," and hard hits. Ironman starts to weardown the Cowboy with leg headscissors"," and then a bodyscissors sleeper. He takes a second to wipe the sweat off his body"," then he starts in again on the Cowboy. With the Cowboy almost out"," the Ironman decides he wants to toy with his beautiful opponent. He gets a in bearhug"," then beat on a while with legdrops and elbow smashes. Cowboy is in a lot of pain and the Ironman continues his assault. An amazing rollup wins this. The Ironman looks awesome when he cockily flexes"," and the Quebec Cowboy looks just as awesome going down. VERY hot matchup.
(Sorry"," No Pics)
Tag Team Match
Studmuffin and the Quebec Cowboy vs Tarzan and Ironman
Look at these guys. Awesome looking bodies. Awesome looking matchup. Each one of these guys gets twisted up and beat on extensively at some point. No one person dominating throughout about half. The tags are quick"," and all these big guys pack it with big power moves. Back and forth it goes. But it's when Ironman lets loose with a double headlock on both Studmuffin and the Cowboy"," that's when the dominating begins. They totally pummel the Cowboy"," then all for get put the moves on each other all at the same time for most of the end of the match. At one point"," Tarzan gets a leg headscissors on Cowboy"," who has a figure 4 on Ironman"," who has an upside-down sleeper on Studmuffin"," and that was at just one point. Ironman dominates the Cowboy nearly putting him out in a sleeper"," tosses him aside"," then throws a sleeper on Studmuffin"," nearly putting him out"," then headlocks on both of them. At another point"," Studmuffin puts Tarzan in a big sleeper"," then the ever-confident Ironman slowly walks over behind Studmuffin"," pulls back his head and puts a simultaneous sleeper on him. Awesome. This matchup is nuts. The camera angles are impeccable. All four of these hunks look awesome dishing it out and suffering painfully. The ending is outstanding. And the action is non-stop from the start. You will be sure to want to see this one over and over and over again.
This over twenty minute match features some rough and tumble pro-wrestling. PWP can only show you a few of the highlights...



Ironman

and

Tarzan






Queacute,bec Cowboy

and

Studmuffin.
| | |
| --- | --- |
| | |
| The match begins with the Cowboy and the Studmuffin... | ...humiliating their opponents. |
| | |
| Ironman gets upset at the abuse the Cowboy and Studmuffin have dished out on his partner...so he takes the two on... | ...and its the beginning of the end for the two hapless opponents as"," first"," its Tarzan's turn to help himself to a little Cowboy ...with a little help from his 'friend'... |
| | |
| ...so you want to double team"," eh... well try this on for size. | Once on the mat"," Ironman and Tarzan put their hapless opponents to rest... |
| | |
| ...but winning the match means"," winner takes all"," so the two toy with their 'opponents'... | ...and have a little fun at their expense! |
Share
View full details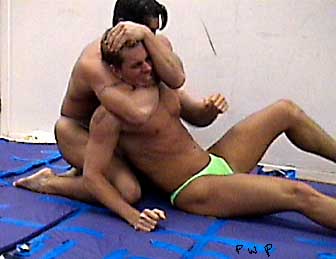 Collapsible content
DETAILS

Provide details like specifications, materials, or measurements.

Add an image in your Collapsible content settings for more visual interest.
TIPS

Share expert tips on how to use this product or pair it with other items.
SHIPPING

List the details of your shipping policy.