Regular price
Sale price
$40.00 USD
Unit price
per
Sale
Sold out
Match #1
Bad Boy vs Sean
Bad Boy comes to these matches looking totally ripped up with a bigger"," meaner attitude. Poor Sean happens to meet him first off. Sean starts out dishing out a big sideheadlock followed by a big bearhug. BB is a little staggered"," but manages to shake it off and hit him back with a big bearhug and sideheadlock. Sean matches BB hold for hold and it starts to infuriate BB. About half way through this one the Bad One pours it on and hits Sean with bearhug after bearhug. Sean was done when he was tossed to the floor after the second onehellip, but this is where the domination begins. The big muscle hunk squeezes those big arms around Sean in every way possible. The Bad One ignores Sean's repeated pleas for him to quit"," and replies "it's not done 'til I decide it's done""," and keeps on going. An awesome fight with total domination displayed by Bad Boy.
| | |
| --- | --- |
| This match begins with Sean taking... | ...an early advantage over the bigger man. |
| But it isn't long before Bad Boy... | ...puts the squeeze on Sean. |
| Sean returns the favor with a body scissors... | ...and tries to body press the larger man on the mat... |
| ...only to be given a taste of his own .... | ...medicine with a little twistaring, la Bad Boy... |
| Soon the smaller man can take no more and... | ...it is bed time for Sean. |
Match #2
Brandon 'The Asian Assassin vs Dyllon
'This is one of the best fought matches I (Dan) have ever seen...bar none!'
This is definitely one of the sexiest beatings you may ever see. Dyllon comes to this match with total confidence"," with his brawnier build carrying a lot more weight. But Brandon comes to this like no other wrestler to date. His focus is on hitting Dyllon's midsectionhellip, with vicious ab clawshellip, hard scissors around Dyllon's upper abshellip, and bearhugging Dyllon's ribs endlessly. Big Dyllon suffers endless attack on his stomach and lower back. Brandon easily muscles his way out of anything big Dyllon does manage to throw on him"," and then immediately start back in on working over Dyllon midsection. He focuses on it throughout the match totally dominating Dyllon. Brandon's attack works"," leaving him flexing nicely over Dyllon's lifeless sweaty body. As wrestlers"," I think we all can appreciate an endless attack on one body part. If you like good old gut torturehellip, this one is for you. Well done Brandon!!
| | |
| --- | --- |
| Brandon starts quickly squeezing the life out of poor Dyllon. | This is only his second appearance with PWP for Dyllon. |
| A crushing body scissors... | ...and a little choke hold has the young wrestler down... |
| ...but certainly not out"," as Dyllon puts the... | ...squeeze on the new comer to PWP. |
| The aggressive Brandon soon has... | ...Dyllon at his mercy as the life is slowly sucked from him... |
| ...and then it is time to put the 'Asian Death Clamp'... | ...on the hapless and helpless victim. |
Match #3
Sean vs Brandon 'The Asian Assassin'
Sean brings a lot of PWP experience to any match. Brandonhellip, is a monster. And anything Sean tosses on Brandon is returned two-fold in pain. Sean has to really turn it up in this match to get anywhere"," but Brandon unloads on him with a barrage of bearhugs on squeezing Sean's ribs hard against his mighty torso. Brandon's fantastic muscles are flexing wildly in every direction"," hold by hold"," and his attack is mainly on Sean's lower back. When Brandon fits his big bicep snuggly under Sean's chin and squeezes a sleeper on him and its lights out for Sean. Brandon is just too much for most any guy to go up against.



Brandon again starts early with a powerful...




...front bearhug...




...then switches and adds the pressure...




...then he squeezes poor Sean's body with a vice-like grip...




...but our Sean is able to reverse and starts the...




...squeeze on Brandon...




...but Brandon is too tough and street-wise.




His onslaught ends slowly when he applies his 'Asian Death Clamp'...




...and the life from Sean's limbs disappears.
Match #4
Bad Boy vs Dyllon
This is one heck of a matchup. Dyllon comes to this match with a BIG ego going and is determined to prove he's THE MANhellip, Bad Boy isn't a guy to be pushed around. Sure Dyllon comes looking very rippedhellip, but BB is a big tough muscular talented wrestler. Action starts with BB going right after Dyllon's back"," bearhugging it. Dyllon counters it with his own and then a fullnelson"," a big bodyscissors/armbar"," a long camel clutch and puts all his muscle into it all. BB is in pain"," but is fed up and goes back after Dyllon's back. Dyllon's back torture in this matchup is mean. The Bad One hits Dyllon up with a lion-tamer to start"," (then each get eachother with a shot to the balls). Then BB comes back hitting Dyllon's back again with a big camel clutch"," and one of the meanest series of bearhugs ever"," standing"," sitting"," and rolling. Dyllon does try to outmuscle the big guy"," paining Bad Boy a bit but mainly just infuriating him. Dyllon's back gets worked over with combination bodyscissors holds"," lots more bearhugging"," one of BB's 'Sex Machine' holds"," a couple lying bodyscissors/backbreaker"," then a bodyscissors/surfboard"," and then more bearhugging (but Dyllon is now destroyed"," begging for Bad Boy to stop). Bad Boy returns after the match and tosses a sleeper on the beaten muscle boy. THIS ACTION IS TOUGH AND HOT. Great match!!!
| | |
| --- | --- |
| Bad Boy gets an early start to this squeeze fest... | ...as Dyllon soon finds out. The punishment though... |
| ...doesn't stop Dyllon from trying"," but it is Bad Boy... | ...who soon has him in a body scissors and shows his fans the pain he can inflict. |
| Here he tries to pop Dyllon's head while in a tight body scissors. | The poor young wrestler continues to suffer... |
| ...punishment at the hands of Bad Boy until... | ...our heel puts Dyllon out. |
Match #5
Tag Team Contest
Sean Dyllon (both in Calvin Kleins) vs Brandon Bad Boy
Let me seehellip, how can I describe this one. This matchup is Dyllon and Sean on the receiving end of a whole lot of bearhugging. It's mostly 2 on 2 action. The big muscular team of Bad Boy and Brandon ('the Sex Machine') conquer in this one"," with Sean and Dyllon crying out in pain a lot. They are seriously manhandled in this one. It's bearhug-ilicious!!!
| | |
| --- | --- |
| Brandon is all over Dyllon as he... | ...plays with his hapless victim. |
| Bad Boy has his chance with Sean... | ...while both Brandon and Bad Boy put the double squeeze on Sean. |
| Now each heel gets his turn to put the pressure on... | ...and all four get together for some... |
| ...puppy squashing over and over again... | ...until these two studpuppies can no longer take it anymore. |
| Before the grand finale"," Sean and Dyllon get squeezed some more... | ...and then it all over but the climax. |
Share
View full details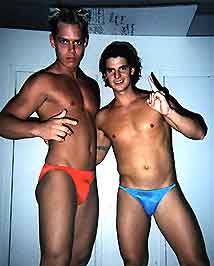 Collapsible content
DETAILS

Provide details like specifications, materials, or measurements.

Add an image in your Collapsible content settings for more visual interest.
TIPS

Share expert tips on how to use this product or pair it with other items.
SHIPPING

List the details of your shipping policy.