Regular price
Sale price
$40.00 USD
Unit price
per
Sale
Sold out
Match #1
the Rebel vs Bad Boy
Two of PWP's greatest physiques in an all out 'Bearhug-fest'. And if you like these hunks"," they do lots of flexing for you to enjoy. It starts with each of them coming out and stripping from their streetwear to the gear"," stretching out"," and flexing for the camera. Bad Boy enjoys his workout when the Rebel comes out to bother him and start a fight with him. Bad Boy has the edge in size"," but the Rebel is one of the toughest guys around. And these two have had a rivalry since day one. Both are heels"," both can dish out the punishment and both can take it. Their bearhugs are hard held"," as their backs look like they are going to snap. Endless bearhugging"," (standing"," laying"," reverse"," you name it). Holding the other against his hard chest and abs"," squeezing with those big biceps. How much can these guys take? Throw in the odd headlock for good measure and this one is a CLASSIC. And for that matter"," both of these handsome hunks are CLASSIC. Bad Boy is the more dominant one in this one. He is a muscular guy"," and is out to get the Rebel using all that he has. By the end of the match the Rebel has slowly been destroyed. He's a fighter and takes a lot of punishment"," but those big arms of Bad Boy squeezes the life fight out of him. Bad Boy had the Rebel screaming "I quit" over and over"," as he keeps on bearhugging him for the win. Not many men can get the Rebel to submit like that. Trust me this tape is a sure CLASSIC.
| | |
| --- | --- |
| After being taunted by the young upstart"," 'Bad Boy' begins... | ...his squeeze fest on the younger wrestler. |
| As he writhers in pain"," The Rebel tries again and again... | ...to extricate himself from the bigger man's vice-like grip. |
| Well...the younger opponent has a few moments of glory as he... | ...squeezes and grinds his arms around Bad Boy's back... |
| ...but he younger man soon finds himself in more back pain... | ...than he can endure as the Bad One... |
| ...squeezes and squeezes his younger man until he is nothing more... | ...than a wet bag of noodles...with no where to go but down. |
Match #2
the Rebel vs Sexy Steve
Back to back great action on this tape. The Rebel up against Sexy Steve in a fight over a watch. These two guys don't come more equaled"," in size"," skill and stamina. Both are very hot looking guys"," with plenty of PWP experience. They are out to hurt eachother in this match and look awesome doing it. Flexing over their opponent whenever they get the chance. Big egos. Like the first matchup"," this one is loaded with these two muscleguys putting everything they got into squeezing the life out of the other (standing"," laying"," reverse"," etchellip,). Great physiques in action. It's been good watching the Rebel play Heel in most of his matches"," but on this tape his very worthy opponents manhandle him. Sexy is the dominant one as the Rebel suffers a few backbreakers. Rebel's powerless muscled body squeezed endlessly by the Sexy One until he quits. A great fight by both these guys. You will have fun watching this one.
| | |
| --- | --- |
| Match #2 begins with the Sexy One catching The Rebel trying to steal a watch he had just found on the wrestling mat and puts the squeeze on the would-be thief. | But the young punk is tough as the Sexy One finds out... |
| ...as 'The Rebel' squeezes and squeezes his opponent. | But the PWP veteran soon reverses and the younger man feels... |
| ...the wrath of the Sexy One..making the young punk scream for mercy... | ...but was it just a ruse to capture his opponent off guard? |
| But The Sexy One is once more in control ..first on the mat... | ...then with a crushing belly-to-belly... |
| ...bearhug... which has The Rebel softened-up for... | ...what the Sexy One has in store for the grand finale. |
Match #3
Sexy Steve vs Bad Boy
Here are the winners over the Rebel"," Bad Boy and Sexy Steve. Once again"," this match starts with Bad Boy just trying to workout"," but cocky Sexy Steve wants a piece of him. These big guys really take it to eachother. You can see their backs getting crushed by eachothers big arms. Steve has the ego to back up the muscles"," and Bad Boy is just a big muscled man. Steve has no problem lifting and slamming Bad Boy down over his knee with his backbreakers. But that doesn't seem to slow down the big guy. No one seems better than the Bad Boy at these bearhugs. He has such big arms. There is lots of posing by these hunks as well. Steve has his moments working over big Bad Boy"," but Bad Boy only lets him do that for a while until he regains control. Steve ends up yelling in pain as he hangs limp and lifeless in Bad Boys clutches. Bad Boy is the King of Bearhugs as Sexy Steve"," like the Rebel"," soon finds out. And like the Rebel"," Steve has to beg for Bad Boy to quit his punishment. It takes him a while"," but Bad Boy eventually stops. Sexy withers in pain after this assault. A GREAT matchup.
| | |
| --- | --- |
| Match #3 begins with the Sexy One bumping into the Bad Boy after his work-out on the weights. Steve gets the upper hand... | ...at the beginning but the Bad One soon has his arms full. |
| ...as he squeezes those massive arms around the Sexy One's back... | ...and squeezes and squeezes as the 'boy in blue' writhers in pain. |
| But The Sexy One is not without his own strengths as the Bad One soon finds out. | However"," the Sexy One's back-breaker cannot put the Dark One out... |
| ...as the Sexy One soon discovers as he is wrapped up for the... | ...kill and the Bad Boy strikes another blow for the Dark Side. |
Match #4
Round Robin Bearhug Fest
the Rebel vs Bad Boy vs Sexy Steve
Check this out"," what a hunkbash. Three of PWP's best bodies in a three-way bearhug-fest. Standing"," kneeling"," laying"," and often one guy is bearhugged by both other hunks simultaneously in a sandwich. You won't be able to stand it. Sexy Steve is a victim to the wrath of his two big opponents. Early on"," the Rebel and Bad Boy decide to gang up on Sexy and bearhug him out first. Back and forth"," they pass Steve taking turns squeezing Steve until he can't take anymore. He is pummeled and begs for them to stop. Repeatedly"," they lift his lifeless body up off the floor and continue their devastation. A match like this is something to see. Two are punishing the other with relentless bearhugs. WOW!!! It doesn't get much better than this. Steve begs over and over for them to stop"," but it doesn't end for him until they decide to ask him to quit. This bout is top notch and a great watch. This tape is full of a whole lot of muscle and endless bearhugging. CLASSIC!!!
| | |
| --- | --- |
| The Round Robin begins with each wrestler taking his turn to determine who will team up to squeeze the life out of the third man. | At first it seems that The Rebel will be the loser as he suffers repeated bear hug sandwiches. |
| But he is able to convince the Bad One that the two heels are natural allies and the task of making the Sexy One suffer begins. | But the Sexy One tries to tackle the weaker link in the heel chain...The Rebel. |
| But soon discovers that the Evil One will come to his partner's rescue. | But who will come to the Sexy One's rescue??...No One!..as The Rebel puts the squeeze on Steve... |
| ...then the Evil One... as the boy in red looks on ...then... | ...it is his turn to punish Steve as the two heels pass the helpless man back and forth... |
| ...while the Sexy One is helpless to counteract ... | ...the relentless punishment dished out by the two heels..What a bout! Will Sexy Steve get his revenge???? |
Share
View full details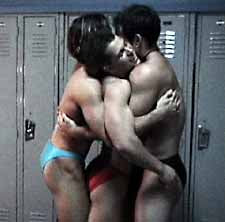 Collapsible content
DETAILS

Provide details like specifications, materials, or measurements.

Add an image in your Collapsible content settings for more visual interest.
TIPS

Share expert tips on how to use this product or pair it with other items.
SHIPPING

List the details of your shipping policy.