Regular price
Sale price
$32.00 USD
Unit price
per
Sale
Sold out
Match #1
(Best 2 out of 3 Falls)
Sean vs. The College Kid
The College Kid is a tall lanky guy"," in his first video of PWP. Sean is a vet"," and knows what he is doing. This one begins with the Kid applying a long held and very tight headlock on Sean. He works Sean over a while"," until Sean has enough. Sean works over the Kids arms to slow him down. He thinks he can easily take this guy"," so he starts to humiliate him by sitting on his head and flexing. Sean strolls around the Kids waisted body and kicks at it. This rookie does not impress him. He tosses a sleeper on him"," and as the Kid is going down"," Sean makes faces in the camera. Sean laughs at his fallen opponent"," and kicks his body some more.
| | |
| --- | --- |
| | |
| It's all The College Kid... | ...at the beginning of the match. |
| | |
| The College Kid has Sean in a daze... | ...and even tries to put him away... |
| | |
| ...but Sean reverses and has The Kid in a vice like head scissors... | ...next an arm bar has The College Kid in pain. |
| | |
| Then Sean shows his new stuff and chokes his victim. | Then adds insult to injury by sitting on our hapless victim not once but twice!! |
| | |
| Sean puts him to sleep... | ...and dares him to show up for Round #2. |
Match #1
(Round #2)
Sean vs. The College Kid
This is a squash job. It's quick and painful for the poor College Kid. Sean gets in a headlock first"," then a big standing head scissors. He follows it up with an assault his opponent won't soon forget. It doesn't take long and this one is over. Sean is very proud.
| | |
| --- | --- |
| | |
| It's all Sean in Round #2. | The College Kid's lack of experience... |
| | |
| ...and Sean's bag of new dirty tricks... | ...has the poor kid flat out and begging Sean... |
| | |
| ...to put him away...which Sean obliges... | ...and then for good measure"," punishes him some more. What has happened to the good Sean?? |
Match #2
(Best 2 out of 3 Falls)
The Animal vs. Franccedil,ois Meacute,nard
Let me tell you from the start"," THE ANIMAL ROCKS!! This is a favorite match. The Animal has never looked better than in this match. He is big"," ripped"," and handsome he puts all his muscle into his holds. He tries to really hurt his opponent and isn't scared to use some dirty tactics. This one starts with the Animal big-arming Francois into a sleeper body scissors. A side armbar and a few smacks to the head get Francois's blood boiling. He forces his own sleeper body scissors on the Animal"," and Animal fights him off. Francois surprises the big Animal at times throughout this fall by easily picking him up and tossing him around. Francois almost gets him to submit a few times"," but the Animal is just so overpowering and he can hurt you in so many ways. The barrage of holds the Animal easily displays on Francois is stunning. He snaps his opponent into a hold and doesn't let go of until he decides. Animal's dirty tactics"," such as ramming his head into the wall a number of times humiliates Francois. Great submission action!!! Fall one is all Animal. This is a great matchup.
| | |
| --- | --- |
| | |
| This is the most intense and... | ...hard fought battle that Dan (PWP)... |
| | |
| ...has yet witnessed. These guys put themselves... | ...through torture with well executed holds... |
| | |
| ...and painfully delivered executions. | There is no way I can describe the action... |
| | |
| ...and do it any justice. | You will just have to see it for yourself. |
| | |
| While the Animal is the eventual winner of Round #1... | ...he resorts to slamming Franccedil,ois head several times against the back wall to get the... |
| | |
| ...advantage and wins with a devastating finishing hold. | Like Sean"," not content to beat his man"," he punishes him some more after the match is over! |
Match #2
(Round #2)
The Animal vs. Franccedil,ois Meacute,nard
Fall 2 starts out all Animal too"," but it doesn't take Francois long to say enough is enough. Forcing his way out of Animals tight headlocks"," Francois starts his domination"," and his attack on the Animal is long and punishing. First with a wristlock armbar on the mat. Then a sleeper hold and a solid headlock takes the big guy down a notch. It's then a long bearhug body scissors and it's more than the Animal can take. He follows that with an armbar head scissors that nearly pop Animals head off. Francois keeps Animal on the floor and slowly but methodically takes his time in his attack. This combination and assault is relentless and watching the muscle guy get worked over is a really something. Francois displays Animals body well for us all. It isn't until Sean jumps in for Animals rescue"," that they double-team Francois with a barrage of holds to bring him down. The Animal finishes his stunned foe by applying a stunning sleeper Francois can't shake. What a finish. This match is a classic.
| | |
| --- | --- |
| | |
| The Animal starts the round strong... | ...but the stamina of Franccedil,ois takes over"," punishing The Animal with squeezing headlocks... |
| | |
| ...and punishing headscissors until... | ...Sean leaps to the rescue. |
| | |
| ...and together he and The Animal... | ...are able to conquer Franccedil,ois. |
Match #3
(Best 2 out of 3 Falls)
Ironman vs. Sean
That's right"," that is a cast on Ironmans arm. He comes to this match looking great. He wraps his big arm around Sean's neck to wear him down a bit at the start of this one"," first in a side headlock"," then in a sleeper as he berates Sean. A solid body scissors has Sean in pain. Sean pounds Ironman down and shows him he too is a big tough guy. And back and forth these two go at it with bearhugs"," scissors"," half nelsons"," full nelsons"," and armbars"," everythinghellip, But when Ironman wraps those strong legs of his around you"," there is no escape"," and he squeezes a fall out of Sean's head.
| | |
| --- | --- |
| | |
| The match begins with Sean's punishing headlock on The Ironman... | ...who reverses with a front chancery. |
| | |
| Iroman proceeds to dominate the round with... | ...scissors galore"," and a little hair pulling... |
| | |
| ...and more scissors... | ...and a final neck punisher before putting Sean in la-la-land. |
Match #3
(Best 2 out of 3 Falls)
Ironman vs. Sean
Ironman suffers a big headlock to start fall 2"," so he retorts with the same. He follows that up with a very long head scissors and Sean gets a taste of that again. It isn't until Animal jumps in for the rescue and throws a big sleeper on Ironman"," that Sean can breathe. Sean takes over the sleeper and steals the second fall from Ironman.
| | |
| --- | --- |
| | |
| The Ironman loves his job... | ...squeezing poor Sean's head until it almost pops. |
| | |
| Ironman has Sean all wrapped up and ready to deliver...except... | ...The Animal jumps into the fray and ...well...you know what happens... |
Match #3
Finale: Battling Bodies
Ironman"," Franccedil,ois the College Kid vs Sean the Animal
First the College Kid gets tossed in to face the Animal"," and he has his hands full. Animal takes him down easily into an armbar headscissors"," then sleepers him"," and manhandles him out of the match within a sweatless couple of minutes. Animal then dominates Francois. And the double-teaming begins. Ironman gets in a great sleeper on Sean. This match is full of fast action"," often with all of the guys in on it. Lots of scissors"," sleepers"," bearhugs"," and nasty tactics. There's plenty of double-teaming too. But the Animal is such a dominating force"," and he and Sean sleeper their way into victory. This is a very fun"," fast moving"," watch"," with lots of great looking guys (who throughout"," look like they are having a great time). This is an awesome video.
| | |
| --- | --- |
| | |
| The Animal starts by punishing The Kid... | ...but Franccedil,ois steps in to the rescue. |
| | |
| Later the College Kid shows he is not match for The Animal...and is thrown out of the match. | Next"," the Animal takes on Franccedil,ois. |
| | |
| Double-teaming doesn't stop The Animal... | ...who keeps the other side off balance... |
| | |
| ...until the punishing"," long ending for ... | Ironman and Franccedil,ois!! |
Share
View full details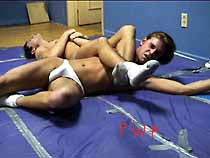 Collapsible content
DETAILS

Provide details like specifications, materials, or measurements.

Add an image in your Collapsible content settings for more visual interest.
TIPS

Share expert tips on how to use this product or pair it with other items.
SHIPPING

List the details of your shipping policy.