Regular price
Sale price
$32.95 USD
Unit price
per
Sale
Sold out
2018 WINTER SOLSTICE DVD
THE WRESTLERS
MATCH UP: JASPER vs. DYEM
 


 Side bear hugs have DYEM gasping for air.

 


 Try as he might, DYEM is locked in until a low blow puts JASPER on the mat!
 


 DYEM determination is captured while squeezing the life out

 


 of JASPER in a choking side headlock!
 JASPER knows he can easily dominate DYEM who he sees as a punk and not FRANCO's younger brother. He plays with him on the mat"," easily securing and releasing a sleeper hold on DYEM!
 JASPER has DYEM is a face forward head scissors.quot,Get closer you punk and look at the size of my manhood!'
 JASPER finishes his punk opponent by first locking him in a sleeper hold...As DYEM gets drowsy"," JASPER decides to handgag DYEM until he passes out! What a finish!
 JASPER crawls all over DYEM until he settles for this final pose. This puts the icing on the cake in this convincing display of domination and control.
MATCH UP: GUNNER vs. FRANCO
 


 The more FRANCO struggles"," the tighter the squeeze becomes on those pecs!

 


 FRANCO reverses and makes GUNNER suffer. FRANCO fastens those hands around GUNNER's pecs. GUNNER finds himself on his knees in pain!
 


 FRANCO now has GUNNER wrapped inside those massive arms in a punishing bear hug!

 


 GUNNER is able to power out of the hold...
 


 FRANCO now feels the squeeze from GUNNER's arms.

 


 He tries to extricate himself from GUNNER's clutches but fails.
 


 Next, FRANCO is first to have GUNNER on the mat in a camel clutch!

 


 GUNNER has FRANCO on the mat and takes vengance with a camel clutch of his own.
 


 Yet, FRANCO continues to comeback against his opponent and has GUNNER in a painful nerve hold.

 


 GUNNER reverses and it is FRANCO's turn to feel the numbing effects of GUNNER's nerve hold! FRANCO picks himself up slowly from the mat....
 


 FRANCO locks those arms around

 


 GUNNER's waist...GUNNER struggles to free himself...but..
 


 First, it is a series of slugs to the head that has GUNNER reeling...

 


 then it is FRANCO's patented handgag and there is no where for GUNNER to go but by by land!
 Down goes GUNNER while FRANCO makes certain his opponent is out!
MATCH UP: MILTON vs. MARCO
 


 


 Look at the intensity of MILTON's domination over MARCO. MILTON looks down at MARCO in disdain as he pulls his opponent's hair while secured in a head scissors!
 MILTON's domination and determination to win is captured while squeezing the life out of MARCO while playing with him by pretending to release the head scissors only to come down harder on MARCO's neck!
 MARCO is wondering why he agreed to wrestle MILTON! Here MILTON makes him get a closer look at his butt by slowly turning him over on the mat!
 How up close and personal will MARCO get? Below, MILTON decides it is time for MARCO to take a gander at the size of his manhood!
 MILTON decides it is time to put an end to MARCO's misery by slowly putting him to sleep!
 MILTON makes certain there is no fight left in MARCO. MILTON's convincing victory is captured above.
MATCH UP: NICK vs. FRANCO
 


  NICK has FRANCO on the mat securely in his control with that headlock/choke hold. NICK continues his domination over the seasoned veteran with a powerful camel clutch.

 


 NICK is certainly enjoying himself as he dishes out the pain.
 


 NICK continues his control with some grabbing and caressing of FRANCO's pec.

 


 FRANCO decides it is NICK's turn to be on the receiving end of pec grabs
 


 But NICK is no slouch either! He soon has FRANCO desperately trying to extricate himself from NICK's punishing bear hug!

 


 FRANCO shows NICK after a test of strength who comes out on top! NICK now braces himself for some heavy duty bear hugs by the veteran.
 This is quite the sight to behold as NICK squirms and struggles on the mat in an attempt to free himself from FRANCO's head scissors. He literally bounces that butt up and down on the mat. It is a wonder he didn't hurt himself!
 


 NICK is strong but needs oxygen to continue the fight which FRANCO refuses to give him..

 


 FRANCO's hand gag is almost impossible to escape from! FRANCO knows NICK is his to own!
               NICK is out cold and FRANCO is on top of his game!
Share
View full details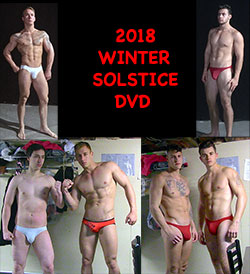 Collapsible content
DETAILS

Provide details like specifications, materials, or measurements.

Add an image in your Collapsible content settings for more visual interest.
TIPS

Share expert tips on how to use this product or pair it with other items.
SHIPPING

List the details of your shipping policy.