Regular price
Sale price
$32.00 USD
Unit price
per
Sale
Sold out
Match #1
Kid T.N.T. vs Billy Boy Watson
Kid TNT is a great character"," and a fantastic heel. He has gret confidence in his very skilled technique"," and relentless way of destroying a man. In the first match on this tape he gives us a demonstration of how fun it is to POUND the hell out of a very worthy opponent. His long hair used against him"," as he suffers a lot of slamming and kicking and punching and POUNDING. TNT is relentless. His attack is commanding. Leg drops"," armbars"," clotheslines"," slams to the corner"," fig-4 headscissors and POUNDING him all over. Kid TNT in control through this entire match. The Kid destroys Billy Boy Watson with his constant"," commanding POUNDING. TOTAL SQUASH JOB!!! Very cool match.



Our heel is all over Billy Boy...




...tossing him off the top ropes...




...squeezing that arm bar...




...raking the poor boy's face...




...low blows and...




...hard punches...




...once in the corner"," why not punish that groin...




...more hair pulling...




...and foot and face disease...leaves our hapless victim down for the count.
Match #2
Mike Manson vs Tony Marconi
Mike Manson is a true heel (when he is in heel mode). He beats the crap out of his poor opponents with an arsenal of holds. And if an opponent is smaller than he is"," he gets lifted and tossed around quite a bit. Tony suffered throughout most of this matchup. It's amazing how much Tony can endure. You can hear him say 'Oh God'"," as Mike goes from one hold to the next beating him in every way. Tony does take it to Mike at one point. But Mike is a very skilled wrestler and soon reverses things on Tony. Poor Tony suffers an over-the-shoulder piledriving shoulder breaker"," and his beating resumes. This one is a totally lop-sided fight throughout most of it. Tony takes an awesome beating at the hands of the very confident Mike Manson. Mike leaves Tony withering around in painhellip, destroyed.
| | |
| --- | --- |
| 'The Crusher' is all over this jobber... | ...punishing his victim... |
| ...not caring for the rules... | ...here he is standing on Tony's groin... |
| ...he loves his job...torture rack... | ...but our jobber is able to get in his licks with a pile driver but our heel is too determined a ring professional to let this rookie take him... |
| ...punishing Tony with an excruciating bearhug... | ...before he ends it with a pile driver of his own. |
Match #3
Kid T.N.T vs Tony Marconi
'This is one of the HOTTEST matches I have EVER seen'
Dan (PWP)
Now let's watch Kid TNT squash Tony Marconi. That's righthellip, if you like domination in fights"," this tape is for you. Kid TNT is a heel because he takes advantage of certain situations and his opponent suffers greatly. He's a little arrogant. He's a little dirty too"," and he always plays the camera. He's great to watch. Tony is blindsided at the start"," and Kid commences his beating. TNT is cool to watch because he really punishes his opponents (even the big muscle guys)"," and he doesn't have a big muscular body himself. His best weapon is his confidence. Kid resorts to a few holdshellip, like this incredible backbreaking chinlock. But this is all pounding"," scratching"," stomping"," gouging"," kicking"," bitinghellip, he really gives Tony something to remember. TNT even bites his package. The beating that Tony endures is incredible to see. A 100% squash-job. Great beating. Classic.
| | |
| --- | --- |
| Kid T.N.T exercising his right to cheat... | ...stomp on that neck. |
| This long held stomach claw is... | ...a favorite hold of mine and Kid T.N.T. knows how to apply it... |
| ...another foot and face move by our heel... | ...a little jaw breaker perhaps... |
| ...the finale begins with a series of punishing headlocks and punches to the face... | ...that sends this jobber flying from one side of the ring to the other..before he is put out of his misery. |
Match #4
Mike Manson vs Billy Boy Watson
Watson is more Mike's size and handles him with dominance. Lots of big holds in this one. Side headlocks"," figure-4's"," backbreakers"," Boston crabs"," crucifixes"," bearhugs and tons of pounding. Billy starts out strong"," but eventually suffers... and is soon destroyed. Mike lifts him up by his hair and smashes him down. A bodyscissors-sleeper is immediately tapped out of by screaming Billy. Mike once again shows his heel side. Mike Manson can really dish out a big awesome pounding!!
| | |
| --- | --- |
| Billy Boy takes an early advantage... | ...only to suffer a long held... |
| ...figure-four leg scissors. | Here our heel camel clutches poor Billy... |
| ...then bearhugs him before... | ...ending the match with a submission. |
Match #5
Tag Team Match: 2 Out of 3 falls
Mike Manson Kid T.N.T. vs
Billy Boy Watson Tony Marconi
So after seeing the outcomes of the previous matches"," you would think that this one was going to be all Manson and TNT. Reverse holds and lots of tagging in and out throughout this match has both tagteams in plenty of trouble. Plenty of pro action with body scissors sleepers and cobras"," camel clutches"," lifting backbreakers"," clotheslines"," suplexes"," leglocks"," flying mull kicks"," figure-4's"," by all these skilled wrestlers. All the pounding and kicking and rope action takes its toll. Surprise for youhellip, the heels don't win the first of this double match.
In the second"," Manson slaps a beautiful full nelson body scissors on Marconi. Billy gets doubled teamed while he is pounded in an abstretch. Muscular Manson tosses these guys around easily. Billy gets tortured by TNT with chokes"," a DDT"," a big armbar"," then Manson comes in and with a huge choke-clam makes they both pin Billy.
And for the third fall and in true heel fashion"," they drag Tony into the ring"," and piledrive him then both of them cover Tony for the pin. Fantastic watch. Great matchups"," lots of domination with a lot of pounding. These guys are great to watch. CLASSIC TAPE!!!
| | |
| --- | --- |
| Billy Boy gets the early advantage over Kid T.N.T. with a head scissors. | The Kid easily handles Tony... |
| ...while Mike"," not to be outdone by his partner"," back breaks poor Tony. | Billy Boy shows promise in this match... |
| ...but the 6 year veteran heel demolishes Billy with atorture rack and our heels win the first fall. | Billy Boy comes back and has Kid T.N.T. all wrapped up... |
| And to the surprise of all"," Billy wins the second fall with this reverse back breaker move on Kid T.N.T. Watch out for this rising star! | The veteran heel in the final fall resorts to some dirty tactics... |
| ...some clean ones... | ...and a little double teaming... |
| ...to get the advantage over Billy Boy..Here the Kid tells his partner he doesn't choke hisopponents..he's a good guy. | After Billy Boy is destroyed"," the twin heels dish out punishment on Tony...A great tag team match in the old style and a rising star in Billy Boy? |
Share
View full details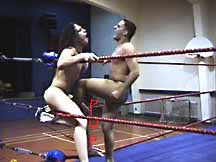 Collapsible content
DETAILS

Provide details like specifications, materials, or measurements.

Add an image in your Collapsible content settings for more visual interest.
TIPS

Share expert tips on how to use this product or pair it with other items.
SHIPPING

List the details of your shipping policy.